Sony's RX100 was an instant classic; a beautiful, pocketable camera that started the welcome trend of large-sensor compacts. The latest iteration keeps everything that worked last year, and adds a few bells more bells and whistles. It's the next-best thing to a DSLR—and in some ways, it's better.
What Is It?
A $750 compact camera with a 1-inch 20.2 megapixel sensor and a 28-100mm (full-frame equivalent) f/1.8-4.9 zoom lens.
Who's It For?
People who want the size and feel of their old compact cameras but with stellar image quality that puts cameraphones to shame.
G/O Media may get a commission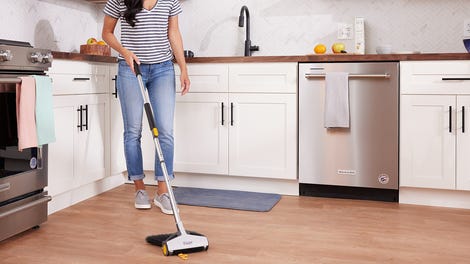 BOGO 50% Off
Flippr - BOGO 50% Off
Design
It's the same as the original, for the most part. Simple lines and matte black. It's proof that you don't have to go retro to pull off good camera design. It's a nice touch that the top of the camera is almost completely flat, except for the hot-shoe. The body is noticeable thicker than the original model, largely due to the addition of a tilting LCD—a divisive feature that some will use often, and others will use never.
Using It
Coming up with a great control scheme on such a small camera is a challenge. Sony has done an all right job here, but the RX100 II is not without quirks. The rear buttons are squeezed into a tiny area next to the LCD, leaving little room to maneuver your thumb around the control wheel. There is a ring around the lens that can control various settings, but the response time between turning the ring and it registering on the display is annoyingly slow. Many of the controls are customizable, a treat for more seasoned camera users. The menus have a simple, clean, navigable layout, in contrast to the terrible muddle employed by Sony's NEX mirrorless cameras.
We throw the word compact around quite a bit, but it's so relative it might as well be meaningless. The RX100 II fits in a normal men's jeans pocket, but protrudes quite a bit. If you are going out to take photos, it doesn't seem so bad, but as part of your daily routine, it might be a bit much. Perfect for a coat pocket though!
click bottom-right corner to expand
cropped at 100%:
ISO 3200:
ISO 3200 cropped to 100%:
For all its size benefits, performance is what you're really paying for here. The RX100 II delivers magnificent pictures in every respect. No, it doesn't quite achieve the quality of larger sensor cameras, but those cameras involve chunky detachable lenses that aren't so compact, or they have prime lenses (no zoom) that lack versatility.
Simply put, the RX100 II is the best zoom-able camera that fits in your pocket. How much better is it than the original RX100? Well, a bit. It performs a good deal better in low light, thanks to Sony's rear-illuminated sensor tech. That, plus the tilting LCD, Wi-Fi, standardized hot-shoe, and 24p video, is the extent of the difference. Whether that's worth the $150 price difference is between you and your checking account.
The Best Part
The RX100 II still offers the best image quality in an integrated-zoom compact camera, plus a little extra low-light juice over last year's model.
Tragic Flaw
It's still quite expensive for what it is.
This Is Weird
For the amount of money Sony is asking, it should really have a touchscreen. Compact cameras with meager room for physical controls are the perfect candidates for one, but the RX100 II designers didn't get the memo. At least that presumably kept it from being even pricier than it already is.
Test Notes
Video quality is very good for a compact camera, but it's a shame you can't adjust settings while recording, except for exposure compensation.
All image samples were shot in RAW and converted to JPG with Adobe Lightroom.
The low minimum focus distance allows nice close-up shots, but only at the lens's widest setting. Zoom in just a little and you will have to back away considerably from your subject to remain in focus.
Startup and shut-down times seemed wildly unpredictable. Sometimes it was around 1 second, sometimes up to 3 seconds.
There is a wonderful little setting that allows you to zoom in steps that display common focal lengths—28, 35, 50, 70, and 100mm.
Switching from auto focus to manual focus is a pain. You have to cycle through the function menu then turn the wheel to choose Manual Focus. There should be one button for that, but of course, you can customize that to be the case.
Should You Buy It?
It's worth re-stating that this is the best compact camera with an integrated zoom lens. You can find better performance with a fixed focal length compact like as the Ricoh GR for around $800. If you don't mind bulky interchangeable lenses, the Sony NEX-3N is less than $450, and will also outperform the RX100 II.
But if you want that versatility of zoom in a compact body, go with the RX100 II. Paying the extra $150 over the original RX100 is entirely based on personal preference. If you share photos via smartphone, the Wi-Fi is worth it, and if you take a lot of low-light pictures, the new sensor is worth it. It doesn't hurt that you will be carrying around one of the classic digital cameras of the last five years.
Sony Cybershot RX100 II
• Sensor: 1" 20.2 MP Exmor BI-CMOS
• Processor: Sony BIONZ
• ISO Range: 160-12800 (expandable 100-25600)
• Lens: 28-100mm (equiv), f/1.8-4.9 Carl Zeiss Vario-Sonnar T*
• Display: Tilting 3" 1.2M-dot 'WhiteMagic' LCD
• Weight: 9.9 oz (with battery)
• Video: AVCHD: 28M PS (1920 x 1080, 60p) 24M FX (1920 x 1080, 60i) 17M FH (1920 x 1080, 60i) 24M FX (1920 x 1080, 24p) 17M FH (1920 x 1080, 24p) MP4: 12M (1440 x 1080, 30 fps) 3M VGA (640 x 480, 30 fps)
• Price: $750
That 360 degree view comes compliments of our very own Gizmodoscope. Check out more of its handiwork here