Last month we tested the best rugged, waterproof cameras and picked a winner. "But what about the new Canon?" everyone screamed. Fear not. The PowerShot D20 went through some cruel testing over the past couple of weeks. Could it live up? Could it live, period?
What Is It?
A 12.1MP camera that shoots 1080p video and is waterproof to 33 feet and shockproof to 5 feet.
Who's it For?
People who like to get down and dirty, and want a camera to capture the fun without dying.
G/O Media may get a commission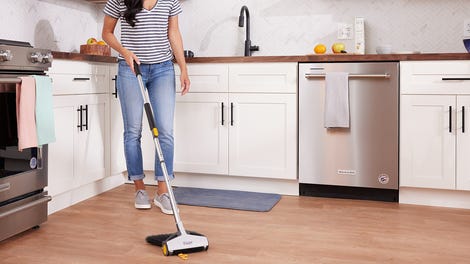 BOGO 50% Off
Flippr - BOGO 50% Off
Design
It's a massive improvement over its predecessor, Canon's bulky D10. This fits in your pocket, but it's still a weird, misshapen alien.
Using It
The D20 is a quick shooter, but it's hard to make adjustments while using it one-handed. You can leave it in auto mode, or dive into the menus to tweak controls, but it would be better to have a happy medium.
The Best Part
In bright daylight, photos are good, video is excellent, and colors are accurate. Here are some examples.
Tragic Flaw
Button placement is totally random. Why is the play button on top? Why are the zoom and video record buttons so hard to reach with your thumb? It makes your hand cramp.
This Is Weird...
What's with that S-curve on the side? Not only is it ugly and pointless, it makes the camera even harder to hold.
Test Notes
The D20 passed the rugged test with flying colors. This included hours of surfing and swimming in the Pacific Ocean and two 5-foot drops onto hard tile.
Something's up with the lens. It's just not as sharp as other similar-sized Canons.
Low-light shots are really pretty bad, which isn't surprising given its aperture starts at f/3.9 (the Olympus TG-1 is f/2.0, by comparison). But if you turn it to the Handheld NightScene mode it does a pretty good job of compensating.
The battery life is excellent. It made it through four days of heavy shooting and had juice to spare. Using the built-in GPS will cut that down a bit, but it still performed admirably.
Menu navigation is extremely non-intuitive. The most readily accessible modes seem to be a random hodge-podge. It would be nice to be able to customize those.
It's missing a lot of the little features that competing cameras have. Like, say a real panoramic mode. ("Stitch Assist" reeeeeally doesn't cut it). No HDR mode, either.
The flash does a pretty good job of evenly lighting, y'know, for an on-camera flash.
Seriously, what the hell was Canon thinking with this button layout? If I didn't have the wrist-strap on I would have dropped it several times.
The lens is in the upper left (from your POV), which will help you one-hand it, if you're right-handed.
Manual mode is an option—a bonus for any point and shoot, and a rarity in a rugged one.

Should You Buy It?
No. It's a decent camera, but the Panasonic TS4 and the Olympus Toughcam TG-1 both out-perform it in image quality and ease of use. A rugged camera absolutely must be super easy to use. If you can't take a beautiful photo while jumping off a cliff, then there's something wrong. Canon needs to go back to the UI drawing board for this one, as it's the most cumbersome of any rugged camera we've tested. If Canon can fix that—and put a better lens and sensor on it—then you'd have a real contender. But that's a lot of ifs.

Canon PowerShot D20 Specs
Price: $350
Sensor: 12.1MP 1/2.3" CMOS Sensor
Aperture: f/3.9 - f/4.8
Image: 4,000 x 3,000
Video: Up to 1920 X 1080 30FPS
Screen: 3.0" LCD touch display 461K dots
Gizrank: 3