This week is chock full of excitement, including the return of Caprica, Ben 10, Ugly Americans and MythBusters! Supergirl comes to Smallville, and Walternate reveals his plans on Fringe. Plus new Chuck, SGU, Fringe, The Event and No Ordinary Family.

Today:
After a bit of a hiatus, there's another new Scooby Doo - Mystery Inc. at 7 PM on Cartoon Network, with "Howl of the Fright Hound":

And that's followed by a new Johnny Test at 7:30 PM.
There's a new Chuck on NBC at 8 PM. A prisoner transfer brings some old "friends" back to Chuck's life.

There's also a new House on Fox at 8 PM, "Unwritten."
Cartoon Network also has a new Regular Show at 8:15, Mad at 8:30 PM, and then Total Drama World Tour at 9 PM.
And then there's week three of The Event at 9 PM on NBC. Here are another six sneak peeks:

Movies:
Comedy Central is showing Idiocracy at 7 PM, in case you want a probably way-too-accurate view of our dumb future. (It's also on the following day at 3:30 PM.) Also, the start of M. Night Shyamalan's long descent into the abyss, Signs, is on Encore at 8 PM. And then IFC proves they really do know quality, by having Beyond Re-Animator at 10:35 PM.
G/O Media may get a commission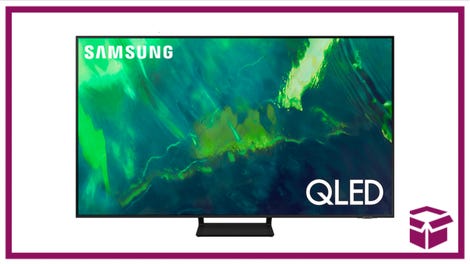 35% off
Samsung Q70A QLED 4K TV
Save big with this Samsung sale
If you're ready to drop some cash on a TV, now's a great time to do it. You can score the 75-inch Samsung Q70A QLED 4K TV for a whopping $800 off. That knocks the price down to $1,500 from $2,300, which is 35% off. This is a lot of TV for the money, and it also happens to be one of the best 4K TVs you can buy right now, according to Gizmodo.
Tuesday:
No Ordinary Family is back on ABC at 8 PM, with a storyline where Jim tries to track down bank robbers. After reading large chunks of the scripts for the next few episodes, I was left with the feeling that the show settles into a better rhythm after the weak pilot. Here are a couple clips, so you can judge for yourself:

Then there's a new Stargate Universe on Syfy at 9 PM, "Aftermath." An unstable planet with a locked stargate may be the Destiny's only hope. Here's a sneak peek:

But the big news is the return of Caprica, with "Unvanquished." Who survives after that huge cliffhanger? Who's back and who's on the slag heap of Caprican history? Will we finally find out what Sister Clarice's big plan was? Most importantly, will there be more awesome New Cap City action? Here's a sneak peek:

Movies:
HBO has the Will Ferrell Land Of The Lost at 12:15 PM. At 4:30 PM, AMC has Superman Returns followed by Wild Wild West at 8:30 PM. At 7:30 PM, FX is showing the appreciated-by-a-few-for-its-blazing-skull-camp-value Ghost Rider. And then at 8 PM, Disney has Halloweentown II: Kalabar's Revenge. Roudning out the evening, at 9:45, TCM is showing the 1942 classic I Married A Witch. Reign Of Fire is on Encore at 12:30 AM, so you can end your day with Christian Bale and dragons! Or there's also The Crow: City Of Angels at 1:05 AM, on TMC.
Wednesday:
The Discovery Channel rules your Wednesday night. First at 8 PM, there's a new MythBusters: Buster's Cut, which is basically an expanded and recut version of an existing episode. And then at 9 PM, there's the season premiere of MythBusters, and it's all about the dog in you:
The MYTHBUSTERS test two shaggy dog tales that put crime-fighting canines to the ultimate test. Adam and Jamie hook up with a hound named Morgan — and his best friend Matt — to see if an escaped convict can outsmart and outrun his pursuers. Adam is the sheriff and Jamie is the felon as they test four new methods of beating the bloodhound. They try to divert the dog with literal red herrings, a river of slow-moving water and two different kinds of 'no-scent' suits. Jamie's up for the challenge, but the dog and his handler might not be. Meanwhile, Kari, Grant and Tory do their best to bamboozle a pack of sniffer-dogs specifically trained to find a particular substance. The team tries to throw the hounds off the scent, literally, with coffee, strong perfume, a female dog in heat, a dog whistle and even dirty diapers. Find out if man can truly outsmart his best friend.
And then at 10 PM, there's the second episode of Bad Universe, the show featuring your hero and ours, the Bad Astronomer Phil Plait! In "Alien Attack":
Fearless junk science detractor Phil Plait explores what it would take for a deadly alien visitation to happen on Earth, as well as answer that age old question: Are we alone?
There's also another new episode of J.J. Abrams' Undercovers at 8 PM on NBC. "Steven and Samantha go to Berlin to make contact with an informant who claims to have a code-breaking device that could put all CIA agents at risk. During the mission, the pair struggle to find a balance between their personal and professional lives. Elsewhere, Lizzy forms a bond with a man while she caters his father's funeral."

There's also a new Sci-Fi Science: Physics Of The Impossible at 10:00 PM on Science, focusing on what it would take to destroy the Death Star. Is it possible to have too much awesome science programming in one night?
And then at 10:30 PM there's the fall premiere of Comedy Central's Ugly Americans.

Movies:
Syfy is showing monster movies all day, including Sasquatch Mountain and Savage Planet. Cinemax is showing The Fourth Kind at 12:30 PM. Comedy Central has Coneheads at 3:30 PM, in case you've forgotten the true horror of this particular SNL movie. (And it's also on again Thursday at 11 AM.) At 8 PM, there are three choices: Halloweentown High on Disney, Scary Movie on E!, and Contact on Encore. Sam Raimi's awesome Darkman is on Cinemax at 1:45 AM Thursday morning.
Thursday:
There's another new The Vampire Diaries on The CW at 8 PM. In "Kill or Be Killed," Mason takes the whole vampire/werewolf hostility to the next level, now that Damon has taken the gloves off.

At 8 PM, there's also a new episode of The Big Bang Theory on CBS, "The Zazzy Substitution."
And then at 9 PM, step back into the other universe with a new Fringe at 9 PM on Fox. In "The Plateau," Olivia is plagued by visions and the team struggles to prevent a series of catastrophic events. And Walternate explains his plan:

Also at 9 PM, the CW has a new Nikita, called "The Guardian."

At 10 PM, there's a new Beast Legends on Syfy, focusing on the "Wild Man Of Vietnam." Okay then.
Movies:
Syfy once again has a day of monster movies, including Snakehead Terror and Hybrid. At 1 PM, Cinemax has the dreadful Eddie Murphy vehicle Meet Dave, and at 1:35 PM, Encore is showing Starship Troopers. Starting at 5 PM, TCM has Forbidden Planet, followed by Alien, Countdown and Marooned. Also starting at 5 PM, HBO has X-Men Origins: Wolverine and then Spider-Man 2. At 1:15 AM Friday, TCM has From The Earth To The Moon starring Joseph Cotten.
Friday:
There's another new (to Americans) episode of Batman: The Brave and the Bold at 7 PM on Cartoon Network, called "The Last Patrol."
And then there's a very special Smallville, "Supergirl," on The CW at 8 PM. Kara's coming back to Earth, because there's a threat approaching the planet that Daddy Jor-El doesn't think Clark can handle. And meanwhile, a radio "shock jock" called Gordon Godfrey who rants against superheroes gets taken over by an extraterrestrial influence. Will they do the full-on Legends storyline?

There's also a new Medium on CBS at 8 PM, with "Means And Ends."
Also at 8 PM, there's another new episode of Genndy Tartakovsky's Sym-Bionic Titan on the Cartoon Network ("Phantom Ninja"), followed by a new Generator Rex at 8:30 PM. Finally, at 9, there's a new Star Wars: The Clone Wars, "Corruption."

Also at 9 PM, there's a new Supernatural on The CW: "The Third Man." At this point, it's just a game of waiting to see how long it takes the brothers to figure out Grandpa Samuel is as corrupt as a starving Mandalorian. But in the meantime, at least we have the long-awaited return of Castiel:

And then there's the Haven season finale on Syfy at 10 PM, "Spiral."
As the mysterious cracks spread throughout Haven at an increasing rate, while a mysterious criminal returns to Haven and Audrey discovers the secrets of her past and her mother's.
Movies:
Syfy is switching over to horror movies for "31 Days Of Halloween," including some Frankenstein stuff and some Clive Barker. Also at 10 AM, FX is showing Brendan Fraser's markedly inferior remake of the ultra-classic Bedazzled. At 8 PM, TeleFutura has a fascinating-sounding film called Angel de Acero, starring Shaquille O'Neal and Annabeth Gish. It's got to be better than Steel, at any rate. Also at 8, AMC has Aliens, and then at 10:15 PM, TCM has The Gorgon, starring Peter Cushing. At 2:10 AM, Cinemax is showing Twelve Monkeys, and then at 3 AM Syfy is bringing back the all-time classic: Mansquito.
Saturday:
Movies:
Syfy has another set of horror movies in its "31 Days Of Halloween" feature, culminating with the world premiere of Monsterwolf, starring Robert Picardo, at 9 PM:
On the outskirts of a small Louisiana town, a drilling crew sets blast charges to tap an oil deposit - releasing the Kachinawaya, a Native American animal spirit meant to protect Indian lands from invaders. Stars Robert Picardo (Star Trek: Voyager, Star Trek: Deep Space Nine) and Jason London (Wildfire).
At noon, ABC Family has Sky High, and then at 12:30 AMC starts in with the horror movies too, including Pet Sematary. At 9 PM, TCM has Men In Black. Then at 12:50 AM Sunday morning, Cinemax is showing Alien Sex Files III: Alien Babes, and at 1 AM, Syfy is busting out with Monsterwolf. Combine those two, and you probably have a pretty good movie.
Sunday:
At 7 PM (note special time slot) Cartoon Network has a new Ben 10: Ultimate Alien, called "Ultimate Aggregor." (All you need to know is that Aggregor is a villain, and he's voiced by John DiMaggio. Yes, Bender. And in this episode, he absorbs five aliens and becomes Ultimate Aggregor.) That's followed at 7:30 PM by another new episode, "Map Of Infinity." Apparently it's a special Ben 10 night, because it's 10/10/10:

Once again, Fox has its animation bloc from 8 to 10: a new Simpsons, a new Cleveland Show, a new Family Guy, and a new American Dad.
At 10 PM, National Geographic has a new special, "Hubble's Amazing Universe."
And then at 11:30 PM, there's another awesome new Venture Bros. on the Cartoon Network at 11:30 PM. Allegedly, it's an episode called "Bright Lights, Dean City." That's followed at 12:30 AM by a new Metalocalpyse.
Movies:
Even more horror movies on Syfy, as part of the whole "31 Days Of Halloween" thing, including Book of Shadows: Blair Witch 2 and The Dunwich Horror. USA is showing Children Of Men at 9 AM, for that perfect Sunday morning pick-me-up (and then it's on again at 2 AM.) WGN America is showing Star Trek II and Star Trek III back to back, starting at 10 AM.