It isn't easy to find the perfect method for carrying around your camera. Neck strap? Hand strap? Fantastic retractable strap?
This frustration could be solved once and for all with the Capture Camera Clip. Can it really offer more than the age-old methods of camera tote-age?
What Is It?
A metal clip that allows you to secure your camera to virtually anything with a strap.
G/O Media may get a commission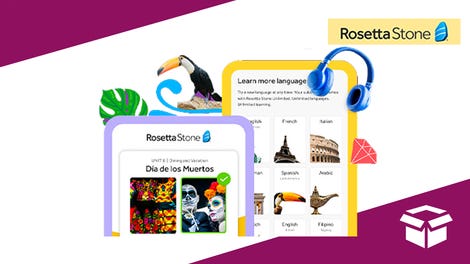 Extra 20% off
Rosetta Stone Lifetime Subscription - All Languages
Who's It For?
Photographers who find typical neck-straps a hindrance, or pros carrying multiple bodies, in need of rapid, unencumbered camera access.
Design
Two hunks of black painted metal screw together to form a clamp with a camera mount on one side. Nothin' flashy—but very solid, without many breakable parts.
Using It
Easy. Loosen the screws and the clamp pivots to the side. Place it around a strap or belt, and lock the clamp in place. Attach the baseplate to your camera, like a tripod plate, and slide it into the mount. Press the red release button to free the plate so you can slide your camera right out when it's time to shoot.
The Best Part
Versatility. It's small, it gives you several ways to carry a camera, it switches between them quickly, and it stays out of your way.
Tragic Flaw
The price. For a simple clamp/mount, $80 is a lot, but it's not entirely surprising, coming from a small company that makes a low volume of products.
This Is Weird...
The baseplate screw has a flip-up thumb tab to attach to a camera without a screwdriver (like a tripod plate). But the damn thing is recessed so deep, it's almost impossible to dig out with a fingertip. You need a pen, or the included allen wrench, to get at it.
Test Notes
We tested the Capture on a number of cameras of varying weight: the Canon 5D Mark III, Canon Rebel T4i, Sony NEX-7, and Canon S110.
Larger DSLRs, like the 5D Mark III, seemed to be too heavy and uncomfortable to dangle from your belt.
Mirroless cameras worked the best with the Capture. They aren't too heavy, but aren't easily stowed in a pocket either.
You can purchase a smaller base-plate that will suit a compact camera better. You can also buy a plate that is compatible with Manfrotto tripods.
Attaching the clip to your backpack strap is much more comfortable if you are using a chest strap.
The most practical method we tried was affixing the Capture system to a looped shoulder strap that isn't connected to anything. This way, the strap acts like any normal camera strap, except that you can disconnect the camera easily, and the weight of the camera isn't throwing off the weight of a backpack or messenger bag.
It scratches up fairly easily. But really, who cares?
Should You Buy It?
If you take photography seriously and are always looking for ways to make your shooting experience more efficient and more comfortable, than the Capture system is a good buy. It will mostly benefit pros who notice those little differences. At $80, it is expensive, and won't transform your life if you are a casual shooter.

Peak Design Capture Camera Clip System
• Price: $80
• Gizrank: 3.0