Carry a camera? If it's too big to fit in a pocket, then you need a strap. There are hundreds of adequate options, including the strap that comes with your camera. But you would be surprised at the difference a better strap can make. Allow Joby's new UltraFit Sling Strap to show you the way.
What Is It?
A totally simple adjustable camera strap.
Who's It For?
People who carry around a big camera. DSLRs are the prime candidates here.
Design
Sleek and understated, which is always good when expensive cameras are involved. The gray and black tones, and wonderfully supple materials from end-to-end, are loads better than the typical shiny, rough nylon.
Using It
This thing works like a dream. Screw it into the tripod mount and sling it over your shoulder. Tug at a ring to cinch it up to walk around. When you are ready to shoot, just lift the camera up and away from you. The gentle tug gracefully extends the strap, giving you plenty of slack to take the shot. You can lock it in any position, but the strap setting generally holds itself in place by the weight of the camera alone.
G/O Media may get a commission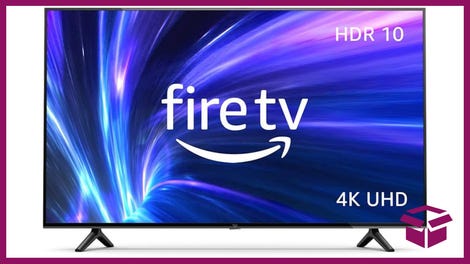 42% Off
Amazon Fire TV 50" 4K Smart TV
The Best Part
No fiddling with buckles and loops and other convoluted adjustments. The Slingstrap is actually a pleasure to use. That's saying a lot for a camera strap!
Tragic Flaw
If you are used to attaching and removing your camera from a tripod, you'll have go without this strap, because it occupies your threaded 1/4" mount.
Test Notes
Your camera hangs upside down. This unnerves some people, but it really is a better way to dangle.
Some other straps have like an inch of foam padding. The SlingStrap is super slim, but it's still really comfortable.
The SlingStrap comes in a version specifically designed for females. The only difference is a very slight curve in the strap meant to conform to chest-area topography.
If you have multiple cameras, it is so much easier to remove this strap to attach it to another camera. Just unscrew it. Fumbling to thread the length of a line through the camera's tiny loops—never again.
Should You Buy It?
Very much yes. At $50, it ain't super cheap. But it is competitive in the price range of pro camera straps. Plus, it looks and works better than almost any of them.

Joby Ultrafit Slingstrap
• Materials: Stainless steel, aluminum, glass-filled nylon plastic, EVA foam
• Attachment Interface: 1/4" thumb screw
• Dimensions: 70" x 2"
• Weight: 3.5 oz
• Price: $50 on Amazon
• Gizrank: 3.5