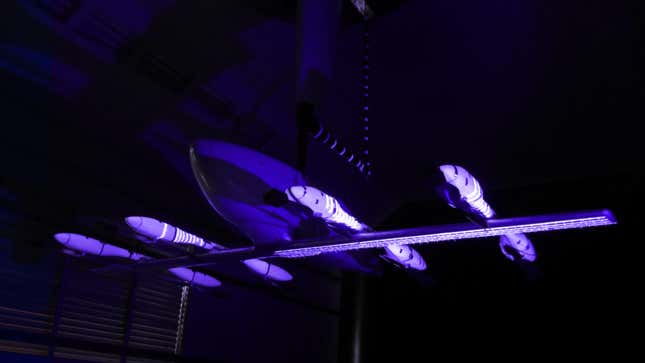 As of 2023, the new millennium has proven to be way less full of flying cars than the movies promised. In today's present, the sky isn't dotted with compact vehicles zipping back and forth through an aerial metropolis. But maybe tomorrow could be. Or at least that's what a handful of tech startups are angling for, Eve Air Mobility included.

The company announced on Monday that it has wrapped up wind tunnel testing for its electric vertical take-off and landing vehicle (eVTOL). Using a stationary, 1/3 scale model of the eight propeller craft, suspended from a rig in the air, Eve says it successfully proved that its helicopter-like design could fly—though it hasn't yet. Completing wind tunnel tests is an "engineering milestone," the company's chief tech officer, Luiz Valentini, said in a press statement. "The testing allows engineers to monitor the flow of air over and around the vehicle and each of its individual parts," the news release further noted.
In other words: getting the right results in a series of stationary wind tests should mean that Eve's eVTOL is one step closer to actually becoming airborne. "We were able to validate vehicle characteristics and efficiency along with gathering critical data to validate our vehicle design. This is an important step before we commit to production tooling and manufacturing," Christian Flathman, the company's communications director, told Gizmodo in an email. The next step, according to Flathman, is prototype construction. And from there, the sky is the limit.
Eve says its eVTOL is "projected to enter service in 2026." The company's ultimate goal is to create a passenger vehicle that could be used for a "variety of urban air mobility missions." According to its website, Eve's vehicle is designed to be 100% electric and have a range of 60 miles. The plan is for it to be piloted by a person at the beginning and then shift to "autonomous operations" after that.

Though it may sound like a pie-in-the-sky sci-fi plan, the startup has attracted the support of at least one big, established name. It got a significant infusion of funds from a $15 million United Airlines investment just last year. Other airlines have also begun investing in similar "air taxi" and flying car companies. American Airlines has said it would pre-order 250 eVTOLs from Vertical Aerospace.
In total, purchasers have placed about 2,800 orders for Eve's 4-passenger eVTOL's, which—again—are supposed to begin shipping in three years. Though if Eve missed this deadline, it wouldn't be the first flying car company to do so. And it's a little hard to see how Eve could get its vehicles in the sky on that timeline. Joby—seemingly Eve's most mature competitor—first began flight tests in 2021, but has yet to clear all of the necessary hurdles to ferry passengers around and operate in urban airspace. A 2022 remotely piloted Joby test flight ended in a crash that reportedly destroyed one of the company's two prototypes.