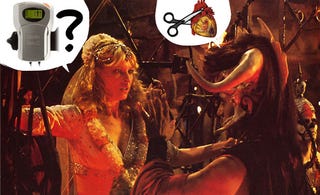 Attending hospital for an ECG reading could soon be a thing of the past, thanks to the CardioSen'C, a portable device that can check for arrhythmia, ischemia, or myocardial infarction. SHL, the Israeli company behind the device, reckons it could help in the fight against cardiac disease—in this country alone 1.5 million people suffer heart attacks each year, a third of which are fatal.
The CardioSen'C uses more electrodes than normal ECGs to measure heart activity. Patients strap the 12 electrodes to their chest and upper body and the battery unit, attached to their chest, gives an instant reading. The results can then be relayed instantly to the patient's cardiologist by cellphone for instant diagnosis.
The device is so small it can be carried anywhere and is expected to cost several hundred dollars when it is eventually marketed here. If you're a nervous traveler with a heart complaint then this could be the gadget for you, but don't expect it to help if you bump into Mola Ram in the Nantucket Mini-Mart.
You can see a pic of the CardioSens'C after the jump.
Israeli firm's device can transmit heart data directly to doctors [SF Gate]