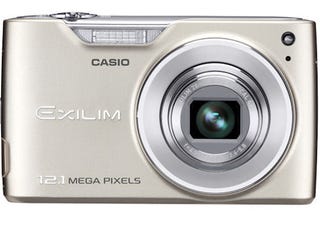 Both budget point-and-shoots include an intelligent auto focus feature to pick the best focus and exposure settings, and have Casio's Dynamic Photo Mode: Shoot video of a moving subject, and replace the background with anything you like. Green-screen fun!
Though entry-level models, each camera records 720p video (24fps, saved as AVI files).
The $200, "champagne"-colored EX-Z450 (above) has a 28mm wide-angle lens with 4x optical zoom, sensor-shifting mechanical image stabilization", and a 3-inch LCD.
The cheaper $150 EX-Z90 skips the wide-angle lens, has 3x optical zoom, image stabilization, and a smaller 2.7-inch display. You'll have more color-choices, too: black, pink, and silver.
Both cameras should hit stores in October. [via PC World]