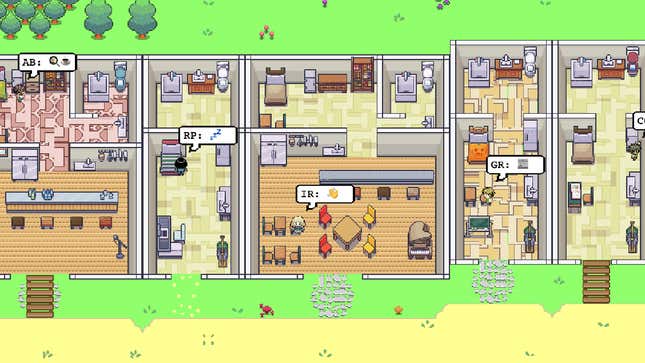 At long last, researchers from Stanford University and Google teamed up to answer one of the most pressing questions about AI: Can we make ChatGPT play The Sims? The answer, thank god, is yes (sort of). In a new study, computer scientists whipped up a pixel-art game to test whether you can separate AIs will simulate human behavior.
The Hunger Games | The Last of Us Episode 8 Review
In the simulation, ChatGPT-fueled avatars "wake up, cook breakfast, and head to work; artists paint, while authors write; they form opinions, notice each other, and initiate conversations; they remember and reflect on days past as they plan the next day," the authors said.
"We instantiate generative agents to populate an interactive sandbox environment inspired by The Sims, where end users can interact with a small town of twenty five agents using natural language," the researchers said in the study, now in preprint.

The study used ChatGPT to create what the researchers called "generative agents," little simulated personalities with memories and individual goals that interact with each other as they go about their daily business.
You can see the AI sprites in action on an interactive website. In this replay session, the researchers gave a ChatGPT Sim named Isabelle the idea that it wants to plan a Valentine's Day party. It starts off early on a Monday morning, with early risers getting up to brush their teeth and do yoga, while others sleep in. As the 25 generative agents go about their days, they invite one another, make new friends, ask each other out on dates, and even plan what time they'll arrive at the party together.
You can click around to check the status of individual agents, which lets you see what memories they've stored, who they're talking to, and what they're doing.
If you watch through to the end, you'll find that five out of 12 people invited to the party show up. Three don't come because they have scheduling conflicts (Think about how weird that is. They don't really exist), while four who said they wanted to come don't show up.
The generative agents really do seem to communicate with each other. When the researchers gave a Sim named Sam the goal of running for mayor, (they all live in a town called Smallville, by the way) he went around announcing his candidacy to his neighbors.
"During the two-day simulation, the agents who knew about Sam's mayoral candidacy increased from one (4 percent) to eight (32 percent), and the agents who knew about Isabella's party increased from one (4 percent) to twelve (48 percent), completely without user intervention," the researchers said.
As if the fact that this thing exists in the first place isn't enough, the study deals with questions of actual scientific value.
Making a computer play computer games is nothing new, and the current generation of AI chatbots often whip up distinct personalities as you interact with them. But in order to get a tool like ChatGPT to perform a task that's useful, you need to establish a framework around it.
This isn't the first time computer scientists used AI to simulate conversations or play games. Researchers trained AI tools to beat chess grandmasters or overcome world champions at video games like StarCraft. And as far back as 1966, the famous 1966 robot therapist Eliza fooled people into thinking they were talking to a real shrink.
This new study builds on that research by going beyond its restraints. Unlike their predecessors, the generative agents in this experiment weren't spitting out pre written answers or playing games with winners, losers, and clearly defined rules. "These approaches often simplified the environment or dimensions of agent behavior to make the effort more manageable," the researchers said in the paper.
Because generative agents interact with their environments and maintain their own "personalities" the study demonstrates a model that could be more useful in real world applications.
On the other hand, the agents demonstrate an unnerving level of autonomy. The weird little guys understood what you're supposed to do in spaces labeled "store" or "bathroom," for example. In other words, you can look forward to an internet populated by robots that really seem like their own people, wandering around using apps and websites. Yay!
The good news is if you've ever felt guilty about all those hours you spent torturing your Sims or trying to get them to have "WooHoo," now you can pretend you're doing serious academic research.
Want to know more about AI, chatbots, and the future of machine learning? Check out our full coverage of artificial intelligence, or browse our guides to The Best Free AI Art Generators and Everything We Know About OpenAI's ChatGPT.