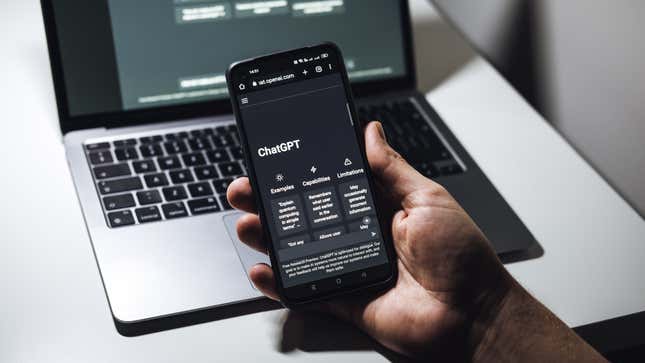 After soliciting opinions from its users via survey earlier this month, OpenAI has apparently settled on a price of $42 per month for the premium version of ChatGPT, the viral AI chatbot.

Did Elon Musk Regret Buying Twitter? | Walter Isaacson Interview
LinkedIn user Linas Beliūnas posted a screenshot of an interface that might have revealed the monthly $42 tier for ChatGPT. According to the post, the premium version is called "Professional Plan" and promises performance even when ChatGPT sees a high volume of users, increased response speeds, and priority access to new features.
"This was only a matter of time since according to estimates, OpenAI could be spending over $100,000 every day just to run the Artificial Intelligence chatbot. That's more than $3 million every month," Beliūnas wrote. "Now, while for some $42/month could sound expensive, it's actually a steal. Especially when you consider all the value it provides."
Neither Beliūnas nor OpenAI have returned Gizmodo's request for comment/confirmation on the source of this image or the monthly rate for ChatGPT.
ChatGPT is currently free
OpenAI has shown previous interest in a paid version of the chatbot, as evidence by the survey and waitlist sent out to its users earlier this month. The company distributed the survey to patrons in its Discord server, stating that "We're starting to think about how to monetize ChatGPT (early thinking, nothing official to share yet)" as quoted by The Verge. The survey asked questions like:
At what price (per month) would you consider ChatGPT to be priced so low that you would feel the quality couldn't be very good?
At what price (per month) would you consider ChatGPT starting to get expensive, so that it is not out of the question, but you would have to give some thought to buying it?
At what price (per month) would you consider ChatGPT to be a bargain—a great buy for the money?
It was really only a matter of time before OpenAI began to cash in on the totally free ChatGPT, which has taken the world by storm since its inception late last year. We've been able to see the versatility of the tool, which has fooled scientific reviewers, planned a holiday party, and even written a Gizmodo article. OpenAI is also getting some revenue via a deal with Microsoft, likely to boost the company's search engine Bing, and Semafor reported that the investment could be as high as $10 billion.