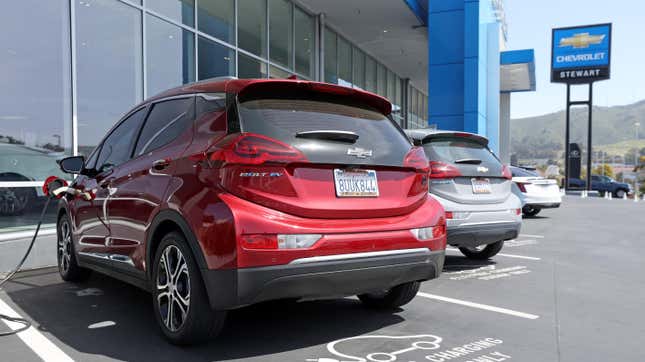 Long ago, they paved paradise and put up a parking lot. That was the compromise of progress. Now, Chevy is taking what could've, at least, been a proverbial parking lot filled with compact, relatively affordable electric vehicles and swapping it for one stuffed with more, massive EV pick-up trucks.
Cops Pull Over Self-Driving Car
General Motors, the parent company of Chevrolet, announced in its Tuesday investor call that it will stop making its two top-selling plug-in electric vehicle models by the end of 2023. The Chevy Bolt and Chevy Bolt EUV will be no more. GM is pivoting and reconfiguring its Michigan-based Orion plant, which has been pumping out Bolts, to instead manufacture two different forthcoming models of electric pick-ups: the GMC Sierra and the Chevrolet Silverado.
"We've progressed so far that it's now time to plan the end of Chevrolet Bolt EV and EUV production," GM CEO Mary Barra, said during the earnings call.
Except it's a little hard to see the elimination of the Bolt as progress when it's the most affordable EV available in the U.S. market. A new Bolt starts at $26,500, a Bolt EUV at $27,800. The two cars are also far and away the cheapest electric vehicles eligible for the reconfigured Biden tax credit scheme, which offers a $7,500 credit to purchasers of either of the Chevy EVs. Without the Bolt, the Nissan Leaf will be the only sub-$30,000 electric car for purchase in the U.S.. And, counter to the Bolt, the Leaf is not eligible for the tax credit program, which newly mandates that vehicles be American-made to qualify.
"I feel sad for the consumers," said Corey Cantor, an EV analyst at the research organization Bloomberg New Energy Finance, in a phone call with Gizmodo.
Without the Bolt around, purchasing a new EV will be thousands of dollars more expensive, and much less accessible to a large sector of would-be-gas-free-car-owners. It's likely to put a damper on EV adoption in the short-term, limiting the climate benefits of vehicle electrification. "You're leaving a lot of consumers on the table," said Cantor. And GM's move away from compact models and towards larger electric trucks signals that an emphasis on EVs doesn't necessarily equal an emphasis on the environment.
An electric Chevy Silverado might not chug gas, but it still uses many more resources and much more energy than a smaller vehicle with a smaller battery. Assessing efficiency, materials, pollution, and other life-cycle factors, at least one 2023 analysis found that electric pick-up trucks have an equivalent environmental impact to compact, gas-powered cars. There's the comparative electricity demand and tax on the grid. Then there's the issue of building them.
Rare earth metals and materials like lithium are currently in worryingly short supply. Finding and mining more of those critical battery components comes with big potential to harm sensitive ecosystems and already vulnerable people. We need more mining for the energy transition, that's likely inescapable. But need, want, and demand are different things.
"If you're going to have a larger battery in general, you're going to need more critical minerals, and you're going to need a lot of support for that battery size and a heavier vehicle," Cantor agreed. Though, on the flipside, he added that Chevy's new electric pick-up lines could be a climate win if people are convinced to buy electric over fossil-fueled. "GM center sells a lot of Silverados every year...so you need to appeal to those consumers as well."
Ben Prochazka, executive director at the EV-adoption advocacy non-profit Electrification Coalition, also told Gizmodo that electrifying trucks and SUVs is critical to reaching a larger sector of the market.
Which sort of makes sense. Pick-up trucks are exceedingly useful for many people who use them as work vehicles. Having electric pick-up trucks available is a good thing. But do we need as many pick-up trucks as there are in the U.S.? Almost certainly not.
Admittedly, the Bolt is far from perfect. It's outdated in its charging speed and capacity. There've been safety issues with the battery. Yet, it has remained a popular EV anyway. Though he expected the Bolt to be discontinued at some point, Cantor "was definitely surprised" it happened so soon. The model was GM's top EV seller last quarter, again. The Bolt was the 5th most purchased electric car in the U.S. last year after three of Tesla's models and the Ford Mustang Mach-E, according to Electrek. Updating the Bolt with newer battery tech, as GM is doing with the rest of its Chevy lines, could've made it even more desirable. But, GM isn't doing that for now. Instead it's giving red-blooded Americans the big honking trucks they crave.
Worldwide, U.S. consumers are, of course, known for their love of high horsepower and large, lumbering metal machines. But the trend didn't necessarily have to hold in the shift to EVs. "It almost becomes a little bit of a self-fulfilling prophecy," Cantor said. "If you only offer bigger vehicles, you never give people a chance to get a [more compact] car that's less wear and tear," on roads and ecosystems.
Expanding into the truck market can't and shouldn't happen at the expense of more affordable sedans and compacts. We need both if EVs are every going to take over the market and make even a dent in U.S. carbon emissions. "We can't stop creating something like the Bolt and then not replace it with something that still meets that sedan, affordability [benchmark]," said Prochazka. But convincing GM to come out with a new, cheap, compact EV could be a challenge.
The company's decision to nix the Bolt is a financial move meant to boost the automaker's bottom line in the long term, Cantor explained. The company still loses money on its EV sector, and cheaper, smaller cars generate less profit (at one point, years ago, each Bolt sale was costing GM ~$9,000 before government incentives and credits). The move from Bolts to trucks is yet further evidence that pure capitalism can't actually motivate environmental good or solve climate change.
All is not necessarily lost in the realm of accessible EVs, Cantor and Prochazka emphasized. In the long term, both are optimistic that more affordable, compact EV models will pop up. Sometime this fall and continuing into 2024, GM is set to release its first versions of the Equinox EV SUV, which the company says will start at $30,000. It's not quite as cheap as the Bolt and it's bigger, but it's something. And maybe Tesla will get its act together or European automakers will bring some of their existing models to the U.S. market. Yet for now, the death of Bolt will leave a gap.
It's true that, from a climate and environment perspective, all these personal electric vehicles—truck or compact— should just be public buses and fast trains. But it's also true that an electric sedan is better than a gas-powered one, and an electric compact car is better than an EV truck. In our present reality where climate policy is limited to incentivizing consumer choices, the Bolt was a pretty good choice to have. R.I.P. to that little, unassuming EV starter vehicle.
Don't it always seem to go, that you don't know what you've got 'til it's gone?
Update 4/27/2023, 11:30 A.M. ET: This article has been updated with additional information about the release of GM's Equinox EV.