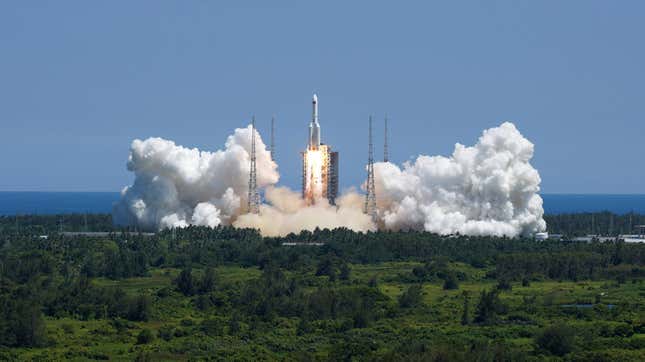 The long, drawn-out saga of China's latest spaceplane mission has come to an end, with the reusable vehicle completing a second secretive mission that lasted much longer than its first flight.
Astronomers Could Soon Get Warnings When SpaceX Satellites Threaten Their View
China's spacecraft landed on Monday at the Jiuquan launch centre, according to the China Aerospace Science and Technology Corporation. The uncrewed spaceplane returned to its launch site in northwest China after spending 276 days parked in Earth's orbit. Chinese state-run media has dubbed the mission a success, with CGTN writing that the spaceplane's recent flight marks an "important breakthrough in reusable spacecraft technology research."
There's still very little information about the mission itself, including what exactly it was up to while in orbit. In November 2022, the United States Space Force's 18th Space Defense Squadron tracked an object that may have been ejected from the spaceplane. While the exact identity of the mysterious object remains unconfirmed, experts believe it may have been a satellite used to observe the spaceplane itself.

The experimental spacecraft launched on August 5, 2022 as a classified payload on board a Long March 2F carrier rocket. The spaceplane's first launch happened back in 2020, when it stayed in orbit for only two days before landing back on Earth.
For its second time in orbit, the spacecraft flew at a higher altitude and for a much longer period of time. Shortly after it launched, the spaceplane stayed at an orbit of about 215 miles by 369 miles (346 kilometers by 593 kilometers) inclined at 50 degrees above the equator.

China's spaceplane is a product of the China Academy of Launch Vehicle Technology, a state-owned manufacturer that makes both civilian and military space launch vehicles. The idea is to have a hybrid airplane-spacecraft vehicle that launches to space onboard a traditional vertical rocket. The spaceplane operates like a regular aircraft in Earth's atmosphere and a spacecraft in space, allowing the reusable vehicle to complete missions in space and then return to the surface where it performs a horizontal landing.
The U.S. Space Force has its own spaceplane; the Boeing X-37 launched in May 2020 for its sixth test flight and landed back on Earth in November 2022 after spending more than two years in orbit. That's a much longer time than China's own spaceplane, but the experimental vehicle is now racking up time in orbit with each flight.
For more spaceflight in your life, follow us on Twitter and bookmark Gizmodo's dedicated Spaceflight page.