After months of troubles reported by New York City's bikeshare, it seems that Citi Bike has finally charted a path towards success. It's going to be more expensive, but will offer improved service and more bikes. But here's the change that will make all the difference: Citi Bike will get a new leader—one who used to run the city's transit authority.
First, the news announced yesterday was that Alta, the company that has been running Citi Bike (and other bikeshares, with some financial difficulty), has been acquired by a brand new corporation. Bikeshare Holdings LLC is headed by the fitness chain Equinox with investment from developer Related Companies. Citibank will still fund the program through 2024.
With this new infusion of cash, the number of stations will double to 700 stations and 12,000 bikes by 2017, with the system reaching into currently underserved neighborhoods in Brooklyn and Queens. All the existing bikes will be given a tuneup before being returned to service. Here's the only potential bad news: An annual pass will go up—way up—from $95 to $149. People who live in affordable housing can get a pass for $60.
But there's one more change that is poised to transform Citi Bike—and dramatically change the role of the bikeshare service in the city. The new Citi Bike boss is a man named Jay Walder, former chief of New York's MTA who resigned in 2011 to go work for Hong Kong's transit authority. Before that he was at Transport for London, where he was credited for bringing the city's transit system into the 21st century.
Under Walder's leadership, Citi Bike also plans to add a chief of technology, which would bring some of their already impressive algorithmic and data-mining work to the forefront. And he also hinted that the system is finally going to do something about the confusing checkout procedure and broken kiosks that results in a degraded user experience.
G/O Media may get a commission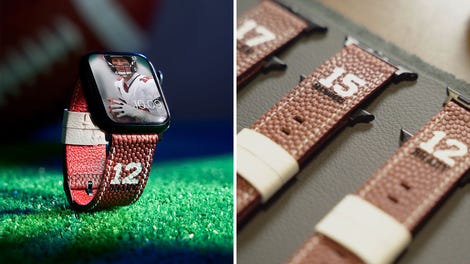 Official NFL PRODUCTS
Official NFL Apple Watch Bands
The implications around Walder's tenure could provide an important distinction from the way that bikeshare is treated in many cities. The fact that these systems are privately managed and funded, and not under the jurisdiction of public transit authorities, is what contributes to their operational woes, but also creates a larger perception that bikeshare is more for fun or recreation, instead of a viable way to get around town.
NYC's system still remains vulnerable to the whims of private ownership (and the vitality of a bank), but Walder brings a de facto transit authority perspective. Not only will he bring years of experience running three of the largest and most successful transit systems in the world, he'll be approaching Citi Bike as a systemic, citywide transportation solution.
A bikeshare should be as critical to a city's transportation infrastructure as a subway, bus, or sidewalk. It's high time that New York's system starts acting like it. Let's hope that this is the start of a new era for bikeshare across the country. [Streetsblog]
Photo by Bebeto Matthews/AP