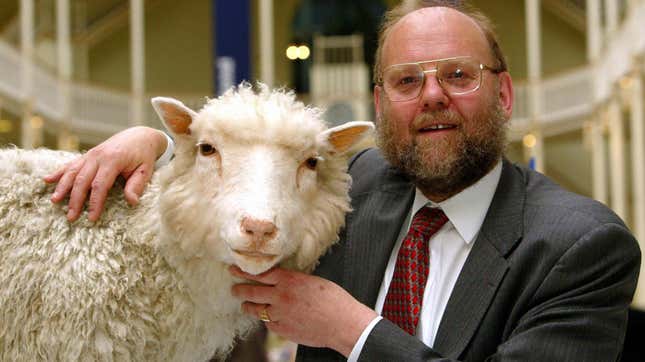 Sir Ian Wilmut, the British scientist who led the team which cloned Dolly the sheep, has died, the University of Edinburgh in Scotland confirmed in a statement on Monday. He was 79 years old.
What Drew John Boyega Back Into Sci-Fi? | io9 Interview
Wilmut's official cause of death has not been released but comes after his years-long illness with Parkinson's disease. Bruce Whitelaw, director of the Roslin Institute said in the statement: "Ian was such a great ambassador for Roslin. His reach was global. He led back in the 1980s the team that produced Dolly from which so much has come to the Institute, the University of Edinburgh, and indeed to science in general. We have lost one of the best-known science pioneers."
Dolly, born in 1996, was the first mammal in the world to be cloned by an adult somatic cell, with Wilmut leading the team of scientists responsible for the revolutionary medical breakthrough. The team's breakthrough in stem cell research heralded new possibilities for regenerative medicine.
A pioneer in genetic research, Wilmut's loss was further acknowledged by professor Sir Peter Mathieson, the principal and vice-chancellor of the University of Edinburgh. Mathieson called Wilmut a "titan of the scientific world," saying cloning Dolly the sheep "transformed scientific thinking at the time." He added: "This breakthrough continues to fuel many of the advances that have been made in the field of regenerative medicine that we see today."
After creating Dolly, who was named after the country music artist Dolly Parton, Wilmut's cloning techniques opened up possibilities for producing genetically modified animals that could produce therapeutic proteins in their milk. The discovery sparked concerns and moral panic over the possibility of human cloning, prompting then-U.S. President Bill Clinton to propose a ban on human cloning.
"[The technology] has the potential to threaten the sacred family bonds at the very core of our ideals and our society," Clinton said at the time, according to a 1997 New York Times article. "At its worst, it could lead to misguided and malevolent attempts to select certain traits, even to create certain kinds of children, to make our children objects rather than cherished individuals,'' he added.
Wilmut was knighted in 2008 and retired from the University of Edinburgh in 2012. In 2018, Wilmut and his team collaborated with the University of Dundee to form a research initiative for Parkinson's, a neurodegenerative disease, after revealing he was diagnosed with the illness.
"With the sad news today of Ian Wilmut's passing, science has lost a household name,'' Whitelaw told NBC News. "Ian led the research team that produced the first cloned mammal in Dolly. This animal has had such a positive impact on how society engages with science, and how scientists engage with society," he said.
More: Dolly the Sheep Didn't Die Prematurely Because She Was a Clone