Congratulations, Pocatello Idaho. You have American's slowest Internet. That's according to a new study by Pando Networks that tracked Internet download speeds and completion rates across the country for five months this year.
Pando Networks found some pretty stunning differences nationwide. The coastal and Mid-Atlantic states had the fastest and most reliable Internet (with Rhode Island scoring highest) while the Mountain states and Midwest did the worst.
It also reinforces what we already know about the digital divide: wealthier communities have better Internet service, while poorer communities tend to have worse. Pocatello, Idaho, um, poked along at a mere 251KBps, while tony Andover, Mass., was zipping at 2,801KBps.
If you want to move somewhere with super fast Internet, give one of these cities a try. They were the top ten in the nation:

G/O Media may get a commission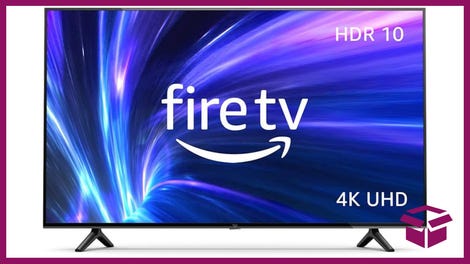 42% Off
Amazon Fire TV 50" 4K Smart TV
Andover, Mass: 2801KBps

Lynnwood, Wash: 2474KBps

Woodbridge, Va: 2093KBps

Kent, Wash: 1858KBps

Burke, Va: 1674KBps

West Hartford, Conn: 1640KBps

Clementon, NJ: 1474KBps

Bay Shore, NY: 1443KBps

Santa Monica, Calif: 1428KBps

Lutherville Timonium, Md: 1400KBps
While most cities with sizable tech footprints also did well, a few did surprisingly poorly (I'm looking at you Atlanta, L.A., and Chicago):
Atlanta: 665KBps

Austin: 911KBps

Boston: 862KBps

Chicago: 678KBps

Los Angeles: 672KBps

New York: 805KBps

Providence, RI: 869KBps

San Francisco: 912KBps

Seattle: 1017KBps
And now behold! Interactive charts!
Average Completion Rate by State


Average Download Speed By State (Kilobytes Per Second)

In terms of providers, Comcast Cable did the best. It had average speeds of 871KBps, with a 90% completion rate. And New Yorkers, if you suspect your Time Warner cable sucks, you're right! Road Runner (Time Warner's Internet service) did the worst in the nation. In New York State, it had average speeds of just 720KBps, with an 87% completion rate.
Perhaps the biggest surprise was mobile, where AT&T did the best with 416KBps, Verizon was at a measly 216KBps, while Alltell scored the lowest at 155KBps.
I think the most interesting takeaway for me personally is that with my combination of Comcast, AT&T and San Francisco, California, I'm at the vanguard and really ought to stop all my bitching.
---
You can keep up with Mat Honan, the author of this post, on Twitter, Facebook, or Google+.