Joe Russo talks Avengers: Infinity War cameos. Alan Tudyk discusses playing a droid in Rogue One. Plus, Dean Israelite on Bryan Cranston's involvement in Power Rangers, more Spider-Man: Homecoming casting, and new footage from Blair Witch. Spoilers Now!

Spider-Man: Homecoming
Jona Xiao has joined the cast—and once again, her role is currently undisclosed. [Variety]
---
Power Rangers
Dean Israelite tells Empire how Bryan Cranston came to join the project as Zordon:
Like everybody, [Cranston] was skeptical. But he saw a bunch of footage and got excited for the potential. I think it'll be a thrill for fans to see what we're doing with Zordon.
G/O Media may get a commission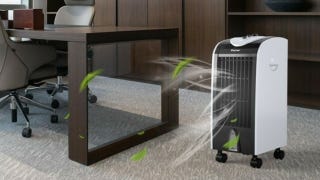 Save $10
Evaporative Portable Air Conditioner Cooler with Filter Knob
---
Thor: Ragnarok
The Wrap reports that Devo's Mark Mothersbaugh is supposedly composing the film's score.
---
Wolverine 3
Hugh Jackman marks the end of his time as Wolverine with one last shave of his Logan facial hair.
---
Avengers: Infinity War
Expect another cameo from an actor from Community, according to Joe Russo:
We're literally in that phase of the pre-production where we start thinking about those kinds of things, and right now we're looking for the right part to see who's a match for the next cameo.

Yeah, absolutely. We've got to keep the streak going.
---
Rogue One: A Star Wars Story
Alan Tudyk discussed the origins of K-2SO with the Star Wars official website:
Kaytoo was formerly an Imperial droid, so he used to be on the other side. He was a security droid and then Cassian, Diego Luna's character, who owns Kaytoo, has done a memory wipe and reprograms Kaytoo to be a Rebel with the Alliance. Through that process, Kaytoo's personality changes. I approached it as if he were freed, almost like a governor on an engine that holds the personality back. The Empire was much more of a regimented world where you're much more forced to be in servitude of the Empire, which historically is the case. When he is reprogrammed, his personality comes out, which is a bit odd.
Speaking of Kaytoo, here he is with Jyn and Cassian in a new still. [Empire]
---
Blair Witch
Here are two new promos for the film formerly know as The Woods.
---
Transformers: The Last Knight
Here's some more set pictures from filming (including a knight, maybe even the last one!). Find more at the link.
---
Game of Thrones
Speculation is running wild that Jason Momoa is set to return for a cameo as Khal Drogo in the next season of the show. It's mainly Momoa himself stoking the speculation, as he's been actively posting images to social media showing that he is both back in Northern Ireland and in contact with the Game of Thrones production team, who are beginning pre-production on the season momentarily:
While this isn't a definite confirmation of Momoa's reappearance—if anything, it could be an attempt to distract people with a red herring, like the appearance of Sibel Kekilli in costume as Shae on the set of season six turned out to be—it's not like there isn't precedent for the actor making a return after Drogo's death, since he re-appeared to Dany in a vision in season two. Consider this a playful tease with a dash of speculation for now.
---
BrainDead
Finally, CBS has revealed the synopsis from the two-part season finale, airing September 11th:
Talking Points Toward a Wholistic View of Activism in Government: Can the Top Rebel?" - When Laurel discovers that a senate bill is not what it appears, she implores Luke to help, leading to a dramatic Senate sit-in. Also, Red and Ella battle for control of the bug agenda, and Laurel questions whether or not she should leave Washington, D.C. for good, on BRAINDEAD, Sunday, Sept. 11 (9:00-10:00 PM, ET/PT) on the CBS Television Network.

"The End of All We Hold Dear: What Happens when Democracies Fail: A Brief Synopsis" - Laurel discovers the secret to driving the bugs out of a person's brain and tests the tactic on her father. Armed with new knowledge, Laurel and Gareth attempt to expel the Queen bug out of Red's head once and for all, on BRAINDEAD, Sunday, Sept. 11 (10:00-11:00 PM, ET/PT) on theCBS Television Network.
---
Additional reporting by Gordon Jackson. Banner art by Jim Cooke.