Vin Diesel has pretty much confirmed that he's a member of Guardians of the Galaxy. Natalie Portman catches us up on Jane Foster in Thor: The Dark World. Chappie, Neill Blomkamp's robot comedy, gets a synopsis. Check out schematics for X-Men: Days of Future Past's Sentinels. The Walking Dead is really into horses now. Spoilers!
Top image from The Wolverine.
Star Wars: Episode VII
While I generally try to avoid stories that are just actors saying they would like to appear in the movie, I'm willing to bend the rules a bit when Ray Park explains just how desperately he wants to play Darth Maul again. Partially that's because it's slightly more newsworthy when an actual Star Wars alumnus says it, but mostly I just realize I ignore Ray Park at my own risk when he's this clearly passionate about something:
"I've said that I would play anything to do with Star Wars. But really, deep down, I would love to come back as Darth Maul — that's what I want to do. I would go crazy, go mental, lock myself in a cabin, you know. Do the whole 'method' for two or three months, spear-fishing and stuff, just to play the character again."
[/Film]
---
Man of Steel 2
Breaking Bad star Bryan Cranston was asked about the possibility of putting all his experience playing a bald-headed supervillain head of a criminal empire to good use by taking on Lex Luthor, and here was his probably not entirely serious reply:
"Give me a call. I like Lex Luthor. I think he's misunderstood. He's a loveable, sweet man."
G/O Media may get a commission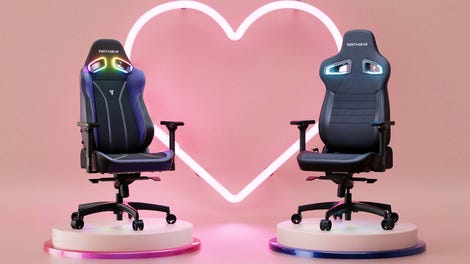 Up to $150 off
Vertagear Gaming Chairs
To be fair, Lex Luthor probably could be considered loveable and sweet when compared to Walter White. [Metro]
---
Thor: The Dark World
Natalie Portman discusses her character Jane Foster and how she fits into the sequel:
"I don't think she's as quite as forgiving [of Loki] as Thor is. Often times we protect the people we love more than we protect themselves. But, he's helpful in some places. Evil people can think like other evil people… [In Asgard] things that she's marveling at seem like high technology to her are like kids toys [to them] and they are such an advanced species that even though she's this astrophysicist she's totally inferior to all of them. So, I think it's a good humbling experience for her… [The sequel is] much grittier I think because they chose to shoot in real places much of the time. A lot of the villains world was shot in Iceland, so it looks like real places as opposed to some [place] drawn on a computer. It's a lot darker in tone maybe, but still quite epic and entertaining."
[HitFix via Comic Book Movie]
---
Guardians of the Galaxy
Vin Diesel has now more or less confirmed that, yes, he is the voice of Groot. The Riddick and Fast and the Furious star explains why he took on the role:
I'm an actor. I can do whatever the … I want. As an actor, not everything has to be the most obvious choice. And sometimes, the best thing you can do — as far as Steven Spielberg and his advice — is to defy expectations. So if everybody thinks you're going to go for this one thing and you flip it entirely and go for the strangest Marvel character, it's interesting. And when something is interesting, it's inspiring.

Marvel is notoriously secretive about its movies, and you're very open. Isn't it mad you've been dropping hints about "Guardians"?
The last thing they are is mad. I'm pretty open, but I have been secretive about this. I went to Comic-Con and I got blasted while I was on the Hall H panel for "Riddick." Someone asked a Marvel question. I couldn't say anything because of that secrecy.

Chris Pratt just tweeted that they're already halfway through with production on the movie. When would you film this?
That's the thing — I'm so busy. The audience wanted Vin and Marvel, Vin and Marvel. But I'm too busy to do a six-month role. So what Marvel came up with was really interesting. … I am watching a social wave influence and in some ways guide their thinking.
There's more at the link, including Diesel's wonderfully non-humble thoughts on just why Marvel Studios wants so badly to be in the Vin Diesel business. I still feel like there's a nonzero chance that Marvel is going to claim they have no idea what Diesel is talking about and this is all just some elaborate Facebook prank gone astray, but what the hell, this is a more entertaining way than usual to get casting news. [Hero Complex]
---
X-Men: Days of Future Past
Fresh off the heels of that "Christian Bale might be offered 50 million dollars to play Batman again" rumor – which is probably even more bullshit than it originally appeared to be – comes a new rumor featuring an even bigger payday for an established superhero actor, albeit at a lower rate per film. Specifically, Hugh Jackman, whose Wolverine commitments are finished once Days of Future Past is completed, has reportedly been offered 100 million dollars to play Logan in four subsequent films. Jackman is reportedly more than ready to move on from the role, but that the promise of such a massive salary has at least kept him from giving an immediate "no." Admittedly, this report is probably barely any more trustworthy than the Bale story, considering the source… although it doesn't really seem unreasonable that 20th Century Fox is preparing to back a dump truck full of money onto Jackman's driveway in the hopes of getting him back. [The National Enquirer]
Some schematics for the movie's mutant-hunting Sentinels have been released, which tie in nicely with this passage on the robots from the in-universe viral site for Trask Industries:
In 1973, Trask Industries introduced the first Sentinel production model, the Mark I. Bolivar Trask's groundbreaking research in AI, robotics and autonomous ballistic systems laid the foundation for the world's most capable anti-mutant defense system. Since the program's inception, we've continued to advance our founder's cause through eight additional generational upgrades and enhancements.

As we celebrate five decades of achievement, we also bid farewell to regular production of the Mark I and shift our efforts to full-time manufacturing of the Mark X — our first complete overhaul of the Sentinel line. These highly anticipated units will combine next-generation nanotechnology and bioweapon breakthroughs, promising an even brighter future for the human race.
Check out the schematics below. [Coming Soon]
---
Chappie
Now that Elysium is out, director Neill Blomkamp is ready to get to work on his next collaboration with frequent star Sharlto Copley. And Chappie is expected to be much more comedic than either of his earlier films. Here's part of the press release from Sony Pictures:
Chappie tells the story of a robot imbued with artificial intelligence who is stolen by two local gangsters who want to use him for their own nefarious purposes. The film will star Sharlto Copley as the voice of Chappie, with Ninja and Yolandi Visser, voices of the South African Zef counter-culture movement and members of rap-rave duo Die Antwoord, as the two gangsters.
Slumdog Millionaire and The Newsroom actor Dev Patel has also been linked to a part, but that's not officially confirmed here. [JoBlo]
---
Kick-Ass 2
Star Christopher Mintz-Plasse and writer-director Jeff Wadlow discuss some of the most extreme moments of the comic that didn't make it through the adaptation process:
Mintz-Plasse: There was a rape and a murdering of a dog that was just a little too much for this kind of world. Because this still is a comic book world and the violence is–even though it's bloody–it is over the top and cartoony in a way that if you put a rape scene or killing an animal in there, it kind of brings the tone down. It's a little dark.

Wadlow: There's things that Mark [Millar] and John [Romita, Jr.] have to do in a comic book to get a response from an audience that I don't have to necessarily do in a movie because they're dealing with approximations of people–they're drawings, so there's automatically a separation. I've got real, live people in front of my cameras. So to create that emotional response, I didn't always need to go as far.
---
Transformers 4
Here's a pair of set videos, the first of which features Bumblebee.
---
Left Behind
The second adaptation of those fairly awful post-rapture books, that exists for some reason and stars Nicolas Cage for some reason, no longer costars High School Musical's Ashley Tisdale. Replacing her is Switched At Birth and Big Love actress Cassi Thompson, who will take over the role of Nicolas Cage's daughter… for some reason. I find this whole story deeply perplexing, basically. [Coming Soon]
---
Agents of S.H.I.E.L.D.
English actor Ian Hart, whose previous credits range from Bates Motel to Harry Potter and the Sorcerer's Stone (he was Professor Quirrel), has reportedly joined the cast as a scientist character. That's literally all we know so far – it's not even entirely clear just how big a role this is on the show – so feel free to speculate baselessly that it's Hank Pym, because surely he's got to show up somewhere. [EW]
---
The Walking Dead
Executive producer Gale Anne Hurd explains why Michonne is riding a horse – named Flame, because what other kind of horse is Michonne going to ride? – in one of the season four promo images:
"One of the most compelling images is Michonne finding a new and possibly a lot more reliable type of transportation. With gas at a premium, with the fact that vehicles break down, I think we would return to the days of horseback riding and you can graze them as you go in a place like Georgia. You don't have to carry food for them. They feed themselves, so to speak. It goes along with the new approach this season of sustainability. With a horse, you can go through the woods. You can get around obstacles. You can't do that in a vehicle. If a tree falls and blocks the road, you can't go through the forest. You're not going to make it through. It's actually much more of a useful choice. Not only that, but Michonne looks so badass on it."
Michonne actress Danai Gurira adds:
"So I had a lot of adjusting to do. I learned how to ride Western in L.A. and then I get here and they're like, 'Oh, but they're English here.' And I'm like, 'Really?' I was just getting O.K. with cantering, but not really. Then it was just crunch time, and I was like, I've just got to do this. It's man over beast. I realize I've been given dominion over the animals and I'm going to take my dominion. I took advice from so many different people. I took it all. I put it all in the pot and somehow the day before we were shooting I was galloping. And we got it there, and then I loved it. I really, really love it. I've always loved horses, and in the back of my mind I thought I knew how to ride, but I didn't. Then I really learned I didn't. And then now I really can. I love it. I love it now. And I totally get why Michonne would love it. It's such a freeing experience, it's you and this one creature and you don't have to talk. And it does what you say, but it's also this old being and it gets you where you need to go. It has this perfect function. It's just a fantastic animal. So, I so get why she would jump on it and feel free. It's like going into her man cave."
[EW]
---
Under the Dome
Here's a promo for the next episode, "The Fourth Hand," featuring a guest appearance from Justified and The Following actress Natalie Zea. [SpoilerTV]
---
Person of Interest
The fifth episode of season three was originally called ""PA37ABOP," but that has now been changed, presumably because the title was just kind of impenetrable and unpronounceable. The new title is "Razgovor," which neatly fixes all those problems. [SpoilerTV]
---
The Originals
Here's an interview with costar Leah Pipes, who plays the human Camille. [SpoilerTV]
---
Teen Wolf
Doug Jones, best known for appearing under heavy, otherworldly prosthetics in Hellboy and Falling Skies, will reportedly guest star in the fifteenth episode "Galvanize" as a known killer named Barrow. [TV Line]
Here's a promo for the twelfth episode, "Lunar Eclipse." [SpoilerTV]
---
Additional reporting by Amanda Yesilbas and Charlie Jane Anders.