There's a Wolverine poster, the Rock shows off the Hercules set, and James Cameron and Alfonso Cuarón talk Battle Angel and Gravity. Ryan Reynolds talks about the Deadpool movie. Could Russell Crowe star in a Krypton prequel? Plus Ming-Na Wen describes her character on Agents of SHIELD. Spoilers now!
The Wolverine
Here's a new image released by Fox. [ComingSoon.net]
---
Hercules
Dwayne Johnson tweeted this photo from the set, showcasing the details of the set design. [ComingSoon.net]
G/O Media may get a commission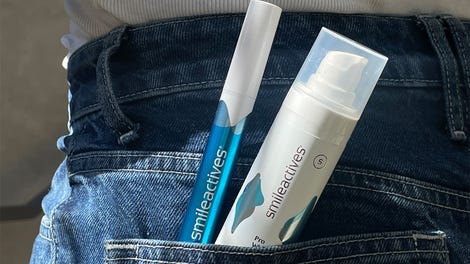 58% off
Whitening Powerhouse Pen & Gel Duo
---
Battle Angel
At Mexico City's technology forum TagDF, James Cameron revealed that, to "one up Avatar," he's going to shift from focusing on the technology of film to expanding story and characters. "Trans-human exploration" which has "haunted" him for years, will extend to Battle Angel. This long-rumored project will, apparently, finally go into production in 2017. [The Film Stage]
---
Gravity
At the same forum at TagDF in Mexico City, Alfonso Cuarón spoke about his struggles with the astronaut movie, saying he didn't think he had the tools available to tell the story. He called James Cameron, who felt that the problems with the production were not about rechnology, but story. Neither would say what was needed to finish the film, but Cuarón did say that the resolution involved cinematographer Emmanuel Lubezki. [The Film Stage]
---
Justice League
Armie Hammer had been cast as Batman in Warner Brother's first attempt at a Justice League movie, but he doesn't seem to want to come back to the role for another go-around. The Lone Ranger star told an interviewer:
I don't know… It doesn't seem like it would be executed as well as Marvel's done theirs.
---
Star Wars Episode VI
Warwick Davis, who was in Return of the Jedi as the Ewok Wicket and was also in The Phantom Menace, would like to be in the new movie. Davis told Empire magazine:
You have to drop hints. I don't know whose ear to drop them in any more, but I think Kathleen Kennedy's quite a good start.

I'd love to do it and the fact they're filming in England makes it much easier. I just think it would be wonderful to be connected to all three trilogies.
Also, he has ideas about what kind of character he should play:
A villain would be nice. Some sort of villainous character with a lightsaber. I'd enjoy that.
[Sky News]
---
Man of Steel
Russell Crowe was asked on Twitter whether or not he'd consider reprising his role as Jor-El for a prequel set on Krypton. His response was both positive and a little annoyed:
A lot of you are asking about a KRYPTON prequel, if that's something you feel strongly about let @Legendary pictures know your thoughts

Just getting sick of reading the same question mate, however, if it came up, i'd give the tights another go.
---
Transformers 4
Michael Bay's official website put up "Favorite New Autobot" poll, which confirmed a number of new transformers in the film. The poll included:
Optimus Prime
Bumblebee (1967 Camaro SS)
Bumblebee (2014 Concept Camaro)
Bugatti Grand Sport Vitesse
Corvette Stingray
Hound (Medium Tactical Vehicle)
Lamborghini Aventador LP 700-4 Coupe
Chevy Sonic RS
Pagani Huayra
2014 Argosy by Freightliner
---
Deadpool
Ryan Reynolds still wants to make the film, but it's a tricky one:
That movie is alive and kicking, and then it's dead as a doornail. Then it's alive and kicking and then it's dead… it's like the worst relationship I've ever had!

The character knows he's a comic-book character, he knows he's in a film, he knows who the executives are at the studio making the movie. In the current iteration of the script, Deadpool is aware of the Wolverine movie. He doesn't say anything disparaging about it but he does at one point play with the Deadpool action figure with some curiosity.
---
Agents of S.H.I.E.L.D.
Ming-Na Wen spoke to SFX about her character, Agent Melinda May:
I think she definitely honors her job and she takes it very seriously, and she has a lot of skills to reach level 7. But from what I gather she has some damage, she's like a damaged soldier. I think she's definitely one of the more season/experienced agents in this crew.
She also spoke about the extent that Joss Whedon will be involved in the show, with production for Avengers 2 also ramping up:
We definitely try very hard to take what he started in the writing and directing of the pilot episode, and he will be there to guide us indefinitely. He's got an office in the S.H.I.E.L.D. building so he'll be there. But we're also in really good hands with his brother Jed and Maurissa, and our team they're amazing.

I think for the die hard fans who know Joss Whedon's work as well as the Marvel series and all the movies, I think the will have a certain expectation which we will be able to deliver as far as sense of humor, as far as the comradery of the characters and the action. But I think the one big surprise is because it's now been translated for television, it's just the continuous development of these characters on a weekly basis and hopefully they'll be able to be more invested in these characters and what happens to them.
---
An Adventure in Space and Time
Mark Gatiss spoke to Blogtor Who about what would be included in the docudrama and what he had to leave out:
To be absolutely frank, the problem with trying to focus on one story about the beginning is that there are so many stories. There'll be howls of protest from certain quarters because there are some people not in it. It's a drama about the creation of Doctor Who, it's not a documentary and, therefore, I had to focus on a small number of main characters. And a few of the other characters have to slightly merge. David Whitaker's not in it. Mervyn Pinfield is and he sort of absorbs David Whitaker's role. To a lay audience, who don't give a monkey's about the difference between a script editor and associate producer, they would just be bewildered.


It hurts my inner anorak, it hurts me. But, at the same time, I had to approach it very much the way I would do if I didn't know anything about the programme - it's a drama about people and the fun mechanics of the creation of the show.

The big casualty really was, in the first draft or two, the creation of the Daleks had essentially meant the relationship and the difference between Terry Nation's [the creator of the intergalactic pepperpots] and Ray Cusick's [the designer of Skaro's finest] fate was sort of the B-plot. But it was too broad, it was too wide-ranging, it just needed to be focused.

I hope that if you don't really know any of these famous Doctor Who stories that you'll be surprised by some of the decisions. It's interesting when we were editing it, some things you just stripped out because actually that's a detail too far.
More at the link. [Blogtor Who]
---
Arrow
Season two will start Oliver Queen grieving, but it won't be long before he's back in action. And David Ramsay's Diggle will help during that grieving period.
Manu Bennett and Colton Haynes are now series regulars, so there'll likely be more "action-packed" scenes with Slade Wilson and more heroism from Roy Harper.
Paul Blackthorne's Quentin Lance "will have some life and career re-evaluation to do. He's certainly seeing the Hood Guy in a whole new way now."
Finally, even though Oliver tells his dying best friend he did not kill his father, it seems like John Barrowman's Malcolm Merlyn has met his end and will probably not return. [International Business Times]
---
True Blood
Rob Kazinsky spoke to The Hollywood Reporter about his character Ben, his relationship with Sookie, and what it means to step in where fans are already committed to Bill or Eric:
I know that no matter what I do, I will be rejected by Eric and Bill's camps. I know that I am fighting an uphill battle from the very, very start just by being somebody different. However if they give Ben a chance, maybe they will see that he might be the best thing for her. Over the course of the season, you are going to see that there is a lot more to him than what meets the eye in the first few episodes. He is the first real chance that she has for happiness. He is the same as her: ostracized, lost, a fairy. He offers her a chance to actually be normal for once in her life with somebody who truly understands her. So, I think after a little while if people could kind of get over their hate of the fact that I am usurping their favorite character, they might actually grow to like him.

THR: What would you say is the biggest threat facing Ben?

Kazinsky: That is almost impossible for me to answer without me giving away an awful lot. Let me just say that trying to be a good guy and trying to be an honest and true person never works out too well with all of the other kind of shady characters that you have around. It is never going to run smooth for anybody.
---
The Walking Dead
Episode 4.07 is called "Dead Weight." It will feature two brothers: Mack, an "aggressive wiseass" and Patrick, who is "fair-minded." Mack will be a recurring character and Patrick is a guest role. [SpoilerTV]
---
Warehouse 13
Here's the promo for tonight's episode, "All the Time in the World":
---
The Vampire Diaries
Executive Producer Julie Plec has given information on five different storylines that'll be appearing in the next season. The first is Damon and Elena's "new relationship," and Damon and Elena will "try to make it work." The relationship will be affected by a "villain in their midst they don't know is a villain at the beginning."
The second storyline is Stefan and his doppelganger, which Plec thinks fans will really enjoy. Plec says it'll include "a pretty cool mythology that will carry on in terms of Silas, and the mystery of his past — 1,000 or 2,000 years ago."
The third bit she revealed is that, even though Klaus will be on a different show and Hayley is pregnant with his child, Klaus and Caroline's relationship isn't a thing of the past.
Fourth, Katherine will obviously struggle with being human again. "We were just in the room the other day talking about the first time she catches a cold — just how freakin' pissed she's going to be about that," Plec said.
Fifth, and finally, Jeremy will face a lot of new obstacles as he returns to school. "What the hell cover story is that going to be?" she said. "How's he going to explain that? He had a memorial service! There were flyers!" [Spoilers Guide]
---
The Originals
Phoebe Tonkin will be playing Hayley in the spinoff of The Vampire Diairies, which will have her dealing with being pregnant with Klaus' child. Tonkin told IGN:

I think... we're really going to see Hayley actually deal with the information that she is pregnant and that she is a young woman with a child, or a child about to come.

It's nice to play a young adult finally. I've been playing 16 for a long time. And... having an issue like pregnancy with it - an unplanned pregnancy - is a very real topical issue, and it's nice to explore an issue like that within a supernatural world.
Additional reporting by Charlie Jane Anders