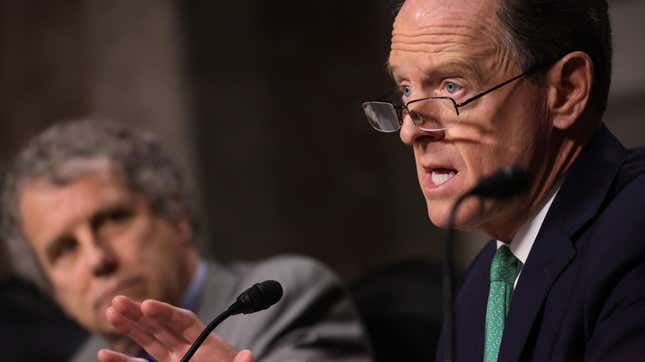 Lawmakers from opposing parties disagreed over who and what was truly to blame for a devastating crypto crash that left customers collectively burnout out of billions in losses during a Wednesday Senate Banking Committee hearing. While Democratic lawmakers and crypto skeptics warned of the dangers presented by a lack of meaningful oversight measures, Republicans pushed back, with some blaming part of the recent tumultuous chaos on the Securities and Exchange Commission's alleged failure to use regulatory powers already at its disposal.
Banking Committee Chairman Sherrod Brown began the hearing rapidly listing off the cryptocurrency industry's laundry list of blunders and pitfalls over the past 12 months. The Democratic senator from Ohio said the industry's repeated missteps and burning of customer funds proved it lacked any true oversight or accountability measures. While early crypto adopters and sophisticated players have managed to profit from the industry, Brown said everyday investors duped into investing money through flashy, celebrity filled ads were ultimately left holding the bag when the funds ran dry.
"Fortune doesn't favor the brave," Brown said in an apparent dig at Matt Damon's Crypto.com SuperBowl ad. "It favors wealthy insiders." Brown went on to say the "crypto nightmare isn't over yet," and that more pain could be on the way if new rules aren't hashed out quickly.
Republican minority leader Tim Scott, on the other hand, took a gentler view of digital currencies. Though Scott still acknowledged clear examples of fraud and abuse, he said it was important for lawmakers to ensure they do not create new regulations that interfere with the crypto industry ability to "innovate." Oddly, Scott used part of his opening statement to call out SEC Chairman Gary Gensler, who he said was "asleep at the wheel." Scott admonished Gensler and the SEC for what he views as a failure to properly use the regulatory powers at its disposal to prevent the collapses from occurring and for failing to issue guidance over stablecoins.
"Regulators have put misplaced focus on progressive social issues," Scott said.

The hearing comes at a pivotal moment for cryptocurrencies. Scandals, fraud, dramatic arrests, international manhunts, and "plain old-fashioned embezzlement" have sent crypto valuations plummeting and soured relationships between decentralized finance elites and U.S. lawmakers. In some cases, top financial authorities like SEC Chairman Gensler have given crypto companies an ultimatum: regulate, or die.
G/O Media may get a commission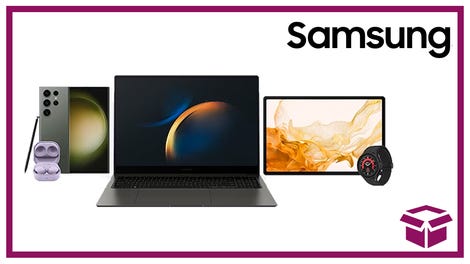 24 hour deals
Discover Samsung - Daily Deal
"If this field has any chance of survival and success," Gensler recently told CNBC. "It's time-tested rules and laws to protect the investing public."
'Crypto is just gambling'
The lawmakers questioned three expert witnesses who held widely divergent views on cryptocurrency. Linda Jeng, the chief global regulatory officer and general counsel for major crypto advocacy group Crypto Council for Innovation, largely went to bat for the industry, while Duke Financial Economics Center Policy Director Lee Reiners and Vanderbilt University Law School Professor Yesha Yadav have spoken more critically about crypto companies.
In her testimony, Jeng, who testified under her personal capacity as an academic and researcher, tried to separate the broader crypto space from specific bad actors like FTX's Sam Bankman-Fried, and called for a light-handed, nuanced regulatory approach. Jeng said it was important for crypto firms to have clear rules of the road dictating what they can and can't do, but cautioned against overly aggressive restrictions. In addition to rules, Jeng said it was important for the U.S. to adopt a more coherent national strategy around crypto to avoid falling too far behind the E.U., U.K, and others.
"This is a key moment for our transition to a digital economy," Jeng said in her written testimony. "We are at a decision point where how we build our legal and regulatory foundation will determine our digital future for decades to come.
Reiners was far less measured. The professor said he believed crypto was "doing more harm than good to our society," and questioned some lawmakers' interest in embracing a technology, "that is undermining our sovereignty." Not mincing words, Reiners said regulators should do everything in their power to prevent crypto from seeping its way into the traditional banking sector.
"Crypto is just gambling," Reiners said, before comparing crypto to Powerball tickets.
Citing the recent FTX collapse as an example, Reiners said lawmakers and regulators should force platforms to separate customer and firm assets to prevent shady companies from investing customer funds in other areas. He said there was "no evidence" to suggest crypto encourages financial inclusion among underbanked communities as some crypto supporters have claimed, and instead said the practice was more akin to the disastrous subprime loans leading up to the 2008 financial critics. Crypto exchanges and lending firms were purposefully using familiar terms like "banker" and "broker" Reiners alleged, to fool people into believing they are just as regulated as traditional financial services.
"This is an example of predatory inclusion," he said.
Yadav, meanwhile, struck somewhat of a middle can, both acknowledging the urgent need for tiger safety measures in crypto but then going on to propose the firms essential police themselves as a part of a public mandate for private self-regulation of cryptocurrency exchanges. Yadav who sees the recent crypto winter as a unique opportunity for reform said it was important to "not let the crisis go to waste."
Massachusetts senator and former Democratic presidential candidate Elizabeth Warren blasted cryptocurrencies which said we tools perfectly suited for criminal activity. Reiners buttressed Warren's points, testifying that he believed cryptocurrencies are the "exclusive payment method of choice for ransomware attacks."
If all of this sounds somewhat familiar, it's because lawmakers in the The House Financial Services Committee gathered two months ago to discuss the epic collapse of FTX and its disgraced founder SBF. Lawmakers had intended to grill SBF, but his sudden arrest in the Bahamas just days before left them questioning court-appointed FTX CEO John Ray III. Ray, who previously oversaw the Enron bankruptcy, blamed the sudden fall of FTX last month on the absolute concentration of control by a small group of, "grossly inexperienced and unsophisticated individuals" headed by SBF.
Crypto companies, particularly those with stablecoins, are under intense scrutiny after Terra, Luna, and FTX
Just this week, the New York Department of Financial Services ordered Paxos to stop minting new units of the Finance USD stablecoin. Making matters worse, a recent Wall Street Journal report claims Paxos could soon face an SEC lawsuit over the stablecoin. Combined, those event caused Binance CEO Changpeng Zhao to say Binance would start to see users "move away" from the Binance stablecoin.
Just days prior, failing crypto exchange Kraken revealed it would fork over $30 million to settle SEC allegations claiming the company crypto "staking" service was in fact an illegal sale of securities. At the same time, the DOJ's fraud investigators are reportedly beginning a criminal investigation into Silvergate Capital's dealings with FTX and Alameda Research.
The sudden influx of regulatory action and interest had led some regulatory allergic crypto pusher.
Update: 2/13/2022 1:39 P.M. EST: Added details from hearing.