If you fancy yourself a designer of sorts, you're going to love Blu Homes. This California-based company makes beautiful, incredibly customizable prefab houses that also happen to be environmentally friendly. You can design your own without leaving the comfort of your couch.
But beware: You will get sucked in. These things are cool, and Blu's online "Configurator" software makes it sort of feel like you're playing a game of Sim City when you're actually building a house. If you're interested in playing designer, you just pick one of the nine base packages; these range from cosy one-story ranch houses to strikingly modern two-story palaces. Just this week, Blu Homes announced a tenth design called the Breeze Aire (pictured below), which is inspired by Joseph Eichler's architecture:
So how does it work?
Once you've picked your model, the Configurator takes you room to room, giving you the option to change everything from the flooring to the wall color. You have your choice of cabinet materials and tiles, many of which are made from recycled material. (All of the Blu Homes are LEED Silver certifiable.) You even get to pick appliances and fixtures, which are also environmentally friendly. Want a fireplace? Just click a button. How about speakers in the wall? Click! Refrigerated wine cabinet? No problem. Heated floors? Oh yeah.
G/O Media may get a commission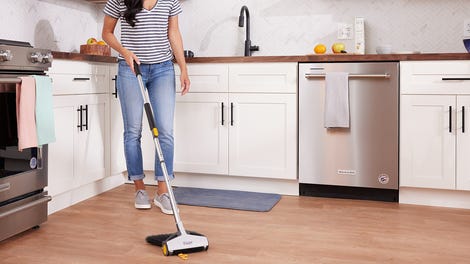 BOGO 50% Off
Flippr - BOGO 50% Off
If you're actually interested in buying a house—and not just fooling around like this blogger was—Blu invites you to send yourself your design and asks you to fill out a brief survey about what you're looking for. Eventually, the company sets you up with a whole team—including the very craftsmen who will build the home in Blu's Northern California factory. Most of the work is done in that factory, and then the actual installation process only takes a day or two.
How much is all of this going to cost me?
Depending on what you want, you'll either think that Blu Homes are a nice bargain or a slightly out of reach luxury.
The smallest model, the Breeze Pod, starts at $155,000 for one bedroom and 461 square feet. The models that I tinkered with, however—the Sidebreeze and the Breezehouse—were $635,000 and $665,000, respectively. (Evidently, Blu really likes breezes.)
It's important to keep in mind the fact that these prefab houses come fully baked. The final price—which varies based on the state you live in and the options you want—includes everything from the appliances to the wiring. You can also add a garage or an addition for a few (dozen) thousand more dollars.
But it's cheaper than it seems.
If you are indeed thinking of buying or building a new house, you should seriously consider getting a prefab. Sure, some of them seem expensive up front, but many prefab companies say that you'll get that money back over the years, since prefab homes tend to be more energy efficient and easier to maintain than conventional homes. And if you don't like what Blu has to offer, there are other options. Connect Homes is a great one, though its models aren't quite as customizable as Blu Homes.
But enough talk. You can start designing your own prefab home—or your fantasy prefab home—right here. I'll show you mine if you show me yours.
---
Breezehouse
This one-story, three-bedroom number is perfect for a small family. One of the real highlights of the house is the so-called "Breezespace." (Told you these guys like breezes.) This area is flanked by glass doors that can open up to create quite the living room.
For the kitchen, I went with the "Chef de Cuisine" package, because I deserve it.
And here's that famous Breezespace. So breezy!
---
Sidebreeze
For the family that wants to get vertical, this two-story, four-bedroom house is terrific.
It also has a very breezy living area that doubles as a dining room.
This is the slightly less fancy "Executive Chef" package for the kitchen.
And finally, the bathroom. Don't forget about those heated floors, either. You'll never get cold feet again.