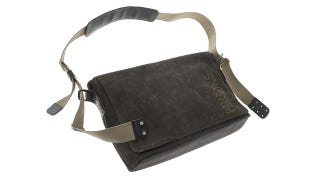 Cyclists everywhere extol the virtues of the Brooks leather saddle. Once that hard leather molds to your ass, it's the most comfortable way to ride. And it's handsome, too, as is the Brooks shoulder bag.
Leave those synthetic messenger bags to the peons on their fixies and invest instead in a more refined satchel. Sure, the Brooks Barbican is a bit heavier and a tad more expensive ($400) than its brightly-colored cousins, but it is totally functional without bowing to the athletic club aesthetic. Like Brooks' other products, the tanned leather will eventually mold to your body. It's the perfect way to show everyone in the bike lane that you are not just athletically superior, but socially superior as well. [Brooks]
---
Daily Desired is our look at a beautfully-designed product we're drooling over. Got your eyes on something awesome? Let us know.
You can keep up with Mario Aguilar, the author of this post, on Twitter and Google+.