The drinking water situation has gotten so desperate in Puerto Rico post-Hurricane Maria that the Environmental Protection Agency reported Wednesday some people are turning to wells on hazardous waste sites to find water.
Despite this latest update, President Donald Trump has insinuated on Twitter that the United States can't keep federal agencies on the island "forever."

As Trump mentioned Thursday morning, the island's infrastructure was a "disaster" before the hurricane. He's right about that, at least: Puerto Ricans barely had access to clean drinking water before Maria hit. This hurricane just made it worse.

As of 2015, 99.5 percent of islanders were drinking water from systems in violation of the Safe Drinking Water Act. What does that look like, exactly? More than 80,000 violations, according to a report the Natural Resources Defense Council released earlier this year with Puerto Rican environmental groups El Puente and Asociación Nacional de Derecho Ambiental.
G/O Media may get a commission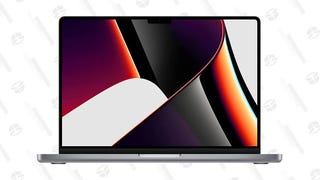 Save $300
2021 14" 1TB MacBook Pro
Now, the situation is worsening. Three weeks have passed since the hurricane struck the U.S. territory as a Category 4 storm, and just 64 percent of its residents have potable water, according to government data.
That leaves more than 1 million U.S. citizens without water.
But water isn't reaching different parts of the island equitably: Regions like the metro and the South have 80 percent of its people with water, but the West and the North are seeing about 70 percent without potable drinking water. So it's no wonder people are looking wherever they can to find a little aguita.
Per the EPA:
There are reports of residents obtaining, or trying to obtain, drinking water from wells at hazardous waste "Superfund" sites in Puerto Rico. EPA advises against tampering with sealed and locked wells or drinking from these wells, as it may be dangerous to people's health.
For those who don't know, Superfunds are sites the EPA designates as "the nation's worst hazardous waste sites," ones the EPA is supposed to prioritize for cleanup because they're just that bad.
Superfund sites might be leaching ridiculous amounts of lead into the soil or polluting waterways with toxic chemicals like dioxin. Puerto Rico has 18 sites, ranging from pesticide warehouses to a former military weapons training area.
Superfund sites aren't mentioned in the NRDC report, but a good number of those 80,000+ violations had everything to do with toxins: Between 2005 and 2015, the island's water systems committed 4,092 total health-based violations. These include violations due to unlawful amounts of volatile organic compounds, coliform bacteria, and disinfection byproducts—all of which pose threats to human health.
Then, there's lead. About 97 percent of Puerto Ricans were using water systems in violation of the Lead and Copper Rule. The report states:
All but one of these violations were for failure to test for lead or to report problems to health authorities or the public. In one case, a system was also violating lead treatment rules. In some cases, water samples exceeded EPA's Lead Action Level, which is not an enforceable standard but indicates excessive lead in water.
So Puerto Rico's always had it bad when it comes to its water. This is also true for its now-destroyed electrical grid. These fragile and failing systems needed work way before Hurricane Maria hit. What's changed is how much the storm has stressed these systems and the people who depend on them—pushing Puertoriqqueños to desperate limits.