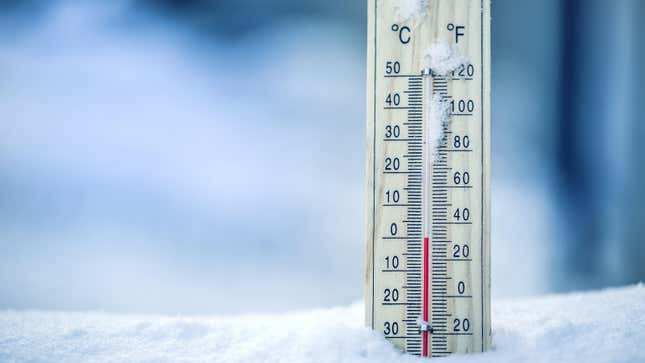 The Defense Advanced Research Projects Agency (DARPA) is looking for a new way to get nice and cozy: The agency is funding research into drugs that could protect people from extreme cold. Should these efforts bear fruit, the drugs could have a variety of uses, from treating hypothermia patients to helping people better explore the Arctic—and, what is surely DARPA's main interest, creating soldiers who aren't fazed by freezing conditions.
How to Know If the Heat Is Making You Sick
DARPA's funding for a potential anti-cold drug will come from its Young Faculty Award program, which aims to "provide high-impact funding to elite researchers early in their careers to develop innovative new research that enables transformative [Department of Defense] capabilities." This week, Rice University announced that faculty member and bioengineer Jerzy Szablowski has won one of these grants.
Szablowski and his team will use the money to investigate a non-genetic treatment that can enhance our adaptation to cold temperatures via thermogenesis, or the bodily production of heat. There are two basic methods of thermogenesis in humans, with the most familiar being shivering. But the researchers are more interested in improving how our bodies burn off brown adipose tissue (BAT), or brown fat, to keep warm. As part of the research, Szablowski will be teaming up with Miao-Hsueh Chen, a BAT expert and associate professor of pediatric nutrition at Baylor College of Medicine.
"The other type of thermogenesis involves BAT, which is capable of generating heat through a chemical reaction," said Szablowski in a statement released by Rice University about the project. "Nonshivering thermogenesis kicks in sooner but is not as efficient, so it cannot generate quite as much heat, at least not in humans."
The hope is that Szablowski's team will find a way to safely boost the potency of this BAT response. That in turn might cut down the time it normally takes for people to adjust to a new cold setting from weeks to hours, or it may help first responders better stabilize hypothermia victims. And the insights learned from this research could pay off in other ways, too. Scientists elsewhere have theorized that tweaking our BAT response may help us burn calories more efficiently, for instance, which could possibly help treat obesity and other metabolic conditions. The researchers will also be using a new screening method to look for chemicals that can affect BAT regulation, and they say this method could improve our search for other drugs in the future.
"The main innovation of this screening method is that it is mechanism-agnostic, meaning that we might not need to fully understand the disease or physiological process before developing mitigation strategies," said Szablowski. "Simply put, it would allow us to screen a very large number of drugs."
Related: Everything DARPA's Been Doing for the Last 20 Years