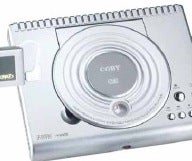 As part of a 2-day sale, CVS has the Coby Ultra Compact DVD Player available for $20—no rebates or shipping required. It's no frills, and I'm guessing that means no component connection, but if you are looking for a new DVD player for favorite niece to play peanut butter, this Coby is a decent option.
The Coby will go back to $30 after President's Day, so go for it. Be spontaneous when grabbing your prophylactics and 2-for-1 cashews.

Disposable DVD Player [dvd dossier]
Thanks tipster!