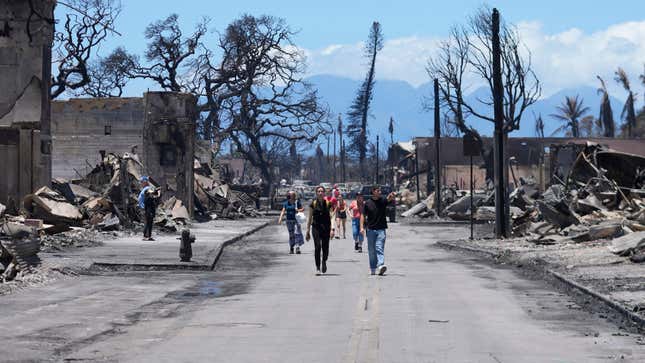 After days of devastating fires that have displaced thousands of people, and have burned down important historical sites throughout Maui, the official death count has risen to 106 according to officials.
Meet Microsoft's New Surface Laptops
Hawaii Governor Josh Green has estimated that about 1,300 are still unaccounted for, CBS News reported. State officials worry that the death toll will only continue to rise as emergency responders gather DNA to identify remains.
Several of the fires are almost entirely contained by now, according to a press release from the County of Maui website. This does not mean that the fires have been extinguished, it means that the flames are contained in a perimeter controlled by firefighters. This has come after the wildfires have ended lives, displaced thousands of residents, and destroyed historical sites important to the islands' history.
The wildfires were likely caused by damaged power lines when Hurricane Dora swept south of Hawaii over a week ago. A security camera in the Maui Bird Conservation Center captured what seemed to be a fire sparked by nearby power lines that were being whipped around by the hurricane's winds, the Washington Post reported. A video recorded from cameras in the conservation center on August 7, shows a flash of light in the nearby woods. The facilities lost power and when the generators turned the cameras back on, the nearby forest was already on fire. Several sensors in that area of Maui recorded significant incidents on the electrical grid, according to data from Whisker Labs, a company that uses sensor networks to monitor grids, according to the Washington Post.
Most of that county is currently experiencing drought conditions, according to the U.S. Drought Monitor. The especially dry and hot conditions combined with those strong winds fueled the flames that have overtaken the island, especially in the West Maui area.
The Maui fires are officially the deadliest U.S. fires since 1918, when wildfires in Minnesota and Wisconsin killed more than 400 people, according to data from the National Fire Protection Association.
Want more climate and environment stories? Check out Earther's guides to decarbonizing your home, divesting from fossil fuels, packing a disaster go bag, and overcoming climate dread. And don't miss our coverage of the latest IPCC climate report, the future of carbon dioxide removal, and the un-greenwashed facts on bioplastics and plastic recycling.