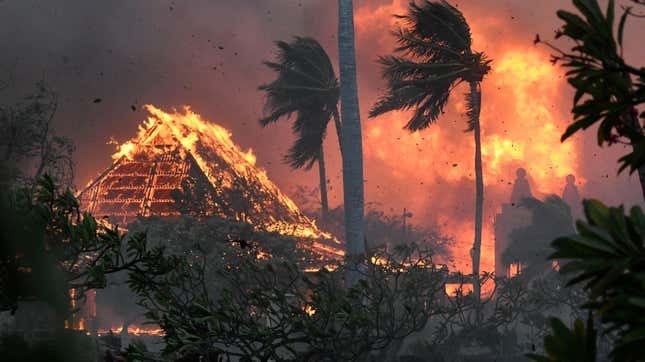 The ongoing fires in Hawaii that have burned homes, trees, and historic sites to the ground have killed over 50 people as of Friday, according to officials. The reported death toll this Wednesday was 6 people, but yesterday it climbed to 36, and as of today the official report is 55 dead due to the fires. Officials worry that the number of deceased will only continue to rise as firefighters work to contain the flames.
Meet Microsoft's New Surface Laptops
As was the case yesterday, nearly 11,000 Maui residents are in the dark today due to infrastructural damage, according to data from Poweroutage.us. This means that about 15% of Maui is currently without power.
Hundreds of families in the West Maui community of Lahaina have been displaced as much of that community has been devastated by the fires. "The closest thing I can compare it to is perhaps a war zone, or maybe a bomb went off," Maui County Mayor Richard Bissen told ABC News. "Most structures no longer exist, and for blocks and blocks of this."
Historic buildings have been severely damaged, including Waiola Church. It was established in the early 1820s and celebrated its 200-year anniversary this spring. The old church is also the final resting place for members of the Kingdom of Hawaii's royal family. Flames destroyed the structure earlier this week.
Videos uploaded to Twitter show block after block of charred homes, burned cars, and dead trees:
Another casualty of the flames are some of the largest banyan trees in the U.S. These tropical trees are important in Hawaiian history and are often referred to as a symbol of island culture. One specific tree near Lahaina's historic Front Street has shaded community members for about 150 years, the Associated Press reported.
In response to the fires, President Joe Biden declared a state of emergency yesterday, which means more federal aid to support state and local recovery efforts. Local officials have opened shelters and have distributed food and supplies to those displaced on the ground. Firefighters from other parts of Hawaii and emergency responders from other states, including Nevada, have been deployed to support Maui's firefighters, a statement from the County of Maui explained.
Want more climate and environment stories? Check out Earther's guides to decarbonizing your home, divesting from fossil fuels, packing a disaster go bag, and overcoming climate dread. And don't miss our coverage of the latest IPCC climate report, the future of carbon dioxide removal, and the un-greenwashed facts on bioplastics and plastic recycling.