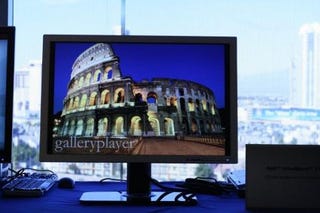 The Skinny Dell whipped up a new UltraSharp LCD for us to lust after at CES this morning. Measuring in at 27-inches, the 2707WFP has a WUXGA resolution along with a 92% color gamut, putting it right up there alongside the 3007WFP-HC.
Geared Toward Media junkies. Whether you're editing photos or watching DVDs, this is the LCD to do it with.
The Spin The 2707WFP has a completely new look when compared to Dell's other LCDs. It's got a sexy brushed aluminum housing along with a glossy black base. On the side you'll find a media card slot while the rear houses S-Video, component, and DVI with HDCP. And if you're worried all those wires might interfere with your LCD's clean looks, Dell's designers gave the LCD's back panel extra attention, giving it cable management and more of that hot brushed aluminum finish.
Counterspin We tried, we tried really hard—but there's little to hate about Dell's new LCD and at $1,399, we just might end up picking one up ourselves. (If we had the money).
Buy It If... You've been jonesing for a big-screen LCD, but don't have the $1,699 for the 3007WFP-HC.