Looks like we can finally see what was behind all those Black Ice rumors. This morning Dell unveiled their new XPS 710 H2C desktop with Black Ice technology. Essentially, Black Ice is Dell's new dual-stage cooling solution that relies on solid state refrigeration to keep your CPU from breaking a sweat. There are no fans involved so it's quiet compared to everything else that's out there. So why the Black Ice?
Well, just take a look at what was inside our system....
G/O Media may get a commission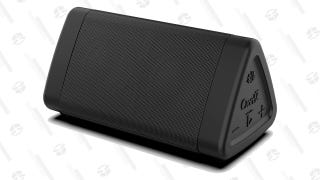 Save 31%
Oontz Angle 3 Portable Bluetooth Speaker
CPU: Intel Core 2 Extreme Quad QX6700 (3.2 GHz) Memory: 4GB 667MHz HDD: 2x160GB 10K RPM (RAID 0) + one 750GB Video: Dual Nvidia GeForce 8800 GTX cards Optical 1: 16X DVD-ROM Optical 2: 16X DVD+/-RW Audio: Creative X-Fi Card Display: 3007WFP-H2C OS: Microsoft Windows MCE 2005 Update (Emerald) Keyboard: Razer Tarantula Gaming Keyboard Mouse: Razer Copperhead Gaming Mouse Media Bay: 13-in-1 Media Card Reader
We were lucky enough to get a hands-on with the system just before CES. First thing we noticed about this PC was its size. The 710 H2C is Godzilla-like so if you're pressed for space, don't bother. But despite its monstrosity, the system flies regardless of what program or game you throw it's way.
The base price for the system is $5,199. Our config above (which came with the 30-inch 3007WFP-HC, an additional 750GB HDD, and a pair of Dell wireless speakers) came in at an absurd $7,118. A lot of PC for a lot of dough.
Dell XPS 710 H2C [Gizmodo]