The last time I owned a Dell computer was back in high school. It was an XPS M1330, which was—for the time—a powerful computer, and not cheap either. But after some wear and tear, the case started to break in interesting (see: unfixable) ways, the battery life tanked, and the fan got unreasonably noisy. I bought a Macbook Pro to replace it and never looked back.

Almost ten years later, Dell are still using the painfully 90s-sounding XPS brand (the X stands for "Xtreme"), and is hoping to offer a sincere challenge to the 15" Macbook Pro with their new XPS 15 laptop.
The most noticeable characteristic of the XPS 15 is its extraordinary display. With almost no bezel around the screen, 4K resolution, above average brightness, viewability from almost any angle, and superb color, it feels markedly more immersive than Retina displays—to the point where color flaws on web pages and low-resolution installation wizards become hard to look at. Dell's togglable PremierColor feature pushes the display's palette to its limits, and looks stunning in the right applications.
The guts of the XPS 15 are also impressive. For an average user, the Intel i5 (or optional i7) will have power to spare. Anything above the base model comes with a NVIDIA GTX 960M, and the top of the line version has 32GB of memory. I played Team Fortress 2 at the highest possible resolution—while Chromecasting a tab from Netflix, playing music on Spotify, and with Photoshop open—and saw no noticeable lag while 12-year-olds repeatedly shot my character to death and mocked by utter lack of skill.
Those two features—and they're big, meaningful features—are where the good aspects of this machine begin and end.
G/O Media may get a commission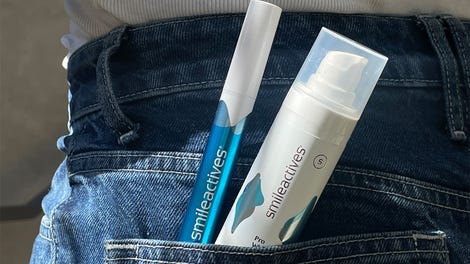 58% off
Whitening Powerhouse Pen & Gel Duo
That luxurious display means an utterly miserable battery life. PremierColor is a power suck, as is the touchscreen. From a full charge I clocked a pitiful 2 hours and 27 minutes while continuously streaming video with all the bells and whistles turned on, and a little over 3 hours on a second attempt.

Like many Windows machines, the trackpad feels fussy and insensitive. The highest spec versions come with a touchscreen, which tacks an extra $400 on the pricetag (comparing two otherwise identical models). And, for the life of me, I could not find a use for that touchscreen—except to perform some basic drag-and-drop tasks the trackpad was unwilling to do. Unlike a tablet where touch features replace more traditional IO options, the keyboard isn't removable. With a foot of matte black hardware between you and the screen, prolonged use is uncomfortable, and unless you own a separate stylus it has no meaningful functionality with Photoshop.
Sound is also supposedly one of this machine's selling points. Cross checking between my Macbook and the XPS on a pair of Grado SR80s, I detected few if any noticeable differences on lossless files—perhaps a slight boost in higher frequencies on the Mac, but certainly nothing anyone at a consumer level would care about. Without headphones, the situation is even more dire for the Dell. Despite Apple products' reputation for being tinny and quiet—and to be fair, the Dell is markedly louder—the MBP 15 at least has its speakers pointed up towards the user instead of down, resulting in muddy, muffled playback. Twice over the week I spent with the XPS, the sound stopped working entirely, requiring a restart.
Dell has replaced the plastic shells of old XPS laptops with aluminum chassis, but the XPS 15 is inexplicably coated in a goopy-feeling carbon fiber composite. When my Macbook becomes the inevitable victim of dirt or food spills, I feel confident subjecting it to some fairly strong solvents. That confidence does not extend to whatever covers the body of the XPS. This material does a reasonably good job of dissipating heat around where you'd logically rest your palms, but high temperatures are still an issue at the back of the keyboard and underside of the chassis.
Along with the XPS 15, Dell also sent along their Thunderbolt dock, which purports to connect multiple displays at workstations through any number of available video connections. Unfortunately, what should be a plug-and-play experience turned into hours of hassle, and in the end it didn't really work. Displays flickered or turned off and some monitors were completely incompatible. At its best, the Thunderbolt dock netted one more display than simply using the onboard HDMI output, which doesn't seem like a strong enough case for spending $299.
The XPS 15 is thin, light, powerful, and has a downright gorgeous display. But the few areas where it bests Apple are outweighed by its flaws. Cutting edge display is mostly a source of battery woes, the effort Dell put into sound will likely go unnoticed by most users, and even its terrific performance, bolstered in no small part by a discrete GPU, will be too powerful for casual users but not nearly robust enough for serious gamers. The defining trait for most—but not all—Apple products is that they simply work. In no way does the XPS 15 present itself as a contender to the Macbook Pro 15", mainly because Dell's new laptop doesn't work well enough enough of the time to justify the difference in price point.

README
A display so pretty it will make you cry
I keep trying to move the cursor and nothing happens
Excellent performance to handle your tab addiction
Never unplug the charger
SPEC DUMP
Price: $999.99—$2,999.99

Processor: Intel i3, i5, or i7
Storage: 500GB—1TB HDD or 256—512GB SSD
Memory: 8GB—32GB
Battery: 56 or 84Whr
Display: 1920x1080—3840x2160
Touchscreen available
GPU: Intel HD Graphics 530—NVIDIA GTX 960M (2GB GDDR5)
Ports: 1 HDMI, 2 USB 3, 1 Thunderbolt 3, SD card reader, headphone out