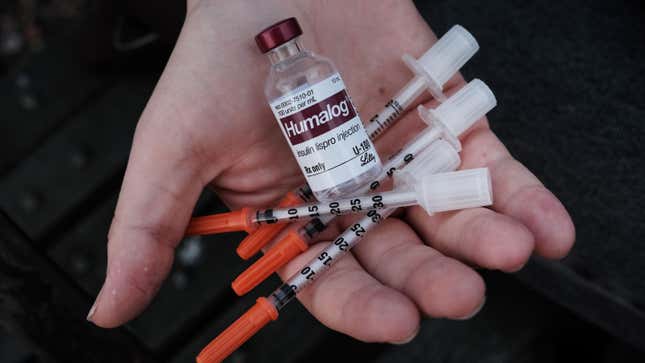 On Thursday, Vermont Sen. Bernie Sanders and a gaggle of Democrats introduced a new bill that would cap insulin drug prices to just $20 per vial no matter which company is making it.
The bill, called the Insulin for All Act of 2023, caps the price at what the major pharmaceutical company Eli Lilly originally set for a month's supply of its insulin treatment Humalog back in 1996, according to a bill fact sheet. Vials normally contain 1,000 units of insulin, and based on daily usage patients usually require two to three vials or 10 pens of insulin per month to treat Type 1 diabetes and some Type 2 diabetics also require the life-saving drug.
The bill writers referenced three companies that Sanders said are guilty of "unacceptable corporate greed." Sanofi's Lantus insulin currently costs $292 per vial Novo Nordisk's Novolog is priced at $289, while Eli Lilly's Lyumjev is set at $275. The fact sheet cites a study in BMJ by international researchers that said insulin can be manufactured for as low as three to eight dollars per vial.
In a press statement, Sanders said "We can no longer tolerate a rigged health care system that forced 1.3 million people with diabetes to ration insulin while the three major insulin manufacturers made $21 billion dollars in profits."
Along with Sanders, Democratic Sens. Ed Markey and Jeff Merkley and 10 other Democrats in the House of Representatives are sponsoring the bill. In the release, Merkley said that high prices of insulin have led to dangerous "rationing" of the life-saving drug, which can lead to even more dire impacts on patients' health. A recent study in the Annals of Internal Medicine showed 1.3 million U.S. citizens with diabetes, about 16.5% of the insulin-using population, rationed their drug supply in 2021.
Earlier this month, drugmaker Eli Lilly announced it was planning to cut the price of Humalog by 70%, down to $35. It also said it planned to discount its non-branded insulin called Insulin Lispro Injection to $25 per vial, starting May 1. This was just a few short months after Twitter's SNAFU with its new $8 verification stickers allowed a fake Eli Lilly Twitter account to announce "insulin is free now." That tweet led to Eli Lilly losing $15 billion in the company's market cap and brought new attention to how expensive its insulin treatments could get.
Insulin is one of the most expensive drugs in the U.S. as prices for the most popular diabetes treatments have surged in recent years. The recently-passed Inflation Reduction Act of 2022 caps insulin copays for Medicare recipients to $35, but that does nothing for people under 65 who can't gain access to the government-run program.
A Sanofi spokesperson declined to respond to questions about the bill but cited the company's copay and assistance programs to get insulin for lower costs. "As shown by our long-standing and extensive efforts to expand access and affordability for people living with diabetes, we support balanced actions to lower the cost of insulin for patients," the spokesperson said. Novo Nordisk similarly did not mention the bill in a statement to Gizmodo, and instead cited programs made to help patients get insulin at a cheaper price.
Eli Lilly did not immediately respond to Gizmodo's request for comment.
Despite all these programs on offer, it has done little to impact the growing need for lower drug prices. Drugs as necessary as Insulin should not require needy patients to go through even more hoops to fund their care. If voluntarily dropping copay prices, as Eli Lilly has done, is a way for companies to try and shake the threats of regulation, then it could have done a lot more, a lot sooner.