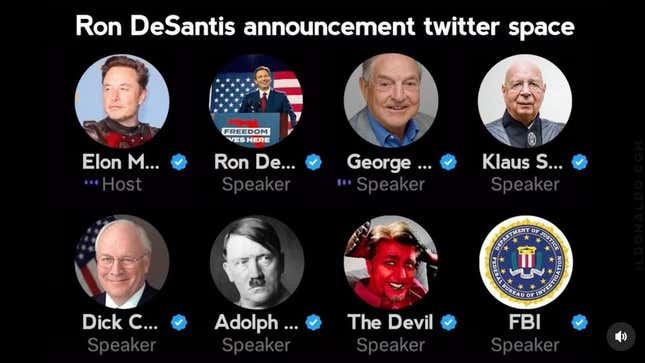 Former President Donald Trump released a clip of a fake Twitter spaces event Wednesday where he used what appeared to be the deepfaked voices of Elon Musk, George Soros, Klaus Schwab, a coughing Dick Cheney, Satan, and, yes, Adolf Hitler, to mock Florida Governor Ron DeSantis. The bizarre two-minute clip, which was originally uploaded to Rumble before being shared to other platforms like Instagram, was meant as a direct shot at DeSantis' own glitch-filled Twitter Spaces event where he announced he was officially running for president.
The video begins with the deepfaked version of Soros, who's often the recipient of antisemitic attacks from the political right, struggling to figure out how to use the Spaces platform. "Is my microphone working correctly," the Soros clone asks to an increasingly frustrated crowd.
After some annoyed rambling, a user with the FBI logo as a profile photo jumps in and asks, "Okay, how are we going to take out Trump?" The AI version of Musk quickly responds by reminding the FBI that this is a public space where everyone can listen in. The FBI immediately logs off.
From there on, the video grows increasingly chaotic, with the cloned Cheney relentlessly coughing into the microphone and Hitler beginning to yell maniacally in German. The DeSantis clone finally jumps in amid the chaos with his grand presidential reveal, only it turns out everyone on the call "already knew that." Right before the video ends, an AI clone version of Trump joins the call to roast everyone in the meeting and call out DeSantis directly.
"Ron DeSanctimonious can kiss my big beautiful 2024 presidential ass," the Trump clone says. "Trump 2024 baby." The real Trump, meanwhile, spent much of Wednesday and about a dozen Truth Social posts mocking DeSantis' presidential run.
If all of that weren't enough, Trump's campaign followed up the wacky video by posting another apparently AI-generated video of a rocket with "Ron 2024" written beside it falling and exploding before liftoff. Combined, the clips mark the start of what's shaping up to be a highly combative 2024 presidential primary election fueled partly by the rise of generative AI. It's unclear what specific AI models the Trump campaign used for either of the clips.
Get ready for a Trump v. DeSantis election cycle filled with AI-generated content
This isn't the first time Trump, or his campaign, have experimented with generative AI. Earlier this year, Trump shared an image on Truth Social depicting him on one knee praying which shared many of the telltale signs of AI-created images. Prior to that, the former president likely used AI image generators to morph himself into a cape-clad superhero and a 60's era rockstar in an effort to promote his "Trump Digital Trading Cards." Those cards were mostly embarrassingly badly photoshopped photos of Trump sold as a cash-grab NFT project. The former president also recently shared a clip earlier this month which used AI cloning to make it seem like CNN anchor Anderson Cooper said Trump was, "ripping us a new asshole."
Trump himself regularly appears as the subject of AI-generated images online. One of those fabricated images depicted Trump being aggressively arrested by New York City law enforcement. Those images were created by Bellingcat founder Eliot Higgin using Midjourney's AI image generator and were intended to demonstrate to the public the possible dangers of AI-generated political images shared widely on the internet. Though Trump's recent adventures in AI are obviously parodies, the recent amplification of an AI-generated image depicting an explosion at the Pentagon on Twitter shows how even obviously faked images can lead to meaningful confusion when amplified on social media.