Like the earliest electric cars, which were easy to spot thanks to their over-emphasis on aerodynamics, e-bikes tend to stand out with thick frames designed to hold bulky batteries. But as the DB-E from Detroit Bikes whizzes past you on the bike lane, you'd have to really look close to tell it's got an electric motor helping its rider pedal.

Although some cyclists may look down on electric bikes and wonder what's the point of going for a ride when the bike does most of the work for you, a pedal-assist electric motor can make a bicycle a more viable alternative to a car for daily commutes. Not everyone wants to get to work in the morning drenched in sweat.
Some ebike models can serve as full-on electric motorcycles with extended ranges that don't require any pedaling at all, and that's where you'll still find heavy models with chonky batteries and steep price tags. The DB-E promises the conveniences and ease of use of an ebike, with the benefits of a traditional bicycle, including a lightweight, 32-pound frame that's easily wrangled in and out of buildings. Because, with a $2,600 price tag, you'll be hesitant to leave it locked up to a bike rack outside.
It might not be immediately obvious, but all of the DB-E's power, including electric motor and battery, are contained inside a Zehus Bike+ hub integrated into its back wheel. Its 250-watt motor can help push the bike to pedal-assisted speeds of up to 15.5 MPH with an estimated range of around 35 miles on a power-saving mode, or around 20 miles at full power, which helps make hill climbs much easier.
G/O Media may get a commission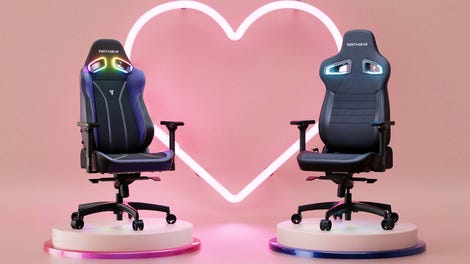 Up to $150 off
Vertagear Gaming Chairs
The hub incorporates some clever tricks to help it recharge during a ride, including capturing energy from regenerative braking during a stop, or by adding negative torque when a cyclist is pedaling on flat ground, providing imperceptible resistance that generates a charge.
The rider can even pedal backwards while coasting to help recharge the battery, and given the DB-E's lightweight frame, which is further lightened through the use of a more durable belt drive that's 200 grams lighter than a chain, the bike is still easy to ride with the power functions switched off or fully depleted.
The DB-E also connects to the Bitride mobile app, allowing users to control the bike's various functions from a smartphone, including locking the motor or completely disabling it to deter thefts, as well as getting real time metrics like speed and even remaining battery life. The DB-E is available for pre-order now from Detroit Bikes in either a Gloss Black or Emerald Green finish, with shipping expected sometime in March.