One Original Trilogy star won't be in the new Star Wars movies. Famke Janssen wants more of the Wolverine/Cyclops/Jean Grey love triangle. And it looks like we'll be seeing another major deviation from the books on Game of Thrones. Plus new Doctor Who set photos show Clara using the sonic screwdriver. Spoilers now!
Top image: Game of Thrones
Star Wars
Not a huge surprise here, but it sounds like Darth Vader won't be in the new films. When asked if he would be in them, James Earl Jones replied, "Oh no. I've got no illusions that I will, or even hankerings to be in them." [Christian Post]
---
X-Men
Famke Janssen enjoyed her brief cameo as Jean Grey in X-Men: Days of Future Past and seems to be most enthused about the chance to develop the Wolverine/Jean relationship further:
That's generally what I find wonderful about these X-Men characters, that there are as many female characters are there male, which doesn't seem to be the case most of the time, I find. A lot of these comic book adaptations aren't necessarily like that a lot of the time—the women's parts are essentially the girlfriends or whatever—so it's really nice to play the scientist, doctor or a strong interesting character. And then we have to really focus on the love story part of it on Wolverine and Jean Grey, and it keeps giving something, especially because it supposedly can't go anywhere, so it becomes even more fun to play around with it.
G/O Media may get a commission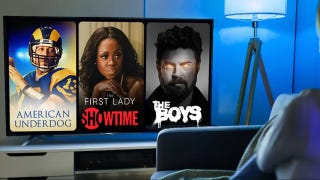 UNDER $1
99¢ Prime Video Channels
---
The Hunger Games: Mockingjay
There are a bunch of set photos making the rounds. The first set shows a moment that will be very familiar to book readers. [Page to Premiere]
The second set shows the group investigating the ruins of District Two. [Mockingjay.net]
---
Avengers: Age of Ultron
Mark Ruffalo talked about the larger role he's playing in the sequel:
[My role's] even bigger than last time, and it's more complex and it has more layers and a bit more arc.

I'm really tripping on the technology of this motion-capture stuff… now I just completely embrace it and see it as this other exciting place we can go as performers.
---
Ant-Man
The latest director who's rumored to have walked away from this film is Rawson Thurber, who has reportedly refused the offer to direct. [This Is Infamous]
---
Insurgent
Daniel Dae Kim has joined the cast of the Divergent sequel, playing Jack Kang.
---
Dawn of the Planet of the Apes
Here's a new poster. [IGN]
---
Transformers 4: Age of Extinction
Here are two more TV spots. [Transformer World]
---
Game of Thrones
We've got more characters that Winter Is Coming claims are being cast for next season, and there are a lot of Dornish characters on the list:
Prince Doran Martell – Doran is described as the major new player this year, appearing in multiple episodes. The fiftysomething prince uses a wheelchair, is reclusive and rules wisely. It appears the show is looking to continue the trend it started with Pedro Pascal, and cast Latino actors for the Martell clan.

Prince Trystane Martell – Trystane, the handsome fiance of Princess Myrcella, is being aged up to 18.

Areo Hotah - Doran's personal bodyguard will appear throughout the season, assisting the prince with his duties. The show is particularly looking for a black actor to fill the role.

The Sand Snakes, Oberyn Martell's bastard daughters (with ages ranging 18-25):

Obara Sand – The eldest and most athletic Sand Snake will be having a major fight scene with a series regular character- not one who crosses her path in the books. This is an interesting change.

Nymeria Sand – Nymeria is described as "mixed race," with her father being the fairer Oberyn and her mother being darker skinned. The second oldest of these Sand Snakes, she's beautiful, emotional and very strong.

Tyene Sand - The youngest of the Sand Snakes that we meet uses her wits and seductive powers, and is less of a physical fighter than the other Sand Snakes. She is just as deadly as her sisters, however, but her weapon is poison.

High Sparrow - The books' pious head of a religious movement will be appearing in several episodes in season 5.

Septa Unella – The show is looking for a character actress to play the imposing and unrelenting septa who spends a lot of time with a major series character next year.

Maggy the Frog- A fortune teller in A Feast for Crows, she'll be in one episode next year.

Lollys Stokeworth – Just last week in "Mockingbird," Bronn announced his intention to marry Lollys, whom Tyrion considers "dimwitted." It looks like the sellsword will still be around next year.

Yezzan - A sleazy Meereenese slave owner.

The Waif – The strange child from the books that Arya encounters will likely be played by an older actress, one in her later teens, and we understand the show is specifically looking for a woman of East Asian descent for the part.
[Winter Is Coming via IGN]
Related to that news is a leaked video of Tania Raymonde reading lines for Obara Sand, and her lines mention Jaime Lannister being smuggled into Dorne — something that's not in the books. And people are guessing the "major character" that Obara has a television-only fight scene with is Jaime. [HNGN via Fashion & Style]
---
Doctor Who
There are a ton of set photos from a new Bristol-set episode being filmed, helmed by director Douglas McKinnon. It's rumored to be called "Flatline." Shots reveal Clara investigating a tunnel on her own, and even using the Doctor's sonic screwdriver without him present. There are a group of people, including actors Christopher Fairbank, Joivan Wade and Matt Bardock, doing community service together. And the set features lots of people facing the walls inside a creepy tunnel — except that they seem to have vanished by the end of the scene. Also, there's a memorial for a bunch of people who've gone missing, and some weird markings that hint at what may have happened to them. Tons more pics at DoctorWhoTV. Photos by Leanne Roberts, Colin Waymark, and future-in-your-hands. [DoctorWhoTV]
---
Agents of SHIELD
Clark Gregg talked about his hopes for season two:
Really, I loved what they did so much in the last couple episodes, that I just feel like they set the groundwork for such an amazing second season, in terms of suddenly he's Director Coulson. There're enough people in the fan world of this who understand what humble beginnings he came from. That's such a score for the little man. And at the same time, he's now been made head of an organization that has basically been outlawed and doesn't exist. And yet the threat is still out there, and suddenly, he's the one responsible for rebuilding this. And he's going to have to go old school, and he's going to have to go off grid. And he's going to have to go bare knuckles, and that's a very exciting place to be.
---
American Horror Story: Freak Show
Ryan Murphy has said that Sarah Paulson will be playing the most challenging character and that she had to learn a new skill to do it. As for Paulson, she's only able to say this about the next iteration of the show:
I know lots... I do know a lot of things... I really think people are not going to be disappointed. And, it's going to be very different than last year... in all the best ways.
---
The Vampire Diaries
Executive producer Caroline Dries talked a bit about how long the events of the season 5 finale will carry into season 6:
The anti-magic boundary will continue to play a role moving forward as we begin to explore this notion of what it means to go home again. As the story unfolds we'll see the effects exile has had on everyone and see that everyone is handling it (and the loss of their loved ones) differently and personal journeys will form. Some will be fighting for a way to save their home, others have given up or moved on or found peace with it… We wanted the fallout to be personal for everyone.

... We are very excited about Alaric's return and plan to incorporate him in Elena's life hoping to give a type of parental touchstone to her (something she lost when she lost him). Enzo, as we left him, is still a bit of a loose canon wild thing and I can't wait until the two butt heads– and I'm sure they will. Let's see, wish list — feels like there could be a bar brawl in their future. Or maybe they'll just karaoke compete against each other.

... We get to start them in season 6 in a very fresh place that will hopefully feel new and cool. Tyler was in such a devastated place for most of season 5 so we wanted to shake that up a little bit. Likewise, Matt has been victimized so much in the show as a result of being human in a vampire-run world, so we're excited to give him his version of a "human" world, especially now that he's grown up so much, developed opinions and beliefs and has really come into his own.
Even more at the link. [Alloy Entertainment]
---
Teen Wolf
Here's a season 4 trailer. [via TV Equals]
---
The 100
Here's the promo for the season finale. [via SpoilerTV]
---
Witches of East End
Go here for photos from the second episode of season 2. [SpoilerTV]
And here's a new season 2 poster. [SpoilerTV]
---
Under the Dome
Here's a photo from the season 2 premiere. [SpoilerTV]
Additional reporting by Charlie Jane Anders and Madeleine Monson-Rosen