Lost showrunner Damon Lindelof's script for Ridley Scott's troubled Alien prequel may have just solved all the director's problems. In fact his reportedly stunning script may have even nabbed Natalie Portman for the lead role.
A few weeks ago, rumor had it that Scott and Fox were squabbling over the Alien prequel budget and rating. Scott was gunning for a hard R and a bigger budget, while Fox was pumping the brakes on the whole project. But according to Vulture, Lindelof just turned in his script this past Saturday, and it was so good that it stopped the fighting. Why? Here's why:
One reason Fox execs are so thrilled with Lindelof's Alien draft is that, not only is it creatively engaging, but it adds no expensive 'set pieces' - production-speak for elaborate, effects-heavy action sequences that add millions to the cost of a film - to the movie."
But that's not all, Fox is also exceptionally pleased with the Lindelof script because it's much closer to a PG-13 than a hard R. One source said:
"[If] the original Alien were released today, minus the F-bombs, you could still get a PG-13. Alien is a very Jaws-ian movie: There's no sex, and while there's lots of violence, most of it is off-camera. Maybe you'd have to cut away from certain scenes two seconds earlier, but it could be done.'"
G/O Media may get a commission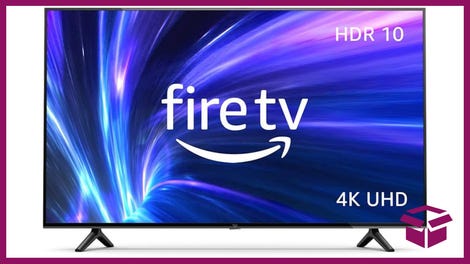 42% Off
Amazon Fire TV 50" 4K Smart TV
Hmmm maybe, they have a point with some of the off-camera violence. But I seem to remember one very bloody chest-popping lunch. Not really sure how anything like that could be PG-13.
But where does Natalie Portman fit in? New York Magazine is stating that Fox really wants Portman for the female lead, which they described as a "female Colonial Marine general." But we're taking this piece of news with a grain of salt, seeing as Portman has been up for just about every title movie role for the last 5 months.