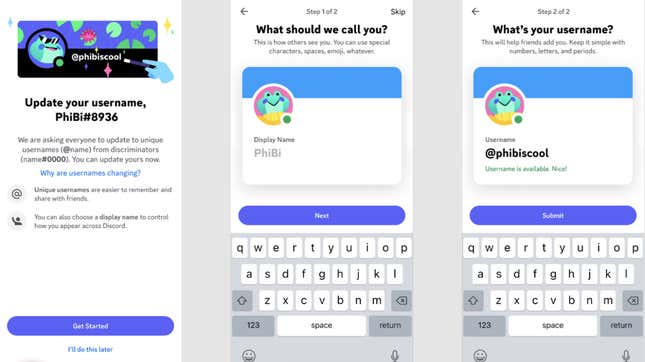 Discord announced its users will be required to change their usernames in the coming weeks, allowing them to pick a new and unique name without the social network's trademark discriminator. The discriminator, which consists of a hashtag and a series of four numbers added to all Discord usernames, will be replaced with the standard "at" symbol.
Every user will become eligible to change their username in the coming weeks and the change is intended to make it easier for users to "remember, read, type, and share" their profiles, Discord said in a blog post. The discriminator has been part of the app since 2015, allowing users to share the same username, though with different numbers attached and making the names case-sensitive.
Discord co-founder Stanislav Vishnevskiy said in a press release that the discriminators "became technical debt" that the company didn't "address adequately," adding that usernames are often "too complicated or obscure" to memorize or share with friends. He said that the company found more than 40% of users don't remember the discriminator attached to their username or don't know what a discriminator is. They also found that the case-sensitive feature and discriminators meant that almost half of Discord users failed to connect with the correct person they wanted to match with.
"We recognize that this is a big change," Stanislav Vishnevskiy said in the news release. "There may be hiccups with this process, and it may be tough to part ways with that '#0001' that's meant a lot to you over the years."
All users will receive an in-app notification when they become eligible to pick a new username and set their display name. Those who have had the app the longest will be first in line to make the switch, meaning someone who has been active since the beginning, will receive the notification before someone who only created an account two years ago.
Users will be able to change their username at a later time by going into their User Settings and selecting the option to delay the update. Discord clarified that eventually users will be required to pick a new username to access the app, and said users will receive a notification in the app when it gets to that point. The company said in the post that although users can delay picking a new username, "we suggest that you pick a new username when you become eligible, as that is when you will have the best chance of getting the username you want."
However, users should be aware that Discord set certain parameters when selecting a new username, saying adherence to its Community Guidelines is required and usernames will not be permitted to "impersonate an individual, group, or organization," cannot "attack other people or promote hate," and cannot "contain sexually explicit language." The same rules will apply for each user's display name which can be changed at any time.