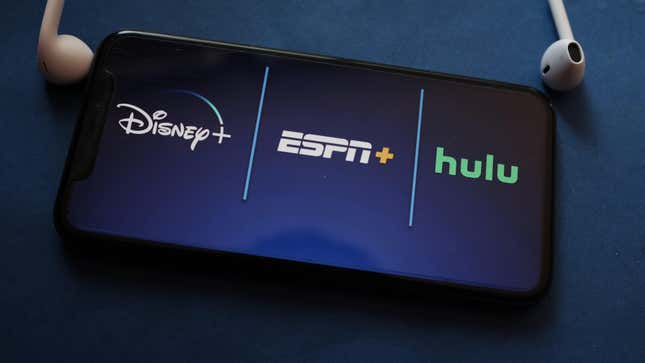 These days, it often feels like there are far too many streaming services out there. For once though, the news is perhaps fewer—not more—subscriptions on the way. Say goodbye to separate streaming subs for Disney+ and Hulu. The two services are set to become one for U.S. customers by the end of 2023.

Prime Day Ain't That 'Green'
Disney announced its intent roll out a single streaming app, including content from ESPN+, Hulu, and Disney+ before 2024, during its second quarter earnings call on Wednesday afternoon. The company noted that the plan is for one "consolidated" streaming service, which eschews the need for multiple subscriptions. CEO Bob Iger described it as a "logicial progression of our DTC offerings" and said it it would "ultimately [lead] to a more unified streaming experience."
Currently, Disney+, Hulu, and ESPN+ are available as separate subscriptions or as various bundles. But, even with a discounted bundle subscription, customers still need to log in to separate apps to access the disparate content. However, this change would put all three into a single application. Iger noted that the standalone subscription options will still remain available. That's in contrast to outside the U.S., where Hulu shows and movies are only viewable through Disney+. In the United Kingdom, for instance, Hulu isn't available as a distinct app and a subset of the brand's offerings can be found in the Star tab within the Disney+ interface.

The company did not announce any immediate details on pricing for the forthcoming, unified app. Currently, a Disney+ and Hulu bundle with ads is $9.99 per month, while an ad-tier Disney+, ESPN, and Hulu bundle is $12.99/month. For $19.99 monthly, you can get a bundle including all three wherein Disney+ and Hulu don't have ads.
Disney has been the majority owner of Hulu since 2017. Currently, Comcast still retains a 33% stake in Hulu, but the company officially ceded control to Disney in 2019, and agreed to a planned, future sale. Disney can purchase the remaining shares of Hulu beginning in early 2024, and Comcast has the ability to force the sale for a minimum of $9.2 billion.
This article is part of a developing story. Our writers and editors will be updating this page as new information is released. Please check back again in a few minutes to see the latest updates. Meanwhile, if you want more news coverage, check out our tech, science, or io9 front pages. And you can always see the most recent Gizmodo news stories at gizmodo.com/latest.