You bought an iPad to read Dickens on the Subway, but admit that it's an infinitely useful device for occupying your restless children. Disney's new toys seize on this potential and control kid-friendly games on the iPad's screen.
Fact: Toddlers who can't talk and still crap themselves can use the iPad's multi-touch screen to play games. Disney's idea is to take your kids' clumsy fingers off the screen and put them on Appmates—toys that control the games instead. The first toys are based on Disney's Cars franchise and work with a game that's available for free download in the app store. In the game you—er, your kids—take Lightning or one of the other characters for a ride in Radiator Springs, completing missions, racing, exploring the landscape, unlocking achievements, all while crashing into other cars, buildings or whatever else is out there. The game doesn't have multiplayer racing yet, but Disney told me this is in the works.
What's under the hood? After launching the game it prompts you to place your car in a designated spot in the middle of the iPad's screen. When you put the car down, the game recognizes metal sensors underneath the car. As you turn the toy, a car on the screen moves too. There's no accelerator. The game propels the car itself, you just control its motion, and in fact if the toy strays out of its designated little area, the game prompts you to put it back.
The gameplay is smooth and using the toy to control the car is intuitive enough once you realize that it's really a controller and not a toy. I grew up crashing Hot Wheels cars into walls so I like that the game lets you crash into stuff, too. Kids aged 3 to 7 are a destructive lot, so I worry about handing them a weapon with which to attack an iPad. I don't have kids, but slamming whatever they've got clenched in their their tiny fists straight down repeatedly is something they do, right? I'm envisioning tantrums which end in iFixit orders.
So far Disney doesn't have official plans for other games or toys but development is underway. A box of two cars costs $19.99 and will be available October 1st. Congratulations Disney for once again turning your movies into toys I can buy. Anything for a moment of peace. [Disney]
G/O Media may get a commission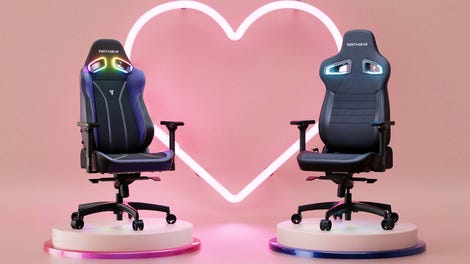 Up to $150 off
Vertagear Gaming Chairs
Hate galleries? View as one page.
[Disney]

[Disney]