Benedict Cumberbatch bows out of not one, but two major franchises. On the other hand, Harrison Ford's totally on board a Blade Runner sequel, and Paul Bettany talks playing the Vision in Avengers: Age of Ultron. And tons of information about Warehouse 13's final season. Spoilers now!
Top image: The Walking Dead
Star Wars
Benedict Cumberbatch delivered a one-two punch to fans at Oz Comic-Con, saying that he was "never gonna play the Doctor – and [has] nothing to do with the Whoniverse," and then debunking rumors that he'd show up in Episode VII, saying:
I would've liked a part in JJ's new Star Wars but it won't happen, sadly.
---
Blade Runner 2
Put Harrison Ford on the list of people on board with the idea of a Blade Runner sequel. Asked about it during a Reddit AMA, he said:
I'm quite curious and excited about seeing a new script for Blade Runner if in fact the opportunity would exist to do another, if it's a good script I would be very anxious to work with Ridley Scott again, he's a very talented and passionate filmmaker. And I think it would be very interesting to revisit the character.
[Variety]
---
Avengers
Screen Rant has some speculation about how Guardians of the Galaxy will tie into Marvel's Phase III. James Gunn, the Guardians director has flat out said they're connected to Avengers 3 and has described the role of Thanos in his film as "the head of the snake." A lot of people have speculated that this puts Thanos in line to be the main villain driving the Phase III build-up, culminating in his appearance battling the Avengers in their third film.
G/O Media may get a commission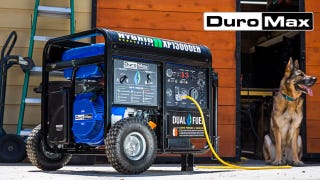 Black Friday Sale
DuroMax Generator Sale
Screen Rant guesses that not only is Thanos going to come to Earth searching for Infinity Stones, but that he may be followed by the Guardians of Galaxy. Making Avengers 3 possibly a team-up between the two groups. [Screen Rant]
Paul Bettany confirmed that, as rumored, he'll be playing the Vision in Age of Ultron. Speaking on Jimmy Kimmel, Bettany gave very few details, invoking Marvel's spoiler-punishing hit squad:
He can do all sorts of things, but I'm not allowed to really talk about them and what we're going to do, because there might be a Marvel agent in the room who will actually wrestle me to the ground and fire me.
Bettany starts talking about the Vision around 1:15 into the video. [via Spinoff Online]
---
Fantastic Four
Kate Mara (Sue Storm) recently said that all she knows about the reboot is that it's going to be a "very different" take, calling it "very grounded." She admits that she doesn't know much about it, even though they're starting in a few weeks. She also says that she hasn't yet tried on any suit, so she doesn't even know if there will be one. See the video at the link. [IGN]
---
The Here and Now
Alcon Entertainment, Alloy Entertainment and Kira Davis' 8:38 Productions have the movie rights to Ann Brashare's just-published The Here and Now. Not a huge surprise, since those companies worked with Brashare for the two adaptations of The Sisterhood of the Travelling Pants books. The Here and Now follows a 17-year-old from a future where a mosquito-born illness has caused a pandemic. [Variety]
---
Ex Machina
Oscar Isaac gave a little synopsis of the film and his character:
It's [set] in the not-too-distant future—it actually could very well be the present, it's a little bit undefined—and it all takes place in a house, or at least in a facility. I play a billionaire programmer who's developing algorithms for the most popular search engine in the world and no one's seen him or heard from him in quite a long time and one of his employees wins a raffle to come to his place in Alaska and test his newest invention, which happens to be a robot in the female form that may or may not have consciousness. So it's very allegorical to the human experience and how you will never know if the way you see the world or the way that I do. We can try to describe it to each other but we will never truly know and it's pretty amazing.
Ex Machina is the directorial debut of Alex Garland (writer of 28 Days Later, The Beach, Sunshine and Dredd). See a photo from the film below. [Indiewire ]
---
Flash Gordon
J.D. Payne and Patrick McKay, the writers currently working on Star Trek 3, are shopping a script rebooting the classic Flash Gordon. Again. The Film Divider report says that the plan is for this script to "reclaim Flash Gordon from his current reputation, in the way that Tim Burton redirected the public conception of Batman." [Film Divider, First Showing]
---
Edge of Tomorrow
Here's the first TV spot:
---
Teenage Mutant Ninja Turtles
Here's the TV spot that premiered during Sunday's MTV movie awards. [Coming Soon]
---
The Amazing Spider-Man 2
Here's the clip shown during the MTV Movie Awards on Sunday. [Entertainment Weekly]
And two more TV spots. [Coming Soon]
---
Transformers 4: Age of Extinction
Here's another TV spot:
And three new photos. [Coming Soon]
---
Hercules
Here's a TV spot and poster for what's clearly going to be a seriously ridiculous movie.
---
The Walking Dead
While Robert Kirkman says that the villain Negan won't make the transition from page to TV screen soon, he does make it sound like we should be prepared for him to show up:
As far as Negan casting goes, [showrunner] Scott [Gimple] and I are always talking about who we would put in that, it's definitely on our minds, and there are definitely a lot of candidates. But I wouldn't expect Negan too terribly soon, although he is definitely in the plan. It's a 99% lock that he's going to be in the show eventually, so be on the lookout for that.
Kirkman also gave another vague answer about the state of the spinoff series:
As far as the spin-off goes, I'm actively working with [Showrunner] Dave Erickson on that, and we know when our proposed release date is — although I can't tell you that, obviously. We're working towards that show, and it's gonna be awesome.
[MTV]
Prep for the next season is already in full swing, with season 5 showing Rick and company recruiting allies to strike back at Terminus. Among the new recruits will be 17-year-old Burton, who will have already lost his leg when he's introduced. [E! Online]
---
Supernatural
Sadly, the rumors that put Richard Speight, Jr. back on the set are not true. However, it seems that it is true that Lindsey McKeon will reprise her Reaper role, with a report putting her reappearance in episode 9.22. Go to the link for a round-up of other information about the rest of season 9. [TV Equals]
Executive producer Adam Glass seems to think that there's no creative end to the show:
We thought that we would get another season [after season nine]— we've been doing really well. I wasn't there in the beginning when Eric started the show and Sarah was there and Ben Edlund and all them. I actually got to work with all of them as part of the transitional time, but they talked about how every year they thought they were going to get cancelled. Every year, they thought, "This was it." And by the way, we're being told that by network — "You're on the bubble" — and now look, here we are, ten seasons later. I joke, "Why not become the Doctor Who of America?" Let's turn around, take the boys as long as they can and eventually find two other hunters. I don't know if anybody likes that idea outside of me, but I think it's the kind of show that speaks to people and can keep going for quite a long time.
To be honest, with a spin-off in the works that will follow a new hunter, it seems entirely possible that we'll have some form of Supernatural on the air for a good long time. [Comic Book Resources]
---
Warehouse 13
Showrunner Jack Kenney said that, while they originally had ten stories planned for the show's final season, they had to pack it all into six episodes instead. Kenney said:
I don't feel proud of this but we kind of ended it quickly and moved on, because if we hadn't it would've been an entirely different kind of an ending to the series and I don't think what the series actually deserved... I think we could've dealt with it in a really cool, interesting way. But instead we sort of kind of wrapped it up and moved on because I needed to.
Despite that, Kenney's convinced that the finale is worthy of the show:
Every character is granted a revelation in the defining moment and something really cool to deal with and in I think a way that really works. So I think — I just — I hope that everybody's going to be very pleased with the final episode. I think they will be.
[Buddy TV]
As to what shape the rest of the season will take, Kenney gave these details:
For the premier episode we visit Warehouse 9, we're in Warehouse 13, and then we also visit a futuristic Warehouse. We did one episode where Pete and Myka have fallen into a telenovela and they're speaking Spanish. There's an episode that takes place at a Renaissance fair, and there's another story in the episode where there's body doubling. There's an episode where somebody's trying to move the Warehouse to China and we had to create a Warehouse in China. Then there's the finale…
[SFX]
---
Orphan Black
Cosima will be introduced to yet another familiar face when searching for answers in the DYAD Institute — schoolteacher Jennifer. [E! Online]
And here's a promo from the UK. [via SpoilerTV]
---
Game of Thrones
Here's the promo for episode 4.03, "Breaker of Chains." [via Den of Geek]
---
The Vampire Diaries
Here's a clip from the upcoming "Resident Evil."
---
Once Upon a Time
Here's the promo for April 20th's "Bleeding Through." [via K Site TV]
---
Resurrection
Here's the promo for episode 1.07, "Schemes of the Devil." [via SpoilerTV]
---
Believe
Here's the promo for the upcoming "Bang and Blame." [via SpoilerTV]
Additional reporting by Charlie Jane Anders and Madeleine Monson-Rosen