Could The Expendables 3 go science fiction, with a genetically engineered, part-animal super soldier played by Hollywood's most awesomely batshit insane actor? Ron Howard's The Dark Toweris dead... again. Kick-Ass 2 looks to Jim Carrey for heroism. Plus a brand new Dredd clip!
Spoilers from here on out!
Top image from Dredd.
The Dark Tower
It looks like Ron Howard's insanely ambitious adaptation of the Stephen King series, which would have included a movie trilogy and multiple tie-in TV series, is well and truly dead. Warner Bros. has reportedly passed on the project, which is particularly bad news considering they were the ones who picked the project back up again after Universal initially dumped it. Since we're running out of major studios to take this on next — Paramount is notoriously risk-averse at the moment and Disney seems unlikely given the subject matter, so that pretty much just leaves 20th Century Fox as the last studio that could even theoretically pull this off on the sort of scale Howard has in mind — I'd say it's safe to declare this thing well and truly dead. [Shock Till You Drop]
---
Dredd
Here's a sneak peek clip.

---
Kick-Ass 2
Jim Carrey is reportedly in talks to play an important supporting role in the upcoming Kick-Ass sequel — specifically, a superhero named The Colonel who helps inspire the rest of the would-be heroes to stand up to the now villainous Red Mist, who it really must be pointed out has renamed himself The Motherfucker this time around. Carrey's potential part is likely based on Colonel Stars, who in the comics is "Sal Bertolinni, a former mob soldier-turned-born again Christian superhero who forms the Justice Forever team before running afoul of Red Mist." [IGN]
G/O Media may get a commission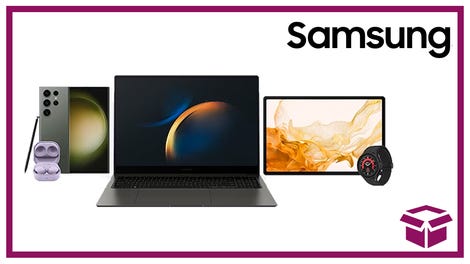 24 hour deals
Discover Samsung - Daily Deal
---
Evil Dead
Here's what Bruce Campbell has to say about the Evil Dead reboot, which stars Suburgatory's Jane Levy:
"There's none of the original characters. We didn't want to compare apples with apples. It's a contemporary movie - just like Evil Dead was contemporary in 1979, this is contemporary for young adults now. It's basically five new kids who are going to have a really bad night with a brand new director - Fede Alvarez, who was handpicked by Sam Raimi. I've seen it already; I think it's definitely fabulous...This is going to be just as memorable as [the original] Evil Dead without being the same movie. You don't want to remake something shot-for-shot."
He also gave a non-answer when asked if he has a cameo in the movie, and then launched into a more general discussion of whether he will ever play Ash again:
I'll be honest with you, I don't know if I could - the last one was 1991. I was a virile young man; I'm 54 years old now so I'm not sure 54-year-old guys need to be doing that s**t anymore. But if Sam wants to lace the boots back on and do something that makes sense, that's fine. We may need to do the movie one day, if our careers fly off the tracks and we crash and burn, we might look at each other and go 'Let's make an Evil Dead movie'! We haven't thought of it because Sam has launched himself into the stratosphere of Hollywood and I'm keeping extremely busy myself. Things like that don't come up because we have pretty active day jobs.
There's plenty more Bruce Campbell goodness at the link. [Digital Spy]
---
The Expendables 3
Since The Expendables 2 was at least kind of a success, it's time to get rolling on the third one because, hey, these guys most definitely aren't getting any younger. The reason we're including this discussion here is that the latest rumors/speculations suggest the movie will head off in a scifi direction, with Sylvester Stallone taking the story from a book he originally optioned for the fourth Rambo movie. The book in question, Hunter by James Byron Huggins, follows a man "on a mission to track and stop a genetically engineered super soldier who is part animal." As Screen Crush points out, having the Expendables tracking down this super soldier sounds a lot like Predator, and Stallone has coincidentally suggested the third movie will resemble one of costar Arnold Schwarzenegger's movies. In case you're not sold on all this... how would you feel if I told you that the person most likely to play the part-animal, genetically engineered super soldier is none other than Nicolas Cage? Keep in mind, this is a man who knows a thing or two about part-animal violence. Seriously, I'd take all of this with a grain of salt, but anything that makes the Expendables movies more ludicrous than they already are is all right in my book. [Screen Crush]
---
Doctor Who
BBC America has put out promos saying that the seventh series premiere "Asylum of the Daleks" will air on Saturday, September 8. Since it's become standard operating procedure for the British and American broadcasts to happen on the same day, I'd say it's looking very likely that the BBC will also be premiering the show on September 8. [SpoilerTV]
---
Game of Thrones
Ed Skrein, a musician-turned-actor whose credits include films with the kind of wonderful titles Piggy and Ill Manors, has reportedly been cast as Daario Naharis, described as "a roguish and deadly sellsword who crosses paths with Daenerys." Jacob Anderson, whose past work includes appearances on Skins and Episodes, will reportedly play Grey Worm, who is "a captain of the Unsullied, a group of eunuch slave soldiers who are trained from childhood to excel in battle." Like yesterday's casting updates, both of these characters are part of Danaerys Targaryen's season three story. [Winter Is Coming]
---
True Blood
Here's a promo for this Sunday's fifth season finale.

---
Grimm
Here's a promo for next Monday's episode, "Bad Moon Rising."

If you were ever wondering about just what's up with all of Hank's failed marriages, well, Russell Hornsby has got you covered:
First, he's incredibly complicated. I would say that he loves hard. I think Hank is a type of hopeless romantic in a lot of levels. He looks for the best in people but he also looks for the best in the women that he falls in love with and he doesn't realize that-I don't want to sound crass, but you don't always have to buy the cow.you know.You don't have to get married to fall in love, you don't have to get married to be in a relationship with somebody, and I think he's slowly realizing that. He's just complicated and a hopeless romantic and sort of in love with love. I think that's a side that we haven't seen on the show, but I think that's who he is.
---
Revolution
Here are some promo photos for the pilot of NBC's new show. There's also a helpful series synopsis included below, in case you need a refresher on just what this show is about. [Multiple Verses]
What would you do without it all? In this epic adventure from J.J. Abrams' Bad Robot Productions and "Supernatural's" Eric Kripke, a family struggles to reunite in an American landscape where every single piece of technology - computers, planes, cars, phones, even lights - has mysteriously blacked out forever. A drama with sweeping scope and intimate focus, "Revolution" is also about family - both the family you're born into and the family you choose. This is a swashbuckling journey of hope and rebirth seen through the eyes of one strong-willed young woman, Charlie Matheson (Tracy Spiridakos, "Being Human"), and her brother Danny (Graham Rogers, "Memphis Beat"). When Danny is kidnapped by militia leaders for a darker purpose, Charlie must reconnect with her estranged uncle Miles (Billy Burke, "The Twilight Saga"), a former U.S. Marine living a reclusive life. Together, with a rogue band of survivors, they set out to rescue Danny, overthrow the militia, and ultimately re-establish the United States of America. All the while, they explore the enduring mystery of why the power failed, and if - or how - it will ever return.
And here are some set photos from the filming of the fifth episode. [Revolution NBC]
---
American Horror Story: Asylum
I hope you all like those cryptic teaser videos, because there's going to be a metric ton of them between now and the premiere of the second season. Speaking of which, here's three more.

---
Alphas
Here are some promo photos for next Monday's episode, "Alphaville", which sees the return of Firefly and Terminator: The Sarah Connor Chronicles star Summer Glau as technical super-genius Skyler. [KSiteTV]
---
Warehouse 13
Bionic Woman star Lindsay Wagner is due to return for next Monday's episode as Dr. Vanessa Calder, and here's what showrunner Jack Kenny says is in store for her and Artie:
"The warm and charming Lindsay Wagner returns once again to Artie's life and heart, only to have Alice - who has escaped from Lewis Carroll's mirror - turn their magical night on the town into a terror-filled chase that forever alters their relationship."
Also, in what is likely even more exciting news for fans, Jaime Murray will be back as H.G. Wells in the episode airing September 3. [TV Line]
---
Additional reporting by Rob H. Dawson and Charlie Jane Anders.