An intriguing photo from the set of Batman V. Superman surfaces—but what does it mean? See all of the episode descriptions for Doctor Who's new series. Plus, which Marvel characters might be next in line for their very own movies? Spoilers now!
---
Batman V. Superman
We don't know just yet who Scoot McNairy is playing, but the prevailing theory is that this photo is evidence that McNairy will appear as the Flash (although some are throwing out Metallo as possibility). He's either superpowered, or something nasty happened to his legs.
Also, Just Jared snagged a photo of Henry Cavill hiding his Superman suit beneath his off-duty robe and Twitter user @Bananadoc shot more photos of the set. See more here.
G/O Media may get a commission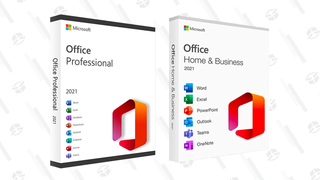 89% off
Microsoft Office Professional 2021 Lifetime License
---
Star Wars Episode VII
Making Star Wars talked to a source about what Daisy Ridley's costume is supposed to look like, based on concept art. Take it with the usual shakers of salt:
The details are very general but the costume gives the idea that this character might be more comfortable in a seedy spaceport than at a gala event.
The artwork shows a slender brunette figure wearing clothing with a grey and brown palette. She wears a dark blue sash at the waist that hangs down at the back and one side at about thigh level. Her shirt arms have a few utilitarian looking straps attached and it covers both midriff and chest completely. She may wear gloves and have "star wars" type wraps on the forearms.

She wears a few pouches and belts.

A lightsaber is clasped in her hand…
---
Sin City: A Dame to Kill For
Dennis Haysbert spoke to Comic Book Resources about taking over the role of Manute, played in the first film by the late Michael Clarke Duncan:
Ultimately, you have to rely on what's on the page, but I always wanted to pay homage to what Michael did, so a lot of my demeanor is built on the foundation that he created. But I also had to make it my own. I think I would've heard about it from Robert and Frank if I hadn't succeeded. Now we'll see what the audience thinks.
Also, Wired's The Underwire has an interesting piece on the film, including a bit about a line Frank Miller felt Rosario Dawson was particularly adept to deliver as Gail:
"I was able to give Rosario a very sweet line in the middle of her usual tough-gal routine about how much she loved Dwight because I knew Rosario could pull it off—she could soften her voice just enough and open her big eyes and break your heart and then go right back to being the tough bitch she was before," says Miller. "She says, 'I know he doesn't feel the same way about me, but he's the only man I'll ever love.'"
---
The Hunger Games: Mockingjay, Part 1
In an interview with EW, director Francis Lawrence explains that, while this is a war story, it won't be entirely grim:
"There's definitely some battles. There's some of the first glimpses of real war in this movie. And the scale gets quite big," he reveals. "There's an atonal shift from some of the last movies, but they're still very emotional, very sweeping, [on a] grand scale with some levity and humor."
Lawrence also says that there won't be any major changes from the book, but that he has been working with screenwriter Peter Craig, producer Nina Jacobson, and Hunger Games creator Suzanne Collins to expand the story and the world—and she promises that even fans of the book will be surprised.
---
Marvel Studios Movies
Kevin Feige told IGN that he recognizes that the fan demand for Black Panther and Captain Marvel movies is substantial, and that development work on movie vehicles for both characters are in works:
They're both characters that we like, that development work is continuing to be done on. And certainly, it's a question I get asked more than anything else. More than 'Iron Man 4,' more than 'Avengers 3,' and that's sort of the first time that's really happened to us, so I think that makes a difference. I think that's something that we have to pay attention to. …I've always said we have our plan, and it's served us very well. There hasn't been anything that's made us deviate or change from that based on an opinion, because opinions online change. They alter and they're based on limited information they have to what's going on behind the scenes. But in this particular case, I think it is a groundswell, and I think it means something substantial.
[via Comic Book Resources]
---
A Monster Calls
Dawn of the Planet of the Apes' Toby Kebbell is in talks to star in Juan Antonio Bayona's adaptation of Patrick Ness' novel A Monster Calls. The story is about a boy who copes with his mother's terminal illness and bullying at school by escaping into a fantasy world. Kebbell would be playing the boy's father, who hasn't always been there for his son.
---
Untitled Simon Pegg and Edgar Wright Project
The Cornetto Trilogy may be over, but that doesn't mean that Simon Pegg and Edgar Wright are done collaborating. Pegg told Edith Bowman on BBC 6 Music:
"Edgar and I were having a conversation the other day about it, and it has a title and everything. We're kind of into a creative cycle now.

"We've all got different things [going] on and we know we have to get those things done. The coming-together thing is without question on the table and will happen when we can do it."
Yes, please. We'll take it, even if it doesn't involve ice cream.
[ DigitalSpy]
---
The Strain
We get a flashback with a hamsa in the promo photos for episode seven, "For Services Rendered." Check out the rest here.
[ Spoiler TV]
---
Outlander
So this is an interesting piece of casting news: one-time Doctor Who companion Frazer Hines is joining Outlander as Sir Gordon Fletcher, the English warden of Wentworth Prison in Scotland. Why is this interesting? Well, author Diana Gabaldon says that she was inspired to write Outlander after watching Hines play Jamie McCrimmon, companion to Patrick Troughton's Second Doctor. So the Doctor's Jamie may very well have been the inspiration for Outlander's Jamie.
[ TV Guide]
---
American Horror Story: Freak Show
Leslie Jordan, who appeared in American Horror Story: Coven as Quentin Fleming, is withdrawing from this season to appear on Celebrity Big Brother, a different kind of freak show.
---
Intruders
Here are the opening credits to the new show debuting this weekend. And yup, they are creeptastic:
---
Penny Dreadful
Penny Dreadful is set a little early in history to be referencing Dorothy Parker.
---
Doctor Who
Can't wait for this weekend's series premiere? Feast your eyes on the latest round of promo photos for "Deep Breath"—catch them all here.
[ Coming Soon]
And Steven Moffat has released a guide to Series 8 in the latest issue of the Radio Times:
Deep Breath
"Who frowned me this face?"

A slaughterhouse restaurant and a buried spaceship lead The Doctor into a confrontation with a long-forgotten foe...


Into The Dalek
"Imagine the worst thing in the universe, and then don't bother because you're looking at right now. This is evil refined as engineering."

In the dying days of a bitter war, a beleaguered army has one last hope: a Dalek so damaged it has become good. But can it be trusted? To find out, a miniaturised team, led by The Doctor and Clara, embark on a fantastic voyage into the Dalek itself...

Robot of Sherwood
"There's no such thing as Robin Hood!"

In a sun-dappled Sherwood Forest, The Doctor discovers an evil plan from beyond the stars. But with of Nottingham at stake (and possibly Derby), there's no time for the two adventurers to get into a fight about who is real and who isn't - which is probably why they do very little else!


Listen
"What's that in the mirror, and the corner of your eye? What's the footstep following, but never passing by?"

What scares the grand old man of time? What horrors lurk under his bed? Ghosts of the past and future crowd into the lives of The Doctor and Clara; a terrified caretaker in a children's home, the last man standing in the universe, and a little boy who doesn't want to join the army...

Time Heist
"Welcome to the bank of Karabraxos."

The Bank of Karabraxos is the deadliest bank in the cosmos - only a fool or genius would tempt to rob it. Fortunately, for The Doctor, he's both. But nothing even The Doctor has encountered can prepare them for the Teller: a creature of terrifying power that can detect guilt.

The Caretaker
"Human beings have incredibly short life-spans. Frankly, you should all be in a permanent state of panic. Tick tock, tick tock."

Clara has it all under control: her life at school, her life in space; her new boyfriend and her mad old Time Lord. Everything is humming along just fine, so long as everybody never actually meets. And then, one morning, just before assembly, Coal Hill welcomes a new relief caretaker with a Scottish accent.

Kill the Moon
"The little planetoid that's been tagging along beside you for a hundred million years, which gives you light at night and seas to sail, is in the process of falling to bits."

In the near future, The Doctor and Clara arrive on a decrepit shuttle making a suicide mission to the Moon. Crashing on the lunar surface, they find a mining base full of eviscerated corpses, spider-like creatures scuttling about in the dark, and a terrible dilemma.

Mummy on the Orient Express
"Start the clock!"

Aboard the most beautiful train in history, speeding among the stars of the future, a legend is stalking the passengers. Once you see the Mummy, you have 66 seconds to live. Clara sees The Doctor at his most deadliest and most ruthless - and finally she realises she's made the right decision. Because this is their last adventure: it's time to say goodbye to the Time Lord.

Flatline
"Look, your home isn't going anywhere. And neither is mine until I figure this out."

Separated from The Doctor, Clara discovers a new menace from another dimension. But how do you hide when even the walls are no protection?

In the Forest of the Night
"D'you like the forest being in Trafalgar Square? I think it's lovely."

One morning in London, and every city and town in the world, the human race wakes up to the most surprising invasion yet: the trees have moved back in. Everywhere, in every land, a forest has grown overnight and taken back the Earth.

Dark Water / Death in Heaven
"You betrayed me. You betrayed my trust, our friendship, and everything I've ever stood for. You let me down."

In the mysterious world of the Nethersphere, plans have been drawn. Old friends and old enemies manoeuvre around The Doctor, and an impossible choice is looming over him.
[ Blogtor Who]
---
Arrow
There's a new archer headed to Starling City. Matt Ward has been cast as Simon Lacroix, better known as the villain Komodo. He'll be the second episode's villain of the week, but by the end of the episode, he'll connect to the season's larger mythology.
[ EW]
---
Once Upon a Time
EW asked executive producers Adam Horowitz and Edward Kitsis a series of yes-or-no questions. The pair revealed that we will see flashbacks from the missing year, Henry will miss his implanted memories, we'll see some bonding scenes between Hook and Charming, Will Scarlet will have a connection to Storybrooke other than Robin Hood, Emma will take an active interest in her magical powers this season, and we'll learn a bit more about the author of the storybook. There are also a lot of coy "maybes" in there.
We'll also get into Belle's pre-Rumplestiltskin backstory and meet her mother.
[ EW]
What about Hook and Emma's relationship? Colin O'Donoghue told TVLine that he doesn't worry about Hook getting too domesticated since he and Emma are both such complicated people. What will be more challenging is Hook interacting with modern life—wearing more modern clothes and trying to understand modern technology.
---
Constantine
John is playing with a lighter in the latest promo image.
---
Star Wars Rebels
We finally have a premiere date for "Spark of Rebellion," the pilot episode: Friday, October 3 (9:00 p.m., ET/PT in the U.S.) on various Disney Channels. It will available earlier to verified users on WATCHDisneyXD.com and the WATCH Disney XD app—starting Monday, September 29. It will start airing regularly Monday, October 13 (9:00 p.m., ET/PT) on Disney XD.
---
Gotham
The latest promo trailer is filled with happy critic pull-quotes:
---
The Flash
In an interview with The Hollywood Reporter, Grant Gustin claims that he's perfect for the role of Barry Allen; he just didn't know it at the time he was cast:
"If it had been a team of people that didn't know what they were doing, I probably wouldn't have gotten this role because they would have just cast a blonde guy who was buff," he postulates. "They were looking for somebody who encompassed the heart of Barry Allen and at first, I didn't realize I did. Now that I've explored the character, the comics, read the scripts and talked to [the producers], I understand why I got this role."

"It will probably forever be my favorite character that I'll ever get to play," Gustin declares.
---
Teen Wolf
This week, Teen Wolf airs on Sunday at 7pm before the VMAs (and then again at its regular time on Monday). And we get a new pair of promos:
And a soaking wet sneak peek:
Additional reporting by Madeleine Monson-Rosen and Charlie Jane Anders.