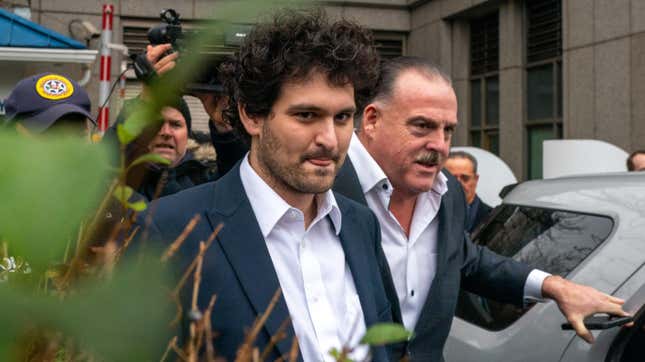 Department of Justice prosecutors believe disgraced FTX founder Sam Bankman-Fried leaked the diary of his sometimes girlfriend and business partner Caroline Ellison in an effort to "discredit a witness." The contents of the 27-year-old Alameda research CEO's private Google Docs were recently published in a New York Times article which includes entries of Ellison discussing her contentious relationship with SBF and admitting she felt unqualified to lead the company.
Sam Bankman-Fried Using a VPN, McDonald's AI Drive Thru Fails, Buzzfeed AI Quizzes Suck | Editor Picks
Hours after the Times story was published, U.S. Attorney Damian Williams made the bold claim in a court filing Thursday evening. He accused Bankman-Fried—or SBF as he's known—of sharing the journal with a Times reporter in an effort to discredit Ellison and taint a jury pool in his fraud trial. Williams claims SBF's attorney told the DOJ SBF had met with one of the Times reporters in person and shared documents with him that weren't part of the government's normal discovery material. The DOJ believes the entries quoted in the Times story, in fact, likely originated from SBF's own Google Drive account.
SBF's legal team did not immediately respond to Gizmodo's request for comment.
All of that's a problem, according to the DOJ, because civil procedure rules bar lawyers or their agents (in this case, SBF) from releasing non-public information about criminal cases if there's "a substantial likelihood that such dissemination will interfere with a fair trial." Other rules bar the release of statements or documents that could harm the credibility or testimony of potential witnesses. It's expected Ellison, who's already pleaded guilty to criminal charges, will likely testify at SBF's criminal fraud trial later this year and say she agreed to defraud customers with SBF.
"By selectively sharing certain private documents with the New York Times, the defendant is attempting to discredit a witness, cast Ellison in a poor light, and advance his defense through the press and outside the constraints of the courtroom and rules of evidence: that Ellison was a jilted lover who perpetrated these crimes alone," Williams wrote.
Williams requested an order from the judge preventing SBF from sharing any further extrajudicial statements.
What did Ellion say in her journal?
Ellison's diary, which came by way of various Google Docs entries, showed her at points appearing to feel overwhelmed by her role at Alameda and ruminating on her breakups with SBF. The Alameda Research head reportedly admitted she was "feeling pretty unhappy and overwhelmed" with her job just three months prior to FTX's major implosion.
"At the end of the day I can't wait to go home and turn off my phone and have a drink and get away from it all," she wrote.
Elsewhere, Ellison expressed details of her fraying relationship with SBF, whom she had reportedly dated on and off. Ellison reportedly said she was worried about "making things weird" or "causing drama" with the FTX founder. In another entry directly addressed to SBF, Ellison reportedly said a previous breakup with him had "significantly decreased [her] excitement about Alameda."
Ellison also expressed self-doubt over her ability to run Alameda, a point that SBF's lawyers could potentially use to try and muddy her testimony. One document reportedly listing out areas where Ellsion believed she struggled included the words "decisiveness" and "leadership."
"Running Alameda doesn't feel like something I'm that comparatively advantaged at or well suited to do," Ellison wrote.