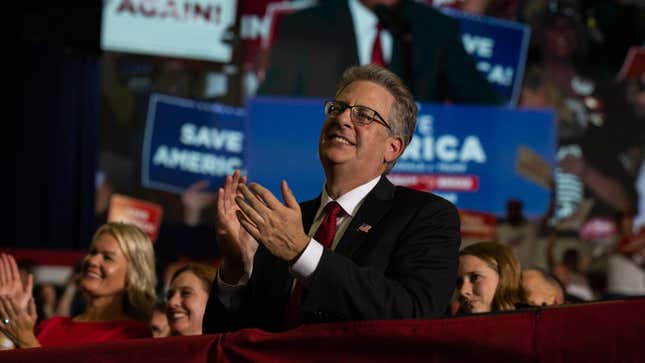 A failed state attorney general candidate endorsed by Donald Trump, a former Republican Michigan state representative, and a Trump sympathetic election denying attorney have all been criminally charged with attempting to tamper with voting machines, according to charging documents first spotted by The Detroit News. The criminal charges against the three Trump allies follow a nearly year-long investigation into voting machine tampering and dropped just hours after the former president himself was indicted on felony charges for his efforts to overturn the 2020 presidential election. All in all, the first two days of August were a rough time for the Trump-aligned right wing.
Matthew DePerno, the failed state attorney general candidate, was charged on four counts, including conspiracy to gain unauthorized access to a computer system and willfully damaging a voting machine. Daire Rendon, who previously served as state representative, was charged with conspiracy to obtain undue possession of a voting machine. Stefanie Lambert, the election-denying attorney, meanwhile, faces four criminal charges which include possession of a voting machine and conspiracy and conspiracy to commit unauthorized access to a computer system. Both DePerno and Rendon have pled not guilty to the charges, according to the Associated Press. Lambert also plead not guilty the following day. The charging documents misspelled DePerno's name as "Deparno."
The charges are related to documents released last year by actual Michigan Attorney General Dana Nessel, which claimed five vote tabulators were removed from locations in three counties and wound up in a single hotel room. Investigators analyzed the machines and claimed they had been broken into and had "tests" performed on them.
"The alleged actions by these defendants, and others, who worked to erode trust in our election system, caused undeniable harm to our democracy," Nessel said in a statement following the charges. Nessel, whose seat was previously challenged by DePerno, shifted an ongoing investigation into unauthorized access of vote tabulators over to special prosecutor Prosecutor D.J. Hilson late last year to avoid the appearance of a conflict of interest.
"These allegations are incredibly serious and unprecedented," Nessel added. "The lies espoused by attorneys involved in this matter, and those who worked in concert with them across the nation, wreaked havoc and sowed distrust within our democratic institutions and processes."
Hilson's office did not immediately respond to Gizmodo's request for comment but reportedly told The Associated Press the new charges levied against Lambert on Friday, "ends the charging decisions in this investigation." Paul Stablein, an attorney representing DePerno, did not immediately respond to Gizmodo's request for comment but told the Associated Press his client "maintains his innocence," and believes the charges are politically motivated. and firmly believes that these charges are not based upon any actual truth. Gizmodo could not immediately identify Rendon's legal defense and Lambert did not immediately respond to a request for comment.
Trump previously praised DePerno as a "tough" candidate who could ensure "fair elections. DePerno spent part of last year amplifying falsehoods about the 2020 presidential election, even going as far as to allege voting machines in Antrim County, Michigan had been broken into. That unfounded allegation reportedly originated in a now-dismissed voter fraud lawsuit lodged by William Bailey, one of DePerno's clients. In reality, the vote tally issue noted in the suit was explained by quickly addressing human error.
Top Trump-orbit characters like MyPillow CEO Mike Lindell supported DePerno's recent effort to lead the Michigan GOP during last year's midterm election. DePerno ultimately finished second place to fellow election denier Kristina Karamo.

Update 08/04/23 1:07 P.M. EST: Added details of Lambert's charges