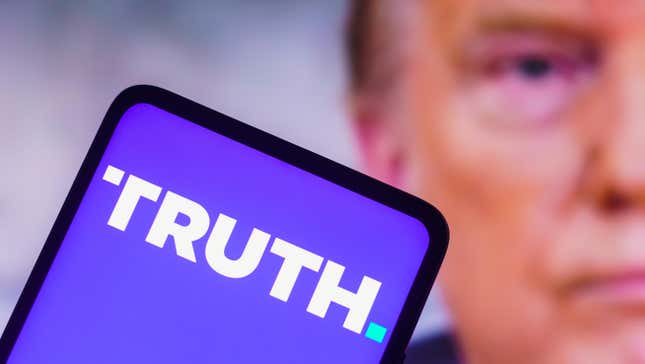 Former President Donald Trump has a problem. He wants to run again in 2024, and he's going to need another blowout time on social media to give him that public and media attention he entirely craves. The thing is, he has already agreed to a "social media exclusivity term" with Truth Social, the platform he helped get off the ground. The agreement means Trump is forced to post any kind of social media first to Truth.
The Elon Musk Twitter Saga, Part 1 of Who Knows?
His presence on the platform is a major reason why the company he founded still survives. But Trump is known for starting agreements he later regrets (after all, multiple books and insiders have said the Cheeto in chief never actually wanted to be president). Now the world's most famous Florida man is actively considering abandoning his pet project so he can once again spread his ramblings on Twitter and Facebook.
A Sunday report by Rolling Stone detailed the situation based on two anonymous sources close enough to hear how Trump has talked about the Truth agreement. One source recalled the ex-president saying "there's not going to be a need for that," referring to the Truth Social agreement. The other source told the outlet "he didn't want to make commitments." It comes a week after NBC News reported based on a leaked letter that Trump's campaign team have petitioned Facebook parent company Meta to unblock his account. Twitter, under the reign of Elon Musk, has already unbanned Trump's account although he hasn't been actively using it again yet.
Trump may not need to re-up Truth's exclusivity term, which is expected to expire in June. Per Rolling Stone, the agreement renews every six months unless the former president gives notice. Even if he doesn't keep Truth exclusivity, his agreement requires that he still post anything he writes to Truth alongside his past favorites. That's a lot of extra work for a man known for tweeting at all hours of the day or night.
Practically the only reason that platform is still limping forward is because Trump remains prolific on Truth, especially when he's spreading mass amounts of disinformation and is essentially platforming conspiracists and racists. Truth is run by Trump Media and Technology Group, which has been trying to go public for over a year alongside a merger with Digital World Acquisition Corp, a shell company headquartered out of a UPS store mailbox. That latter corporation has until September this year to formalize the merger. TMTG needs that merger to go through in order to access a needed $1 billion in funding after accruing tens of millions of dollars in debt for more than a year.
Trump's agreement with TMTG gave him 90% of the company shares, though people who were initially in on the deal were banking on that exclusivity to survive. CNBC reported last year based on leaked emails that lawyers advising the deal said that without exclusivity, the agreed takeover would "not survive."
Devin Nunes, a former Trump sycophant in congress turned TMTG CEO, told Newsmax's giggling and fawning Chris Salcedo last Friday that Trump "has no interest in going back on Twitter" even going as far to say "if he was going to return to any other social media platform, he would probably tell the people on Truth Social first." TMTG declined to comment on the story and simply linked to Nunes' recent comments.
Musk's Twitter is becoming more and more like the exact place Trump wants to be. It still reaches more people than Truth does, but since the billionaire's takeover of the platform, it's given a host of far-right and actual neo Nazi personalities their accounts back. Since Musk took over, hate speech has become more prominent on Twitter. This rise in anti-Semitism and anti-gay speech has accompanied a reported rise in the number of violent attacks on marginalized groups in the U.S.