Christian Bale reveals his greatest moments in The Dark Knight Rises. Go further inside the insane backstory of Will Smith and M. Night Shyamalan's After Earth. Daniel Radcliffe has Horns, while his old director Chris Columbus gets Creepy. Plus True Blood, American Horror Story, Vampire Diaries, and more!
Spoilers from here on out!
Top image from The Dark Knight Rises.
The Dark Knight Rises
Star Christian Bale discusses how the final Batman movie keyed in on some unintentional topical resonance, and how this is all in line with the character's long history:
"Chris Nolan has an uncanny ability to make movies topical. When the script for this final film was written in 2008, he had no idea that there would be Occupy Wall Street. When we were filming those scenes, I looked at him and said, 'How did you know?' The character was created in 1939 during World War II. It was an answer to the uselessness individuals felt during this horrific time in the world. He was always a very topical character, and Chris returned it to that."
He explains how much he enjoyed filming the movie's massive fight scenes:
"We had one final fight scene between Bane and Batman that started on location in Pittsburgh and finished in New York City. It took forever. We just kept punching each other out. There was also the excitement of about 1,000 extras around us. Everyone was punching each other. It invigorated Tom Hardy and me."
G/O Media may get a commission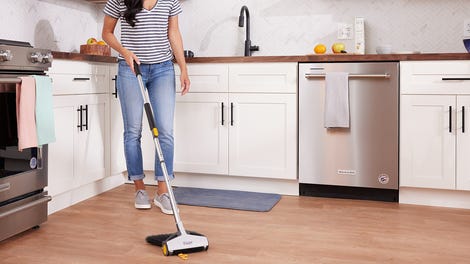 BOGO 50% Off
Flippr - BOGO 50% Off
He also reveals that the last ever scene he shot as Batman was on a New York City roof with Anne Hathaway, although that obviously isn't likely to be the character's final appearance. [Chicago Sun-Times]
---
Lobo
Fast Five star Dwayne "The Rock" Johnson unequivocally confirmed the rumors that he might play the DC Comics character and ultra-violent, intergalactic bounty hunter Lobo in an upcoming movie. Specifically, his Journey 2: The Mysterious Island director Brad Peyton is involved, according to Johnson, as is super-producer Joel Silver, the man behind such films as Die Hard, The Matrix, and Sherlock Holmes, among many others. The Rock said he is "possibly playing Lobo", and that it "could be fun", suggesting this is still a little ways from being anything official. [Cinema Blend]
---
After Earth
Here's a viral teaser that helps explain the absurdly complicated mythology — which prominently involves the Tunguska explosion and a lot of people called Raige, which isn't at all silly — behind M. Night Shyamalan's new film, starring Will and Jaden Smith. [Coming Soon]

---
Horns
Harry Potter star Daniel Radcliffe has reportedly signed on for the main role in this supernatural thriller based on a novel by Locke and Key author Joe Hill. The Hills Have Eyes and Piranha 3D's Alexandre Aja is lined up to direct. Radcliffe's role was originally to be played by Transformers star Shia LeBeouf before this recent development. His role is described as "the number one suspect for the rape and murder of his girlfriend [who] awakens one morning to find horns starting to grow from his own head and soon realizes their power drives people to confess their sins and give in to their impulses — an effective tool in his quest to discover the true circumstances of his late girlfriend's tragedy." [Variety]
---
Creepy
Harry Potter and the Chamber of Secrets director Chris Columbus is reportedly developing a horror movie based on the 1960s anthology comic book Creepy. The movie would retain the comic's anthology structure, with Columbus directing one of the four segments while helping to oversee the other three segments. Here's how Columbus explained the project:
"I am thrilled to be immersed once again in the world of Creepy and Eerie. They featured some of the most important comic book artists of the time and were incredibly influential in my desire to become a filmmaker. It is really exciting to have the opportunity to bring these unique tales to the screen and share them with today's audiences."
---
Item 47
Here's a short preview clip from the Avengers tie-in short film, featuring Party Down's Lizzy Kaplan and Lost's Titus Welliver.

---
True Blood
Pamela actress Kristin Bauer van Straten discusses when the secrets of Russell Edgington will be revealed:
"Not soon. I like how we can be a fly on the wall with True Blood and we can watch things play out and different relationships and guess. It's so much more like life. Nothing is black and white in life either. So, we'll find out, but it might take a little bit...[On the finale] In the vampire world it's pretty intense because alliances shift. Everything is at stake!"
---
Once Upon a Time
Here's a promo for season two.

And here's a montage of all the title sequences so far, featuring a few hints about what to expect next season.

---
Supernatural
Here's an interview with costars Misha Collins, Jim Beaver, and Mark Sheppard in which they look ahead to season eight. [SpoilerTV]

---
The Last Ship
Michael Bay's production company Platinum Dunes is developing a post-apocalyptic series for TNT based on William Brinkley's 1989 book of the same name. Here's the show's description:
In The Last Ship, a global catastrophe nearly obliterates the earth's population, forcing the crew of a naval destroyer to confront the reality of their new existence in a world where they are among the only survivors.
[EW]
---
American Horror Story
One-time All My Children actor Mark Consuelos has reportedly been cast as Spivey, one of the patients at season two's mental institution. [EW]
---
Arrow
Here's a preview clip.

The show's second episode will reportedly feature Stephen Amell's Green Arrow going "mano-a-mano with a beautiful Asian assassin named Wen who is sent after Laurel as retribution for prosecuting a businessman whose cushy relationship with the mob has become a blight on Starling City's not so sterling reputation." [The TV Addict]
---
The Vampire Diaries
Kat Graham discusses what's ahead for Bonnie next season:
"Bonnie's going to be put in a position where she's going to try and do everything she can to help Elena through the transition. Bonnie is going to be delving into a couple of things that she's never had. She's going to be meeting a new someone."
---
Young Justice
For some clips from the upcoming season two episodes, check out the link. [Warner Bros]
---
Untitled TV Series
Christopher Judge, who is best known for playing Teal'c on Stargate SG-1 and also has a small role in The Dark Knight Rises, teases an upcoming project:
"It's a sci-fi show. We are going to announce soon. We've already signed a deal with a certain company, and I think fans will get a kick out of who it is. And we are in negotiations with a second company that also fans will get a kick out of, because they are doing some of the best stuff in film right now. And it will be only their second foray into television. I can't wait to let it out of the bag. The announcements will probably be relatively soon, probably in the next month or so."
You can watch the full interview with Judge below. [Gateworld]

---
Additional reporting by Rob H. Dawson and Charlie Jane Anders.