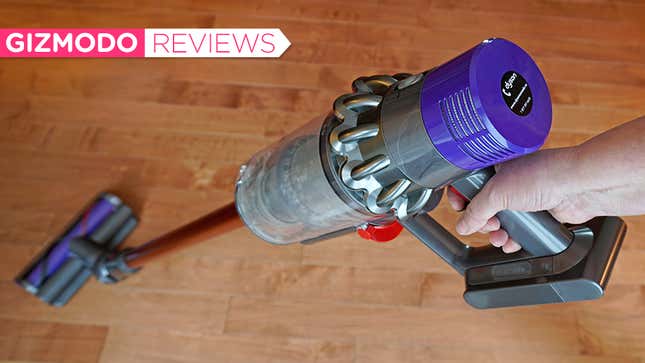 The Dyson upright ball vacuum, an iconic piece of engineering and design that made vacs a gadget worthy of your lust, is being eliminated. In its place is Dyson's latest cordless vac, the Cyclone V10. The company claims the V10's upgraded electric motor can suck better and last longer on a single charge. But can a rechargeable vacuum really replace a corded one? It has for me. The new Dyson Cyclone V10 may have a few issues, but this little cordless vacuum is so good it might finally justify Dyson's premium pricing.
Boogeyman's Director Talks Working on Bigger Budget Horror
As someone who obsesses over clean floors, five or six years ago I would have balked at the idea of giving up my corded Dyson vacuum that could clean for hours on end. But eventually, even with a limited run time, the rechargeable Dyson DC59 slowly started to replace my corded upright vac. And ever since the Dyson V8 arrived two years ago, the predecessor to the new Cyclone V10, my corded Dyson upright has remained untouched in a closet.

If you live in an oversized McMansion with countless rooms to maintain, or if you prefer to let messes pile up until you have to spend an entire day cleaning your home, a rechargeable vacuum might not be for you. But if you hate cords and dragging around heavy appliances, and are OK with a continuous cleaning routine where you deal with spills or messes as they happen, the improvements Dyson has made to the new Cyclone V10 means you might be able to ditch your uprights.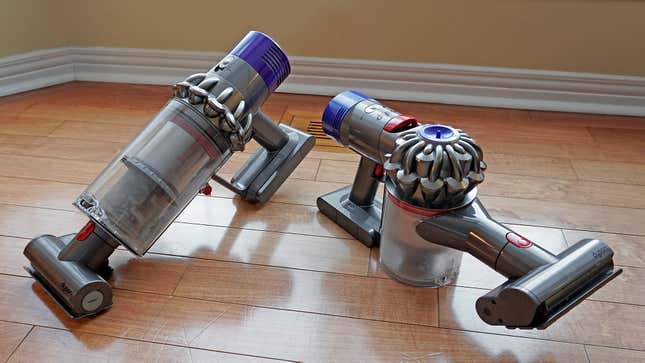 With the Cyclone V10, Dyson gives its cordless vacuums their first major facelift in years. According to Dyson, the redesigned V10 electric motor in this vacuum spins at up to 125,000 RPM and is so fast that the vacuum's impeller, the bit of the vacuum's compressor that rotates, now has to be made with a stronger ceramic shaft instead of steel which would break under the intense G-forces.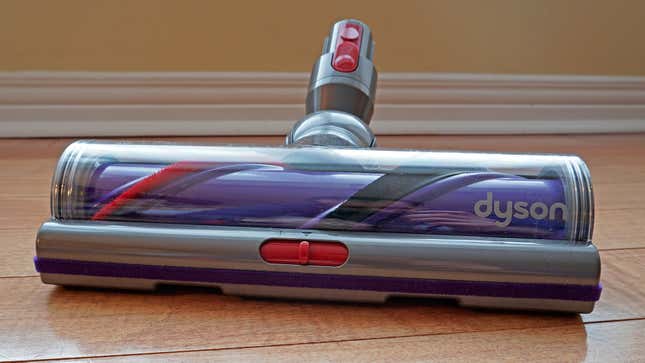 So what does all that super fancy engineering actually mean? The Cyclone V10 should suck hard. And it does! In my tests, it gobbled up dust, dirt, and even chunks of ice-melting salt that had been traipsed into our home. For larger debris, Dyson redesigned the Cyclone V10's direct-drive cleaner head attachment with adjustable openings on the front allowing it to more easily suck in larger items like bits of cereal, instead of just pushing them around your floors.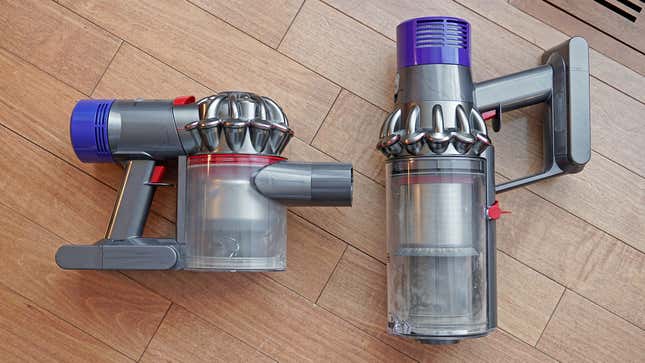 Because Dyson wants users to completely replace their larger corded vacuums with the Cyclone V10, it's increased the capacity of the handheld vac's dust bin by 40 percent compared to previous models. It's not as large as the bins included on the company's now-defunct full-sized vacuums, but it's a lot easier to empty, so you'll be OK with cleaning it out more frequently.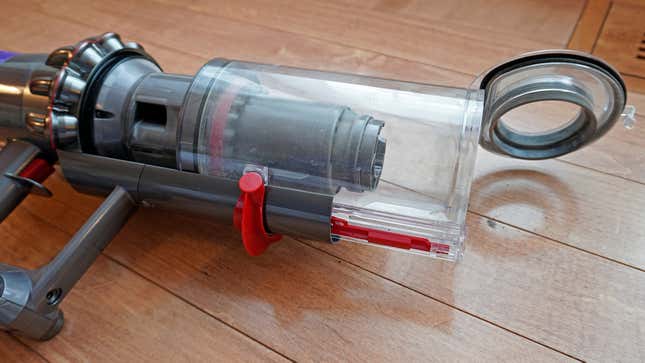 Dyson has also changed the orientation of the Cyclone V10's dust bin, facilitating an improved 'point-and-shoot' method for emptying it. It's definitely a lot easier to dump its contents into a trash can without spilling dust everywhere, but the release mechanism now includes a locking latch that I've already forgotten to re-lock after emptying it, causing the bin to inadvertently pop open when I didn't want it to.
The Cyclone V10 has many other improvements over its predecessors, including a single filter you need to occasionally (forget to) clean, an improved power meter showing a more accurate estimate of remaining battery life, a clog indicator letting you know when you've sucked up something too large for the vac to handle, and three adjustable power settings to help maximize battery life.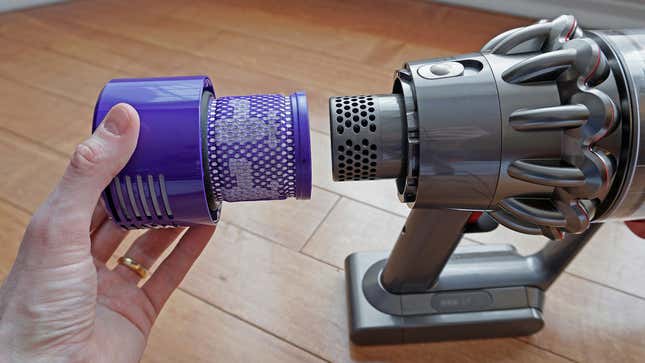 Adjustable power settings is probably the feature that will make or break the Cyclone V10 for some people. The vacuum undoubtedly features some impressive and expensive tech, but the one area where Dyson's R&D teams have limited control over innovation is battery tech. Dyson claims you can clean for a full hour on a single charge—which is 20 minutes more than it promised with its predecessor, the Cyclone V8. But in reality, that would be under the most ideal conditions using an un-powered accessory to clean up minimal dirt on the vac's lowest power setting.
In my tests, battery life with the Cyclone V10 was definitely shorter, depending on how and where I used it. Cleaning carpets clogged with dirt would demand using the vacuum with its direct-drive cleaning head attachment at its Max setting. That net me just over eight minutes of cleaning time before the vac's battery died. Eek.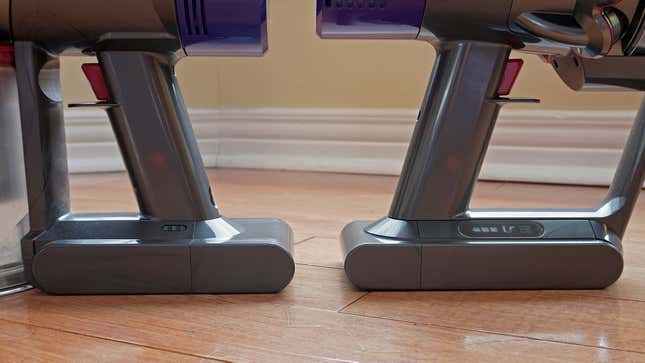 Yet if your carpets aren't so filthy, switching to the Cyclone V10's lowest power setting (which still sucked up enough dirt to fill the dust bin in about 15 minutes) scored me a more respectable 37 minutes on a full charge.
Battery life gets a little better when cleaning hardwood floors where there's less resistance on the Cyclone V10's soft roller cleaner attachment's spinning brushes. At MAX power I was able to clean for just over nine minutes before the battery called it quits, but switching to the lowest power setting kept it sucking for a solid 52 minutes. Still not quite a full hour, but definitely an improvement over its predecessors.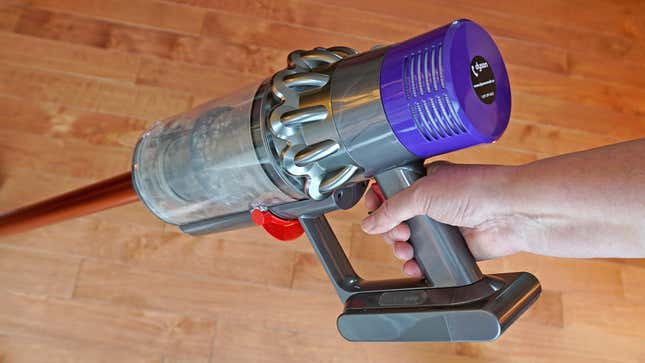 Is it finally time to switch to a cordless vacuum? Yes, but only if you're willing to work around the Cyclone V10's limitations. Dedicating an entire Saturday once a month to vacuum your entire home will no longer be an option, but since the Cyclone V10 is lighter and more convenient to use than a clunky upright vacuum, you'll find yourself reaching for it more often, and staying on top of messes before they get out of hand.
I ditched a corded vacuum for Dyson's cordless models years ago, and the Cyclone V10 makes that transition even easier. It's certainly best suited to apartments, condos, and smaller homes featuring hardwood floors, but living in a giant house isn't a deal breaker. If you're able to deal with Dyson's sticker shock (the Cyclone V10 ranges in price from $500 to $700, depending on included accessories) the added conveniences of cutting the cord is definitely worth the inconveniences.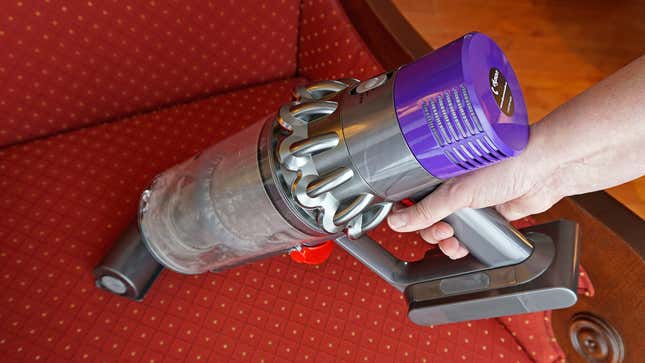 README
If you're willing to adjust your cleaning routines, and don't live in a sprawling mansion, Dyson's new Cyclone V10 can definitely replace your bulky, corded vacuum.
Battery-life is definitely the Cyclone V10's biggest drawback, with maximum cleaning settings reducing its runtime to just over eight minutes on carpeting. Ouch. It does fare slightly better on hardwood floors, however, and at lower power settings.
Expensive! The base model starts at $500.
The vacuum won't run while it's being charged, so if it's dead, you'll have to wait about three-and-a-half hours to start cleaning again.
The re-oriented dust bin improves the Cyclone V10's ergonomics, and can hold 40 percent more dirt than its predecessor, the V8.
The handheld's re-design also makes maintaining the vacuum a lot simpler, with a dust bin that's easier to empty, and just a single filter that occasionally needs a wash.
Amazing suction power at the vacuum's max setting, so much so that it's hard to actually maneuver the vacuum at max power on carpeted floors.