You've got a coffee in one hand, a mobile phone in the other—who's got the fingers free to actually scroll down a web page manually? Not us, so we've rounded up the best browser extensions and plug-ins that can help provide a solution. Sit back, relax, and let your favorite sites flow before your eyes like magic.
Simple Auto Scroll
This Chrome extension adds a discreet button to your browser's toolbar. Click once to go slow, twice for medium speed, and three times to race down to the bottom of the page (relatively speaking). Open up the options page for Simple Auto Scroll and you can customize these three speed levels down to the last pixel. It hasn't been updated in a while but it still works well.
HandsFread
HandsFread is a bookmarklet, not an extension, so you can use it with different browsers on different systems (it worked for us in Chrome, Safari and Internet Explorer, though not Firefox). Customize the code as desired from the HandsFread site, then drag it up to your browser's bookmark or favorites bar. When you're ready to auto-scroll, simply click on the HandsFread button.
G/O Media may get a commission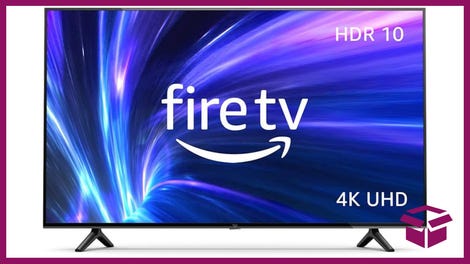 42% Off
Amazon Fire TV 50" 4K Smart TV
Use your mouse
If you're using Chrome, Firefox or Internet Explorer on Windows then you can also push down on your mouse's scroll wheel anywhere on a web page to bring up a scrolling hotspot. Move the cursor slightly below this icon and the page gradually scrolls down on its own. It's a useful alternative to consider if you don't want to install an add-on (and your system supports it), but there are no customization options.
AutoScroll
For those Chrome users on Mac or Linux platforms, there's AutoScroll. Essentially it brings Windows-style auto-scrolling to your browser window with a push of your mouse scroll wheel (or Cmd+click on a Mac). Via the extension's options you can configure the scrolling speed, the shortcut keys you want to use, and how the plug-in handles links and text areas.
Smart Scroll
Mac users might want to check out the system-wide app Smart Scroll. It'll set you back $14 but it works across any application and adds plenty of scrolling features besides the auto-scroll functionality we're primarily concerned with. Keyboard, trackpad and graphics tablet scrolling is also supported, and there's a free trial to make use of if you want to give it a test run first.