This week at TreeHugger: We unearth a "plant" that, rather than using the sun's rays to grow, uses them to glow. TreeHugger also has SOUL: check out the Sun | Oven | Ultra | Light solar oven, perfect for picnics, barbeques and other sunny outdoor fun. Solar is good for more than glowing and cooking though; FluoroSolar helps bring sunshine inside. Finally, Toshiba is taking steps to properly recycle more of its electronics, in compliance with WEEE and RoHS standards set by the European Union; we can't blame them for wanting to avoid the WEEE man.
There are lots of things out there that store solar energy in the day and release it at night, but how many have product descriptions that read like haiku? The Solar Plant does:
A natural plant absorbs sunlight and carbon dioxide, and discharges oxygen and water. The solar plant absorbs sunlight and emits light after dark. Although it does not grow like a natural plant, it always stands still next to you. Please, fully expose it to sunlight in the daytime. You could feel the solar plant which shines after dark like the sun.
Cooking SOUL food doesn't have to include butter beans with ham bones and okra, especially when you're cooking with "SOUL" — Sun | Oven | Ultra | Light. This solar oven is pure TreeHugger-design: the different parts from local natural or recycled materials, but also creates work opportunities for disadvantaged and unemployed people. Portable, durable and powered by the sun; if it would only flash-fry a yak in 40 seconds...
G/O Media may get a commission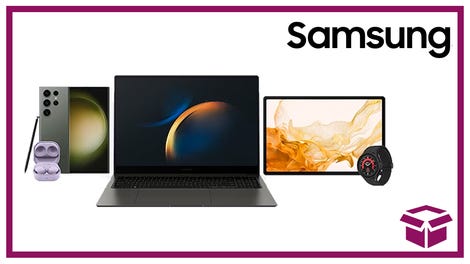 24 hour deals
Discover Samsung - Daily Deal
While we prefer smarter designs that require less artificial lighting, we're still pretty impressed by something like this. FluoroSolar is a light pipe with a difference. It separates white sunlight into the three spectrums of red, and green, using fluorescent dyed plastics (and solar powered LEDs to get blue as there no appropriate fluorescent blue dyes). These three bands of colored light are then transported anywhere within a building to be reassembled into the original white light, achieving an intensity of up to two 75 watt light bulbs.
Toshiba must have read that the WEEE Man was on the prowl, and we can't blame them for wanting to avoid him. They recently became the first consumer electronics provider to announce full compliance with Europe's Directive on Waste from Electrical and Electronic Equipment. Better known as the WEEE Directive, which, in conjunction with the Restriction of Hazardous Substances (RoHS) Directive, becomes law later this year, it sets targets related to waste production, management, and collection in the EU; Toshiba's compliance with both WEEE and RoHS means that as of July 1, lead, mercury, cadmium and 6-chrome will no longer be found in new Toshiba products. They'll also take extra steps to make sure that their products
don't end up in landfills like this one at the end of their service lives.
TreeHugger's EcoModo column appears every Tuesday on Gizmodo.