Egypt, a country in the grips of a severe housing crisis, announced a glitzy new development this week—and it's a throwback either to Vegas or to ancient Egypt. Or maybe a little bit of both.
The Cairo Post reports on a new development called the Zayed Crystal Spark: A 656-foot-tall glass pyramid surrounded by a reflection pool and entered through a smaller, more squat pyramid at its base. The enormous glass tower will house "administrative, commercial and entertainment" programs inside, according to Egypt's Minister of Housing Moustafa Madbouly, who will present the plan in greater detail during an economic conference this month.
The tower will be the highest in the country, eclipsing the ancient pyramids—which are only a few miles away—by almost 200 feet. It'll also be one of the largest, sited on a block that totals 8,589,600 square feet.
Meanwhile, Egypt is dealing with a massive housing crisis. The Middle East Institute reports that 18 percent families in Egypt live in single-room housing, while there's a shortage of 3.5 million units nationwide. Central Agency for Public Mobilization and Statistics told Al Monitor that there are up to 20 million people living in "informal" dwellings, which often lack water and electricity.
G/O Media may get a commission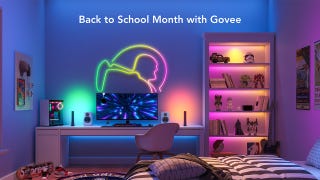 Back to School
Back to School Month with Govee Sale
Photo by Marco Di Lauro/Getty Images

The problem isn't that housing doesn't exist, though: It's that it's too expensive for most people. The Middle East Institute's Maria Golia points out that there are as many as 6 million vacant housing units that are simply too expensive for the average person. Before he was elected, president Abdel-Fattah al-Sisi said the government would build 1 million units of housing for low income youths, at a cost of $40 billion, a project that has not yet materialized.
What has resulted is a vast illegal industry devoted to building "unlicensed" housing for middle- to low-income Egyptians, says Golia:
No one has succeeded in tackling this problem more directly than the Egyptian people themselves. While the SHP produced 50,000 units between 2012 and 2014, informal (unlicensed) housing in Egypt's ashwa'iyyat (unplanned areas) increased by at least two million flats in that same period. Especially since 2011, in the absence of state supervision, construction of informal housing has increased to such an extent that licensed developers have encountered shortages of building materials for their projects.
AP Photo/Maya Alleruzzo
So while Egypt's housing minister is promoting a billion-dollar scheme for a luxury pyramid, a shadow industry has emerged to meet the demands of average Egyptians. It's a dynamic that's easy to find traces of in other countries, albeit under wildly different circumstances—the vast gulf between government-endorsed hyper-luxury flagships and the make-due housing of the other half.
[The Middle East Institute; Cairo Post; Hyperallergic]
---
Contact the author at kelsey@Gizmodo.com.