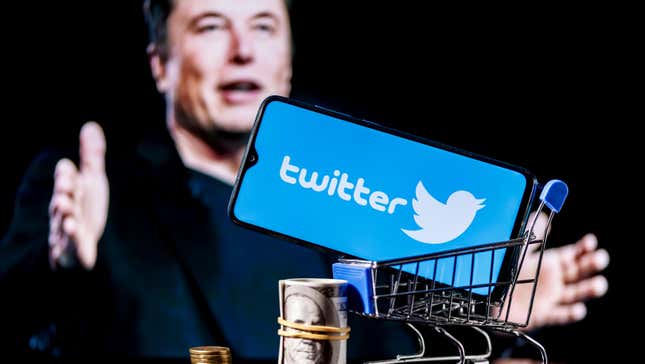 Elon Musk has sent a letter to Twitter offering to go through with his agreement to buy the company and do so at the price he originally proposed: $54.20 per share, according to an SEC filing initially reported on by Bloomberg. The Wall Street Journal, and Washington Post also backed up Bloomberg's early report. Musk has been trying to wriggle out of the agreement for months and was set to be deposed on Thursday and Friday in advance of an Oct. 17 trial.

The Elon Musk Twitter Saga, Part 1 of Who Knows?
"Buying Twitter is an accelerant to creating X, the everything app," Musk wrote late Tuesday.
Trading of Twitter stock was briefly halted on Tuesday afternoon, following a major and rapid value spike after the publication of the Bloomberg article. Shares stopped at $47.93 before trading was later unfrozen, and the stock's value closed at $52, still far below Musk's purchase price. Twitter did not immediately respond to a request for comment and has not indicated whether it will accept or reject the offer.
"We write to notify you that the Musk Parties intend to proceed to closing of the transaction contemplated by the April 25, 2022 Merger Agreement," wrote Mike Ringler, one of Musk's lawyers, in the letter sent to Twitter's legal team and filed today with the SEC. The letter also specifies that Musk's legal team is requesting an immediate stay of action in the ongoing lawsuit brought by Twitter against the billionaire, and that the trial and accompanying proceedings be adjourned.
In response, Twitter General Counsel Sean Edgett sent a message to the site's employees indicating the company plans to close the deal, according to a report from CNN. "I will continue to keep you posted on significant updates, but in the meantime, thank you for your patience as we work through this on the legal side," the lawyer reportedly wrote.
According to the Wall Street Journal, an emergency hearing regarding the letter was scheduled for today. Many Twitter employees reportedly received the news while in a meeting about the company's 2023 strategy.
The Tesla CEO has been trying to back out of his $44 billion acquisition of the social media site basically since the deal began. Musk has repeatedly claimed that the number of bots on the platform, and Twitter's management and tally of those bots, is in violation of the purchase contract. In response, Twitter sued Musk in Delaware's Court of Chancery—the nation's premier business dispute court. Musk's offer would close the case.
Musk was scheduled to be deposed Thursday and Friday in the ongoing Twitter legal fight, after his deposition was delayed. Yet, if the deal now goes through, the billionaire won't have to give any further testimony or endure legal questioning. Texts between Musk and his rich and famous friends were released Friday.
Further, just yesterday Delaware Judge Kathaleen McCormick granted Twitter permission to probe whether or not whistleblower Peiter "Mudge" Zatko covertly reached out to Musk before the tech CEO recanted his purchase offer. The news comes from a letter filed by the judge and first reported on by The Verge.
Zatko has previously denied he contacted Musk. However, the billionaire's lawyer received an anonymous email via a ProtonMail account back in May from a sender claiming to be a "a former exec at Twitter," and offering information, according to the letter. McCormick said that Twitter would be allowed to search through Musk and co.'s relevant emails as well as other electronic communications.

In sum, if the Twitter trial continued to progress, more dirt would've been likely to surface.
And, if Musk's deal instead goes through, it will clearly be a marvel of negotiation. Musk will have spent months sewing chaos and turmoil at Twitter, and posturing about bots, all to simply agree to the initial contract terms.
Update 10/04/2022, 2:40 p.m. ET: This story has been updated with additional information from an Oct 3 court filing.
Update 10/04/2022, 3:44 p.m. ET: This story has been updated with additional information from an Oct 4 SEC filing.
Update 10/04/2022, 4:22 p.m. ET: This story has been updated with additional information from a CNN report, and with additional stock market news.