The Hulk and his fellow Avengers have got plenty of movies left in them. The new Green Lantern website includes the film's villain. Plus a weird Runaways casting rumor, Chief Tyrol's guest spot on Eureka, and more! Spoilers for you!
Is AI Moving Too Fast? | Future Tech

Green Lantern:
Warner Bros. launched their new website for this film last night, and there's not much other than the GL symbol. But if you view the page's source, there's this description:
In a universe as vast as it is mysterious, a small but powerful force has existed for centuries. Protectors of peace and justice, they are called the Green Lantern Corps. A brotherhood of warriors sworn to keep intergalactic order, each Green Lantern wears a ring that grants him superpowers. But when a new enemy called Parallax threatens to destroy the balance of power in the Universe, their fate and the fate of Earth lie in the hands of their newest recruit, the first human ever selected: Hal Jordan.
Consider this ultra-official confirmation that Parallax (and not Legion, as in earlier drafts of the script) is the film's main villain. [Warner Bros.]
Marvel Movies:
Marc Ruffalo says that The Avengers won't be the end of the Marvel Universe, and there's even the possibility he could get his very own new Hulk movie:
"They set up several pictures over a couple of years and possibly there will be a Hulk movie. There'll probably be a couple more Avengers too, which would be fun."
G/O Media may get a commission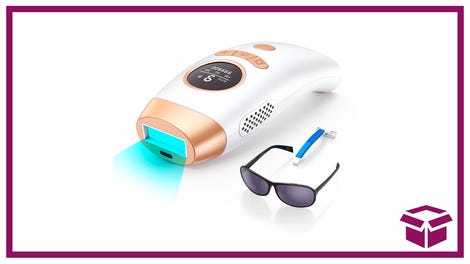 58% Off + Coupon
IPL Hair Removal Device
Also, for anyone worried he's not taking the project seriously, he called the Hulk "his generation's Hamlet." [Empire Online]
Spider-Man Reboot:
Apparently following in Spider-Man 3's odd tradition of casting a redhead as Peter Parker's most famous blonde love interest, Marc Webb's reboot will cast Emma Stone as Gwen Stacy, not Mary Jane Watson. Sony has now officially announced Stone (who, to be fair, is actually a natural blonde) is playing Gwen alongside Andrew Garfield's Spider-Man. [CinemaBlend]
Pride and Prejudice and Zombies:
Epically eccentric director David O. Russell has reportedly left the project, reportedly because it wasn't possible to make his and Natalie Portman's schedules work. [Vulture]
Runaways:
Lucas Cruikshank, the young actor behind that asinine Fred thing, says he auditioned for a part in the movie a couple months back, but he hasn't heard anything yet. If I had to guess, I'd say he probably tested for Chase Stein, but that's purely speculation on my part. [Movieweb]
Transformers 3:
Michael Bay and company will be filming in Washington DC from October 11 to 15, and based on the list of street closures, it looks like he might be shooting on and around the National Mall after all. [DCist; thanks to Michael Ball for the tip!]
Shia LaBeouf confirmed that this will be his last movie in the series, but he's proud of this final entry:
There's no more for me, at least. I'm never going to do it again… This is the last one, so it's balls-out. This is the best movie we've made, period, and that's a unanimous decision by everybody. The sizzle reel that [Bay] has been showing everybody on set, it's so outrageous. I'm very, very, very, very proud of it.
The Thing:
For those looking for the awesome set pics from our preview post in one handy gallery, then today is your lucky day:

Doctor Who:
Mark Gatiss reveals that his episode this series is his first one set in the present day. [Blogtor Who]
Chuck:
Ryan McPartlin confirmed Captain Awesome's mom Honey Woodcomb, played by Morgan Fairchild, will return this season to see the birth of her grandchild:
Mom does come back. It's funny, because Mom and Ellie have to learn how to deal with their new roles that each one is going to play as a mother and a grandmother. So that creates a bit of fun drama."
Sarah Lancaster also suggested that, once again, Honey won't feel Ellie is good enough for her son. Fairchild will appear in episode 6, according to NBC. [ChuckTV]
Eureka:
Aaron Douglas, Battlestar Galactica's Chief Tyrol, tweeted that he will be filming an appearance on the show today. [Battlestar Blog]
Smallville:
Alan Ritchson's Aquaman will reportedly return as a married man, with Elena Satine reportedly cast as his longtime DC Comics love interest Mera. [The Ausiello Files]
Additional reporting by Katharine Trendacosta and Charlie Jane Anders.